Women's Shiny Black Lavender Jagged Cat-Eye Sunglasses
If you order within
Arrives by
sold in last hours
Description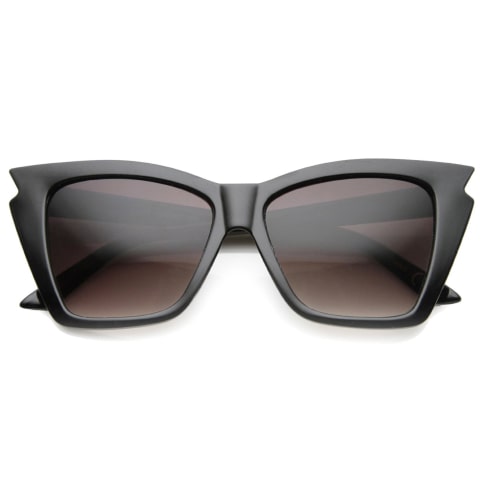 Sleek, sophisticated style
For a touch of chic to your look
Elevate indie to modern-chic. That's why we love our Women's Shiny Black Lavender Jagged Cat-Eye Sunglasses. Bring back the retro glam of the '80s with this modern, sleek take.
Make a statement
With dark, sexy shades
Ultra glam that's mysterious
Feel like a superstar with these dark, sultry shades. The jagged cat-eye design adds an unexpected touch for flair and confidence you'll love.
It's in the details
A thick, bold, exaggerated frame helps add drama to any look while dark lavender lenses block out harmful UV rays.
Get UV-smart for your eyes
Sunglasses are ideal for morning 'till sunset to shield your eyes while you walk, drive, or are just going about your day outdoors (they're great whether it's sunny or overcast).
Crafted to last
These shades are made with an acetate-based frame, metal hinges, and polycarbonate lenses that offer full UVA/UVB protection.
Set your sights on a must-have accessory
Since 2001, zeroUV has been a destination for trendy eyewear that helps people discover individuality and confidence, with infinite ways to eye protection that's always in style.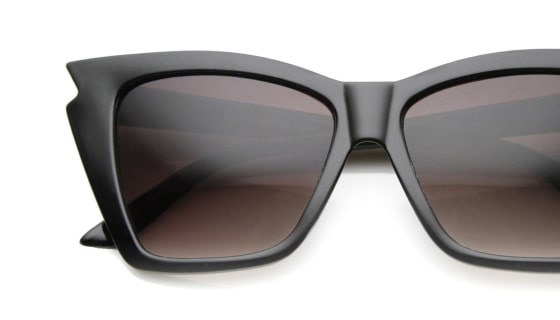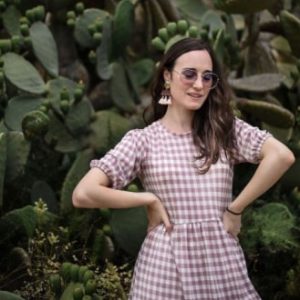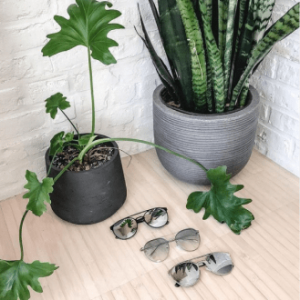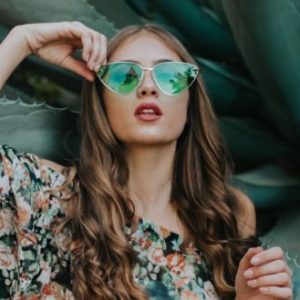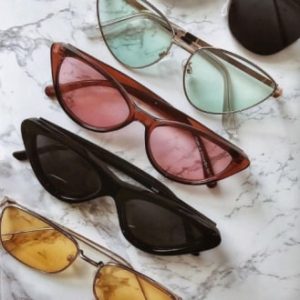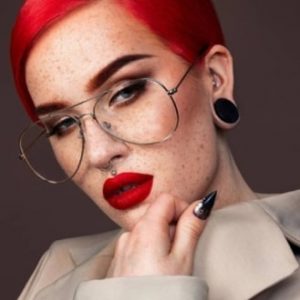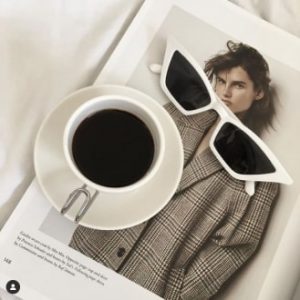 About zeroUV
Founded in 2001 by eyewear enthusiasts, zeroUV has become a prodigiously curated eyewear boutique for the fashion savvy individual. At zeroUV we strive to bring our customers the latest in eyewear fashion for a fraction of high retail prices. We at zeroUV view ourselves as lifestyle advocates. We seek to inspire others to chase who they truly see themselves as. Founded by individuals who grew up during the California indie movement, we aim to share our journey with our fans. We pride ourselves on bringing people together through our brand, and we encourage others to follow us along this amazing adventure. Not only are sunglasses a staple in fashion and appearance, zeroUV Sunglasses offer full eye protection against harmful UVA & UVB rays. In addition all eye wear meets the United States ANSI z80.3 Standard, as well as satisfies European CE Safety Compliance Standards.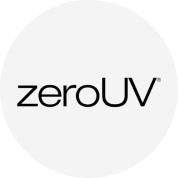 Designed In
Huntington Beach, California
Reviews
Reviews
Our reviews are verified for authenticity
I love these sunnies so much! They are so flattering and effective at blocking out the rays. I will be buying more in the future 😎

I love these sunglasses so much! They are super cute and trendy. Material is great quality. 10/10 recommend

These are amazing sunglasses! The durable plastic feels really quality, just like our brand-name expensive pairs. LOVE the shape and look. AND they are polarized!!

I really like the sturdiness of these glasses. They seem well made, nice hinges and the lens seems sturdy. They cut the glare well. Not to mention, they are fashionable.

If someone measured my face and custom-made these, they could not be better! They fit me like a glove! These are truly amazing sunnies! They're beautiful, extremely well-made and I absolutely LOVE them! Thank you!

I cannot express enough how much I absolutely LOVE these shades! They are the best pair of sunglasses I've purchased (even compared to my designer shades)! I have a small face and most glasses are loose on me, but these were not...they hugged my face perfectly! They look so fancy and luxurious that no one will ever know how reasonably priced they are when I'm wearing them. These sunglasses are a MUST!! Stop reading the reviews honey and get you a pair of these bad boys! You'll thank me later.

These are really fun looking glasses. Look lovely on. I can see everything clearly but the sun is amply blocked. I also found these glasses really comfortable. They feel stable in my nose and don't squish my cheeks (most glasses do touch my cheeks). So this is a nice bonus. I've dropped them several times already and they've held up to the thrashing. Really love these sunnies

I saw these glasses off of a different person on social media so I decided to give it a shot. The pricing seemed good so I didn't feel like that it was a loss for me if the sunglasses didn't fit my face. Surprise surprise surprise the Style fits my type of face perfectly and they're very stylish. For that price I'm considering on going back in purchasing additional pairs of sunglasses. I actually caught my younger niece trying them on with the same reaction!!

They look good depending on my hairstyle because of my facial features. So I use these sunglasses when I have a pony tail or a bun, does not look cheap at all! When I am getting tan by the pool I use other pair of sunglasses because I noticed that these sunglasses were leaving a tanning mark. Careful!!