White Marble Makeup Brush Set
If you order within
Arrives by
sold in last hours
Description
Want to become a makeup pro?
Check out this White Marble Makeup Brush Set
Packed in a matching marble case, this makeup brush set features ten face, eye, and lip brushes to help you create as many full-face makeup looks as possible.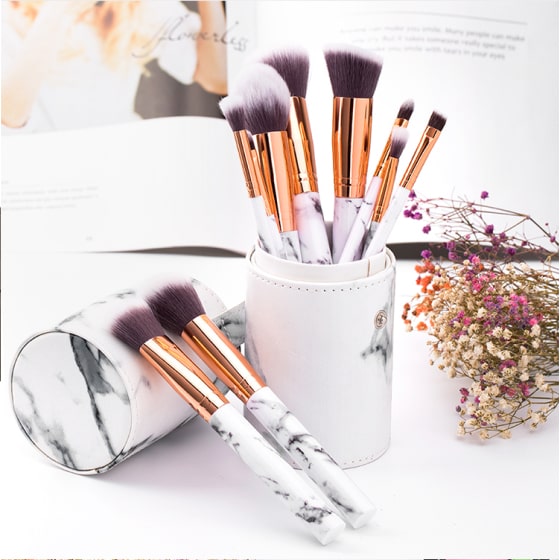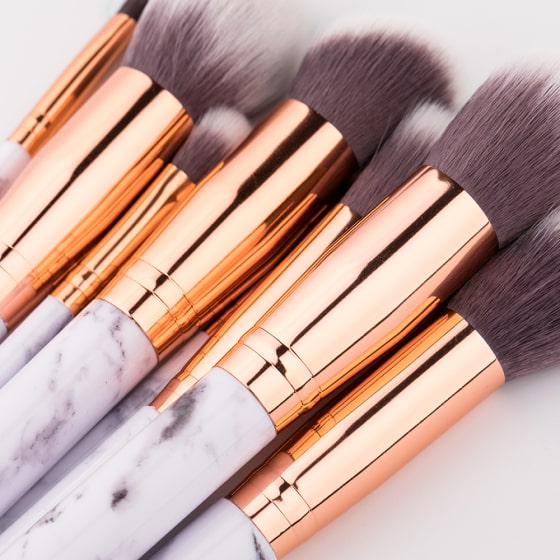 All you need in one set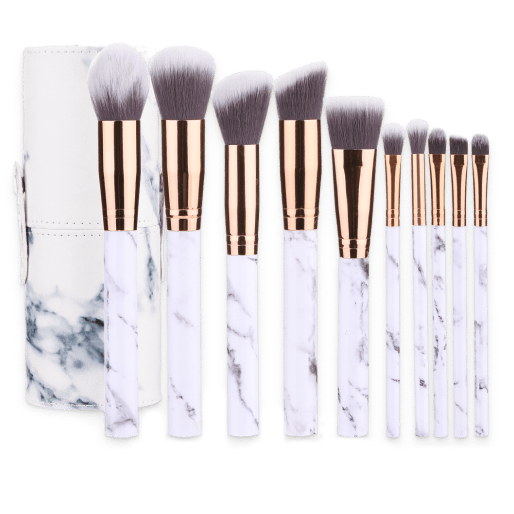 Perfect for all skin types
The brushes of the set are made of super soft synthetic bristles that imitate the feel of natural hair. Suitable even for the most sensitive skin, they are perfect for setting up your makeup.
High quality
The durable resin handles with the aluminium ferrules are crafted to offer you ultimate control over the application.
Create any makeup look you desire
Use this White Marble Makeup Brush Set for lightweight application of all your favorite beauty products. The incredibly soft bristles of the brushes are perfect for applying foundations, powders, eyeshadows, and lip tints. Blend, highlight, and contour with this wonderful makeup brush set!
Reviews
Reviews
Our reviews are verified for authenticity
Great brushes! I love them! if I need them I will buy them again

I love them, and use them everyday!

Great brushes at an affordable price

They are seriously amazing, way worth your money

These brushes are really soft and cute.

Beautiful, durable, easy to use and soft. 🌟🌟🌟🌟🌟

These brushes are nice but not as plush as I was hoping for. However, for the price they are a good deal.

Love love love! They are Soooo soft and easy to use.

ahh these are so cute and match my marble theme obsession!! worth the price

These brushes are unbelievably excellent for such a low price. They look & work great. I love them!

Nice quality brushes. Not as soft as I like though. However, they are very durable and look exactly as advertised. Application is smooth and streak-free. For the money, I do recommend these brushes.

Still using these after a few years. Good quality and apply makeup well. None have broken.

This set is great. The brushes are great quality and they don't shed onto my face like others have.

These brushes are amazing for the price!! I've washed them several times already and they are still in perfect condition

LOVEEEE! Packaging was sooo professional and these brushes are so soft and beautiful. Will sooo buy again!!

These brushes are SOOOOO soft! Literally when I got them in the mail I couldn't stop touching them, not to mention makeup application with them is fantastic!

So clearly I'm writing a product review before using them but they're so pretty that I kind of don't want to use them. But they're so soft and I already love them!!

Matched my makeup case perfectly. Product was exactly as shown. Very soft brushes. No shedding after a few uses. I'm happy with my purchase

I do my own makeup with these brushes everyday, and when I am hired to do makeup for weddings, prom, photo shoots, etc. I ALWAYS bring this brush set. They have every size I would need for eye makeup, and they work great.