Wave-Shaped Ring
If you order within
Arrives by
sold in last hours
Description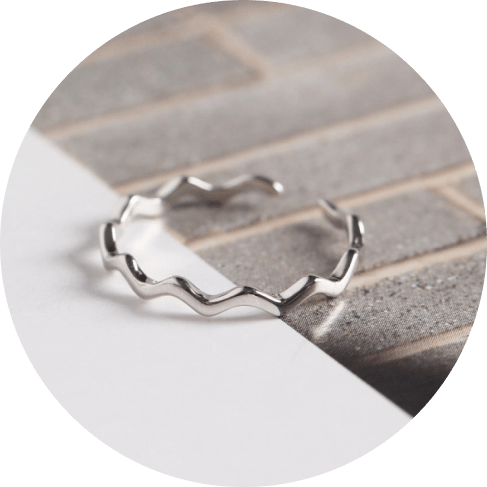 Designed for fashionable looks
Elevate your style
Sophisticated and glamorous, this Wave-Shaped Ring is your new favourite piece of jewelry. A simple but elegant shape of the ring will add the ultimate modern touch to your regular look.
Jewelry crafted with care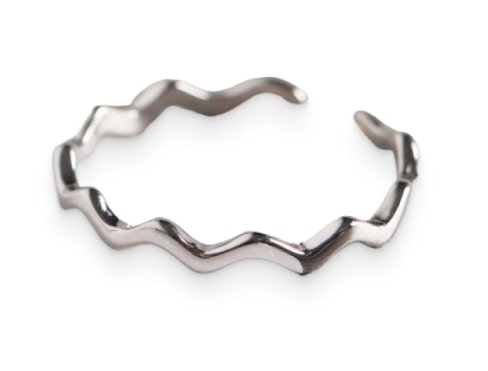 General characteristics
Thanks to the wavy shape, his lovely ring sits on your finger conveniently. Diameter: 0.65 in. Weight: 0.03 oz.
Care tips
Store the ring in a dark place. To avoid tarnishing, do not shower wearing this finger ring. Wipe with a soft cloth after every use.
A gift that lasts forever
This graceful Wave-Shaped Ring makes a wonderful gift for any occasion. Giving your loved one this stunning accessory will show them your love and commitment. Any woman will feel beautiful and desired wearing this ring. Besides, it can be enjoyed for a lifetime.
Reviews
Reviews
Our reviews are verified for authenticity
This is perfect for what I needed! The delicate waves on this ring allow the rings to nest perfectly without adding bulk, and best of all for this price, it doesn't turn my finger green!!! I have small kids and it's flu season, so I wash my hands constantly without removing my rings, the ring is still in perfect condition after weeks of wear!

This ring is delicate and captures that feeling of being at the beach with its curvy wave design. It was a present for my daughter, and she absolutely loves it! This ring is slim in width and she hasn't taken it off since she got it.

I really like this ring! The waves were at more of an angle then I realized. But that may just be my ocd. I wash my hands with this wavy ring on and STILL no discoloration or green finger. I'm so pleased!

Love this ring. It is very delicate looking but very sturdy. I've stacked it with other rings and it looks very nice. I'm thinking of getting a few more to wear as midi rings on different fingers.

Been about 3 months and it looks the same way I first got it. I shower with it everyday and it held up quite well 👌 I'd recommend.

The product is exactly as described! Beautiful shine and high quality! Highly recommend this product and company!

Very nice quality, especially for the price. Daughter and wife both love them and would highly recommend it.

I love the comfort and look and the price! Very well-made and I will be back for more

Love these! I wear a size ten and have difficulty finding rings that fit. They easily adjust.

I really like this ring a lot! I never take it off - sleep in it, shower in it, swim in it, etc. It loses its shape and gets sort of weird and deformed occasionally, but it's not too bad! Most importantly, it doesn't turn my finger green and it doesn't fall off.