Sunshine Volkswagen Clock
If you order within
Arrives by
sold in last hours
Description
Sunshine Volkswagen Clock
What time is it? It's the road trip time!
Do you dream of taking that long summer road trip along the coastline in an iconic VW Camper? Well, now you get a little closer to that dream with the VW Campervan Wall Clock (every little step helps)! This wooden clock features a retro-style picture of a Volkswagen van with a black clock mechanism in the middle.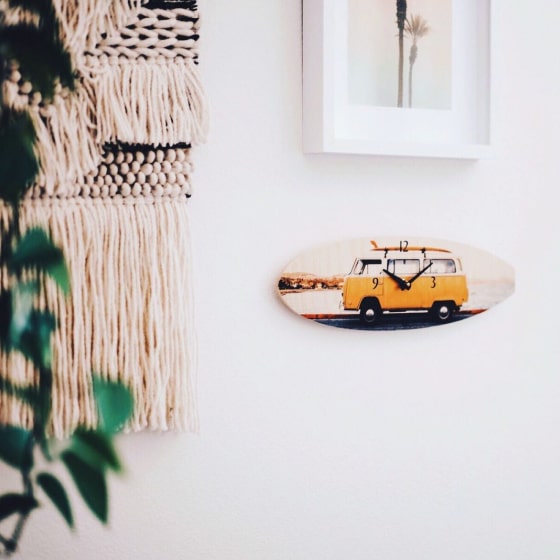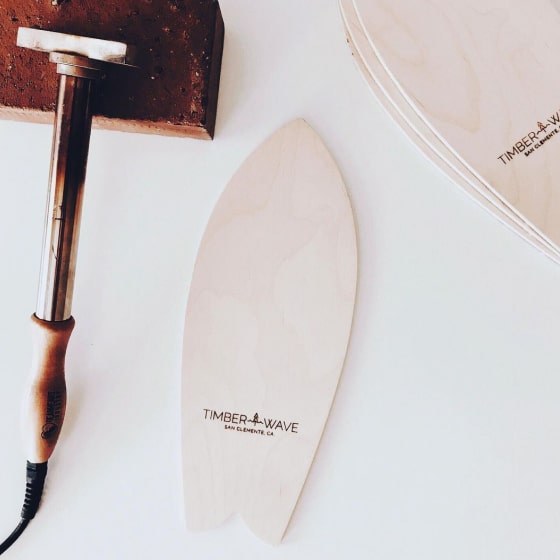 Ethically handcrafted
This beautiful wall-hanging photo clock has been printed with eco-friendly, water-based, fade-resistant ink which preserves the vivid colors of each photo and allows the natural grain of birch wood to show through the image. The clock features a picture photographed by local professionals. Each clock is handcrafted in Southern California.
Measurements - 16" x 5"
Easy instalment with just one nail or screw
Silent non-ticking clock mechanism
Earth friendly and locally sourced materials
Made in the USA
Bring back happy memories of traveling!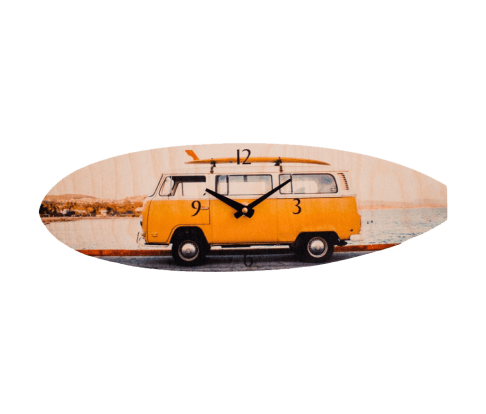 Admire the classic VW Campervan
Put away those digital clocks, mobile phones, and turn back the time with this classic Volkswagen timepiece. This soulful and stylish surfboard clock is a totally unique piece of home decor!
Add character to your home
Your home should tell the story of who you are, and be a collection of what you love! Hang this clock in your bedroom, kitchen, or living room and let it inspire you every time you check the time.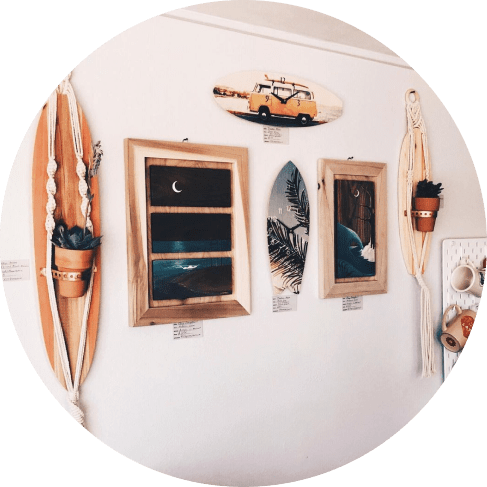 A unique gift
Whether it's for the 18th birthday or 80th, this vintage campervan clock has a lasting style that will look great in any home!
Help to save the oceans
A portion of proceeds from each Sunshine Volkswagen Clock sold is donated towards protecting and preserving the ocean.
About Timber Wave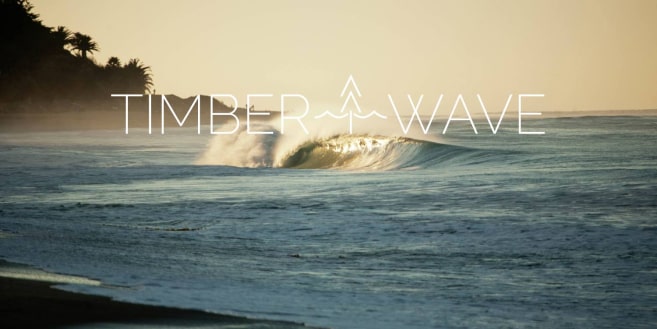 Timber Wave is more than just a product. We are a family owned and operated business. We are a grassroots, surf inspired home and garden decor brand growing one beach lover at a time! Our products are made with eco-friendly printing methods, and crafted from only the best locally sourced materials. Every product we make is an extension of our life long passion for the ocean, and our desire to share it's beauty with others. Because we all share a nostalgia for the sun, surf, and sand, we believe everyone deserves to bring home a product that represents what they love most and the best place for us to make that possible is from the garage of our home in San Clemente, CA. with sand on our feet and salt in our hair. The ocean truly defines who we are!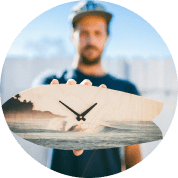 Designed In
San Clemente, California
Reviews
Reviews
Our reviews are verified for authenticity
The product matches the images. The hands of the clock are not as stable

Adorable! Received a little over a week ago, keeps great time so far! Glad I bought it.

Love love Love this clock worth every possible penny

This is a very nice piece of artwork to add to my collection.

Gave it to my dad for Father's day he loved it

Ordered this for a friend who ❤️ VW ❤️. They were thrilled with it!

Unusual clock for any VW enthusiasts. Bought as present for my brother. Very fast delivery.

I bought this for my best friend. She loved it so much she immediately hung it up on her bedroom wall to admire it further. Excellent quality craftsmanship.

5 stars all the way.it came exactly how it was described. Shipping packaging was perfect no breaks. My husband loves it.

Fell more in love with this item the moment I opened it. It's perfect in every way. Shipping was much faster than I expected and the clock was exactly as described.
Sunshine Volkswagen Clock
$67.99