Sunny Bag
If you order within
Arrives by
sold in last hours
Description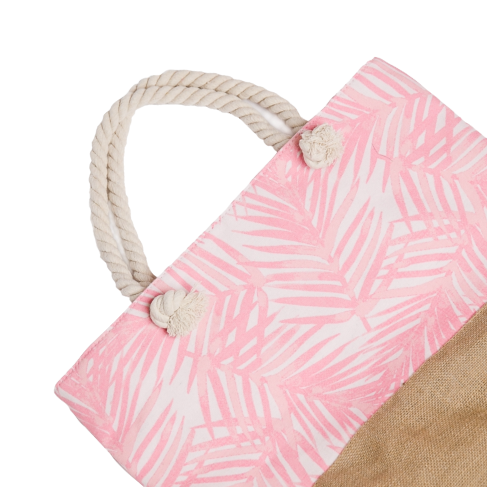 Sunny Bag
Whether you're heading for a relaxing day at the beach or simply strolling along the boardwalk, our Sunny Bag is comfortable to carry and offer plenty of storage for the adventure. Thoughtfully made from tear-resistant cotton and rafia, this do-it-all tote is lightweight yet super durable and has long comfortable straps for toting all the essentials for a family day in the sun.
Hold on to life's treasures
Escape everyday! When you're spending your day outdoors - whether you're working in the yard, golfing, fishing, hiking, camping or simply lounging on the beach - it's important to keep your possessions safe, and this multi-functional tote bag for women fits the bill. Both stylish and functional, it will become your new go-to bag.
Dimensions: 17" L x 21" W
10" L strap height
Raffia bottom
Cotton rope handles
Hand wash cold, dry flat
The perfect beach bag doesn't exi—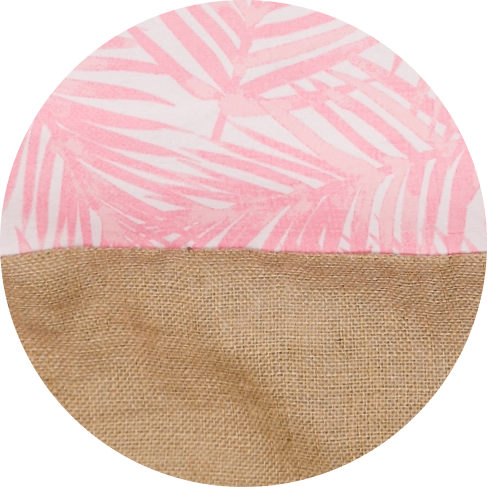 Stylish design
Dressed in subtle pastel tropical leaves, our Sunny Bag will add a worldly boho vibe to all your beach looks. It can easily transition from a day to night bag.
An essential for all seasons
Whether for heading to the beach for a relaxing day or for simply strolling along the boardwalk, our large beach totes are comfortable to carry and offer plenty of storage for all of your adventures.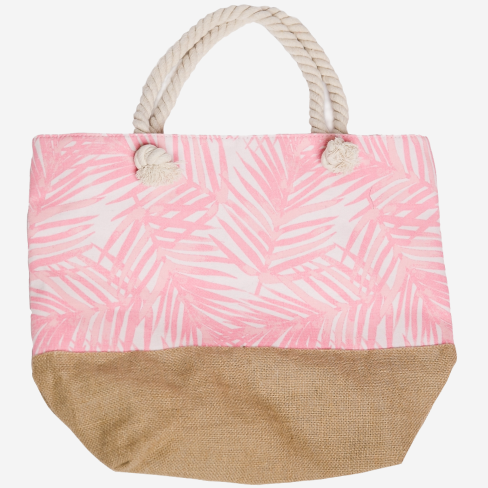 Fits everything you need
This roomy tote holds a change of clothes, an array of sunscreens, your latest summer read, and a big fluffy beach towel. Splash on!
Reusable & eco-friendly
Ditch all your plastic bags and switch to our stylish and functional Sunny Bag so you can look good while doing good for the planet.
About Top It Off
Top it off in style! From accessories to apparel, Top it off bring new twists on classics styles at a price point she will love! Our Spring Summer 2021 Collections includes our wrinkle-free Travel Collection in colorful prints, as well as tunics and coverups, scarves and wraps - everything she needs for effortless chic. Our Fall Winter 2021 Collection has everything she needs for every gal on her list! From scarves, hats and gloves, to wraps, ponchos and ruanas, and easy-to-wear dresses and cozy vests and pullovers, Top it off brings easy and affordable style for Fall and Holiday. Cheers, Karena & Elizabeth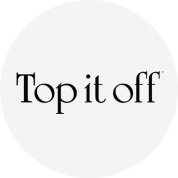 Designed In
Boston, Massachusetts
Reviews
Reviews
Our reviews are verified for authenticity
Large enough for several towed and snacks. Durable material. Cute design.

This bag is gorgeous! I want to order more in other prints. This bag would make a great gift!

I love this bag!! So big. Nice handles.

I bought this for my coworker and she loves it: great quality

I love the design, sturdiness and size of this bag. It's a really good value for your money.

Love it! Great for the beach!

The bag was great. I absolutely love the color!!!!!

It was just what I expected.

Using it as my everyday tote.

Wife is happy and carries it everyday

I love my bag!! Great quality, well made!!

So freaking cute & will definitely be great for beach trips!! Perfect size, too!

Cute pool bag! Love it- it holds just the right amount of stuff when I go to the pool - lotion, book and towel and even my water bottle nicely.

As it was a gift for my daughter, I had to make sure that she would like it. I was wrong, she loves it. It's one of those items that is an instant hit when given as a gift.

Great for carrying anything and everything you may need for the boat, beach, or pool!

This super cute tote is beautiful. The handles are great. The design and fabric are awesome. The inside is really big and fits all my must haves. I love my new tote and can't wait to use it for my summer camping trips. You will love it if you get one!

I had been wanting one of these bags. It is super cute and I love how thick and strong it seems. I like using it for school to carry books and computer in, but also for the pool and beach too. I would even buy more!

First, I love the color of my bag. Second, I thought the bag would be small, but in my opinion it isn't small at all. I intend to use it when I go to the beach & also to put things in when I travel. The fact that the bag doesn't tip over, is a huge plus!

I love the bag itself but the pattern is not pretty in person. The colors of the pattern are too bright

Love the pattern. It's roomy enough. I just wished the handles were longer.