Snake Chain Choker
If you order within
Arrives by
sold in last hours
Description
Elevated simplicity
An eloquent accessory
The elegant Snake Chain Choker with a stylish pendant will wonderfully complement your daily outfits. This lustrous piece of jewelry will be a great addition to your collection.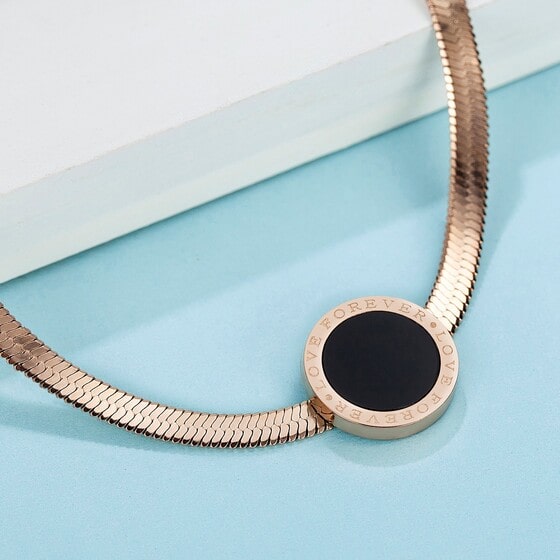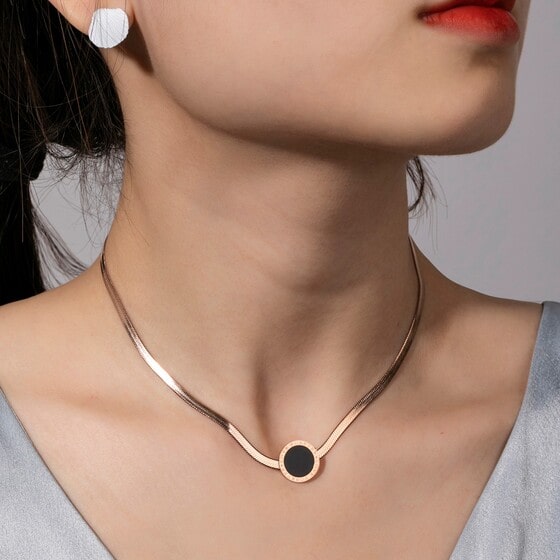 The accessory made to turn heads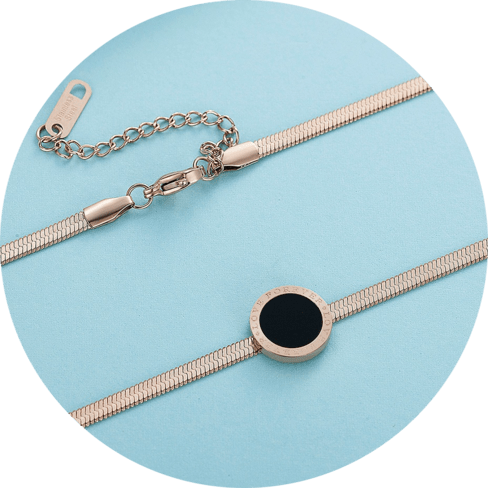 Necklace details
This stainless steel necklace has a pretty rose gold tone. Weight: 1 oz. Length: 18 in. The pendant bears a "love forever" inscription.
Care tips
Good news for you: stainless steel jewelry doesn't get corroded or rusted. That's why you can wear this necklace every day. Keep it in a cool, dry place. If needed, wash in soapy water and dry with a soft cloth.
Perfect for any occasion
Crafted to follow the natural curves of a lady's neck and collarbone, the Snake Chain Choker will look great with any outfit, casual or classic. It will add a delightful touch to your natural beauty and boost your confidence. Layer it with other necklaces from your collection for a glam effect.
Reviews
Reviews
Our reviews are verified for authenticity
Very cute, a little short

I love the way this necklace falls around my neck. It's unique and stylish.

Perfect! Inexpensive, it doesn't kink or leave skin irritations. Every day wear

I've worn this necklace every day for over 2 months now. It hasn't turned my neck green and has withstood many showers. It's a great buy.

amazing quality for the price! looks so gorgeous on and can make any outfit or other jewelry look incredible

Wasn't what I expected but great quality

Amazing quality, such a pretty rose gold. I purchased the shortest length and have it hooked on the last link. Very flexible and dainty. I love it.

Cute for the price. Not bad at all and looks super real

For the price honestly one of the best gold necklaces I've ever bought. I wear it in the shower every day it hasn't turn my neck green whatsoever 5+++++ stars !

This is such a cute piece I can add to any outfit to make it classier. The only issue I had with it is that sometimes it does not lay flat. It lays on its side sometimes.

I have been wearing it for over a week now and it has not tarnished or turned my skin green. 10/10 I would definitely recommend!

Very pleased. Was going to order a much more expensive version of this necklace but why pay 4x more for the exact same thing? Holds up well and is shiny and beautiful

This has become a wardrobe essential! I purchased it as a minimal piece to brighten up looks, and it does just that. I especially love the adjustable length & the golden shine ✨

I love this necklace! I have had my eye on one similar to this but it way waaay more expensive and really out of my price range. I stumbled across this one and i'm so glad I did!

Had mine for a few weeks now and it looks brand new. I've showered with it, worked out 4 out of 7 days/week, used lotions and perfume while wearing it and there has been no discoloration. Definitely buy this.
Snake Chain Choker
$18.99