Skull Earrings
If you order within
Arrives by
sold in last hours
Description
A skull isn't creepy, it's elegant
A versatile accessory for those who aren't afraid to experiment
Skulls have so many interpretations! It can be a symbol of death, possible danger. But it also can be a symbol of wisdom (for those who believe in the figure of the Grim Reaper), or courage (remember the pirates?). Whether you're the one who shares those beliefs, or you just like the look of it – those earrings are an amazing find.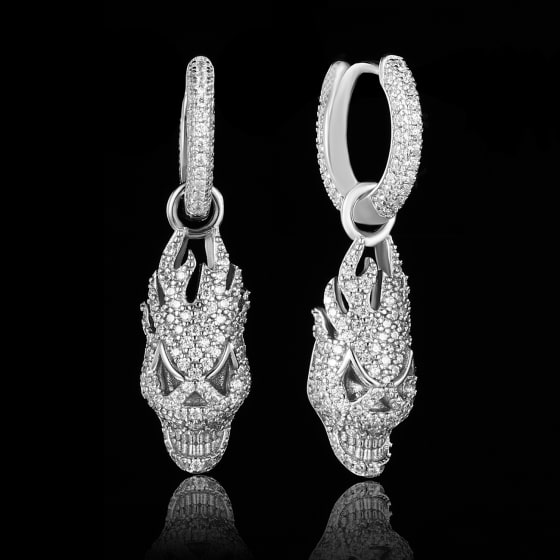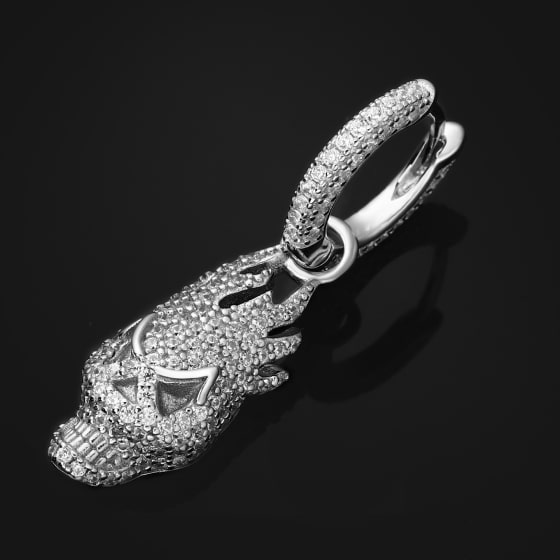 When the regular earrings aren't it
The earrings are for those who aren't afraid of being noticed
Made from great materials
Brass and zirconia that has been used in the production of the earrings possess great durability qualities and are resistant to the outer impacts.
The perfect size
0.78'' in size – the earrings are so petite! Their edgy look is compensated by the cute and tiny dimensions. The balance should be in everything!
How to care for them?
Wash the earrings in warm, soapy water, wipe with a soft cloth afterward. Make sure you dry them off thoroughly before storing them.
Versatile style
The earrings aren't the average ones! They're easy to notice, and they can make you the center of attention. Combine them with edgy looks, or mix them with something more low-key – they'll shine just as bright.
The skull is a nature's sculpture
Dilute the feminine and simple jewelry with these snazzy earrings. You won't be in the shade with them. Bright, outstanding, and a bit provocative – a spicy accessory that every fashionista needs.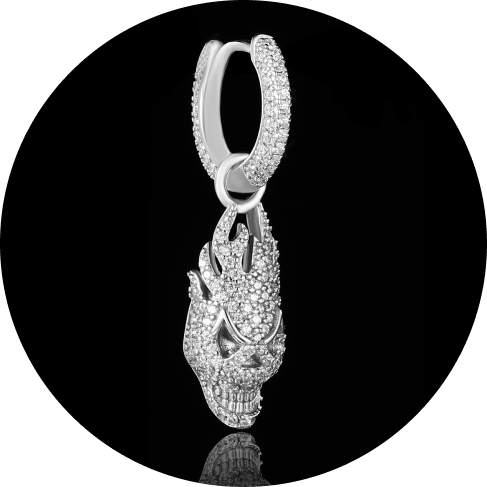 Reviews
Reviews
Our reviews are verified for authenticity
These are way cuter and of better quality than I expected them to be for the price. They are very small, but that worked for me because I don't typically wear big skull earrings. Haha. I easily got away with them at work in a corporate environment. They don't attract much attention but are very cute.

I wasn't sure what to expect with these...I had never bought jewelry online, only clothing, I have been so pleasantly surprised by these. The earrings are VERY well made and a nice weight also, they don't pull like some earrings do. I absolutely love them.

These are by far one of my favorite pairs of earrings now! They are sparkly and cute, yet still "tough," because of the skull. The earrings are made very well, and I have already received many compliments about them. Love them…

I bought these as part of a costume. They are great. They look heavy like I wanted but they are not. Went perfect with my costume and I am so glad I bought them.

Love them! They are sassy and have just the right amount of bling. They can be dressed up or down. I do love skulls though, so these are perfect for me.

I absolutely loooooove these and I'm a tough customer. If you truly love skulls, you want these! They ROCK and not just on Halloween ☠️

I've bought a couple different skull earrings like this but these ones are the best. They don't fall apart and their crystals stay put!

Eye-catching and sparkly. If you are looking for a unique pair of earrings, these are the ones for you.

I like these earrings, but think they would fit better on the ear if they were just a little bigger.

I love these earrings! They are so unique and I've gotten so many compliments on them.

They really sparkle and are nicely made. These are better than typical costume jewelry.

The actual earrings look TEN TIMES better than the photo. Great choice for goths!

My daughter likes them; although they do sit on the lobe a little awkwardly.

They are super cute but bulkier than I expected. I'll still wear them though.

Perfect size for long or short hair. Beautiful and well made. Very pleased.

Just like the picture. They are small but that is noted in the description.

These are some beautiful earrings. They look fantastic and so shiny.

Nice gift for a gal who likes to be a bit different, yet not so flashy.

It's a nice pair of earrings, but don't expect the coating to last long.

These are very high quality earrings for a great price!

I'm just a little bit confused on how to put them in.

Love the earrings! Perfect size and very cute.

Really good and it matches my necklace!

Hard to clasp, but they look neat.