Single Layer Loofah Dish Sponges (3 pcs)
If you order within
Arrives by
sold in last hours
Description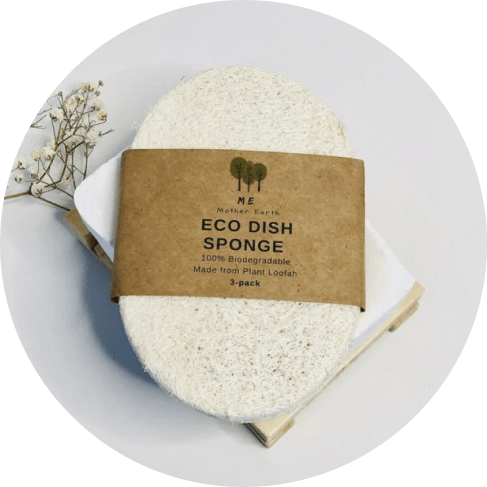 Single Layer Loofah Dish Sponges (set of 3)
Our 100% biodegradable Loofah Dish Sponges replace traditional foam and plastic sponges for dishwashing and household cleaning. Made from loofah plants, these dish sponges are completely biodegradable and compostable. They come in a 3-pack in an eco-friendly kraft paper sleeve.
Better for you and the planet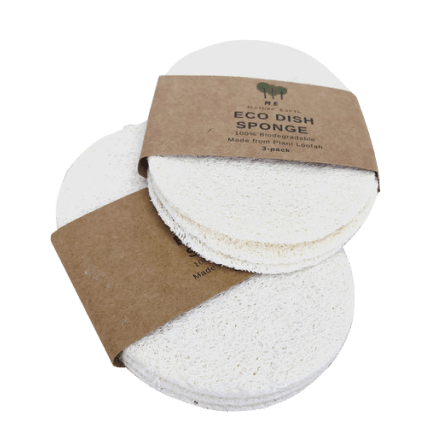 Gentle cleaning
This natural loofah cleaning sponge is hard out of the water, but becomes soft and absorbent when you soak it. The soap gently wipes away oils, stains, and more without scratching your dishes.
Multipurpose
Loofah Sponges can be used for exfoliating, house cleaning, washing dishes, & even giving your pet a good scrub! They will create a nice bubbly lather just like ordinary sponges, minus microplastics.
Details and care instructions
Rinse, squeeze excess water, and place in a dry place to allow water to drain in between uses. You can soak it in vinegar or submerge in boiling water for 5 minutes to disinfect. Packaging: eco-friendly kraft paper sleeve.
About Me.Mother Earth
We are a husband and wife team local to Las Vegas, Alberto is originally from Rio, Brazil and myself, Amanda grew up in Washington state. We started this company with a collapsible straw kit, as big travelers ourselves, we wanted to create something that was convenient enough to bring everywhere and begin to eliminate single-use plastic in our daily lives. For a lot of people, it starts with a straw (our kit also includes a spork!) and we LOVE working craft fairs, markets and events to get the opportunity to talk face to face with people about the importance of making simple swaps everyday and reduce our impact on the environment. It affects all of us. We have expanded to include a large array of products (and we are growing!!) that simplify our lives and reduce plastic waste— especially with products we use everyday. We are not experts at plastic-free & sustainable living and face the same challenges that everyone else does, but we are SO incredibly passionate about our Mother Earth, learning more, and educating those around us. We live the lifestyle as best we can and we are learning everyday. We donate to ocean conservation and other environmental organizations too- Let's make some real change together! All of our shipments are shipped plastic-free!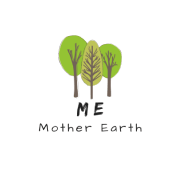 Designed In
Las Vegas, Nevada
Reviews
Reviews
Our reviews are verified for authenticity
My first conversion to eco dish washing. I like that it's natural and I am doing my tiny bit to help the environment. Quality product, good value but I wish they had a bit more scouring power to them though.

Great to have an eco friendly product that works well. It takes a bit of bending to get it into cups and I probably wouldn't risk trying to clean glasses with it in case I broke them, but great for dishes etc. When it's done, I'll be composting it.

These are brilliant. They clean so well. They got a casserole dish of mine squeaky clean. They look weird at first but submerge the thing in water and it swells right up.

Never using horrible planet killing plastic sponges again! THESE are the way forward! Great product, last a long time, great at getting tough grime. I completely recommend, already bought packs for my mother and sister to try!

Still on the first one six weeks after receiving these, although you can not use them to mop up anything they seem to fulfil all other requirement of a dishwashing sponge and they can go on the compost heap when finished .

These are the best eco sponge alternatives I have found , you can actually wash up properly. They get into all the nooks of pots and pans. Also work as a scrubber as well . Brilliant, I can't recommend enough. All can packaged in card, so no plastic packaging either .

I was pleasantly surprised by these sponge's. I soaked mine for a bit in water, and then, as you use them they do become more pliable. Very sturdy, they scrub well without being harsh. I will say my husband and older children aren't keen on them, but I use it instead of our normal ones. Just popped the first one in the compost bin after 4 weeks of use.

I was concerned by some of the reviews but no issues for me - I leave the sponge in the bowl while it fills up and it is plump and frothy when ready to do the dishes. I have not seen any scratches when using on glassware or non stick and found the edge of the loofah really good at getting up stuck on food. Am converted to these as replacements for my old synthetic sponges

I thought I would try these out and am delighted with them. They are long lasting, do the job of cleaning my dishes and do not have the plastic that I had in the usual sponges. They do not scour stuck on food too well, so I also use a natural brush and if baked on food a steel scourer for pots. I have washed mine by hand and rinse after every use and they remain clean and always smell fresh. Very pleased. Would recommend.

I wanted to stop using plastic sponges which is why I bought these. I have since bought them again. They last as long as a sponge does which for me is around a month. They thicken out a lot once they are wet and stay thick. I think they are a fair price and the packaging is plastic free also. I will continue to buy and recommend others to swap to these from plastic sponges.

We love these, they last for ages so work out very good value. These particular ones are a convenient size and the little hanging loop is a really good idea - just rinse them when you've finished and hang them up to dry and they'll be good as new. They're pretty robust when you need to scrub, but also gentle on my non-stick pans. Also pleased with the minimal packaging and NO PLASTIC!! Thoroughly recommended.

Good product only issue is can be hard to get into corners as has stiff seems

Only just started to use, ok so far just need to have more time to fully evaluate.