Silicone Suction Plate With Lid and Spoon
If you order within
Arrives by
sold in last hours
Description
Silicone Suction Plate With Lid And Spoon
This stylish divider plate and spoon set gives children more independence at mealtimes and is perfect for learning to self-feed. The strong suction base ensures that the plate stays in place and does not land on the floor. It comes in a stylish peach color and includes a silicone lid that allows the plate to double as a snack tray or storage container.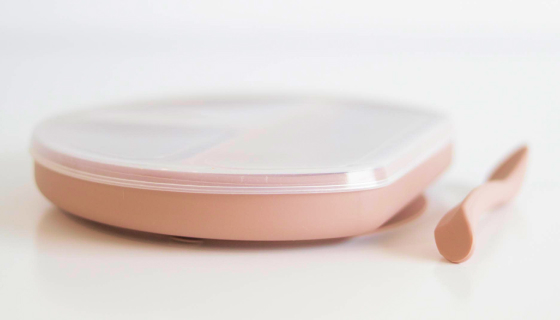 #1 for fussy eaters
Top features of the Silicone Suction Plate with lid and spoon
Three compartments
As kids love to play with their food, the subtle dividers are a handy method of keeping their pasta and blueberries from mixing in with one another.
Non-slip base
The strong suction cup on the underside of the plate makes it stuck to the table, which helps toddlers to eat by themselves.
Dishwasher safe
Our 100% food grade silicone material makes cleaning easier, no matter where you are! Put our plates in the dishwasher at home or conveniently wipe them off on the go.
100% food grade silicone
Our plate is made of FDA approved 100% silicone, totally free from BPA, PVC, BPS, and other substances that can harm your child.
Details and specifications
The set includes: 1 plate, 1 lid, and 1 spoon. Designed to fit highchair trays, it measures 9" l x 7.5" w x 1" h. Weight: 0.95 lb. Material: 100% silicone.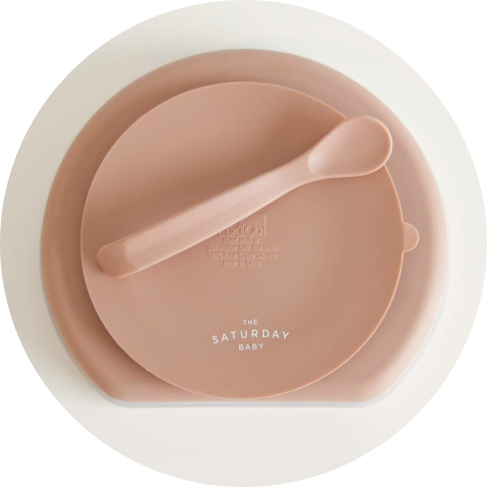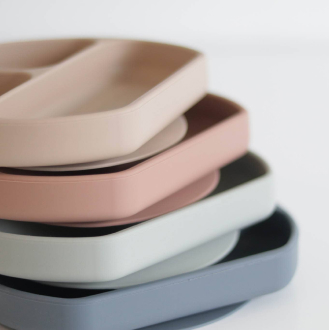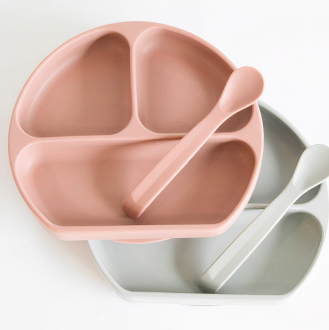 About The Saturday Baby
The Saturday Baby was born out of the need for a modern-style bib that was designed to be both functional and stylish. We were sick of having to choose between bright colors and obnoxious designs. We decided to do something about it because we wanted the best for our baby. All of our products are made out of 100% food grade silicone, are BPA free, non-toxic, dishwasher safe, and each color is curated from a set of eight carefully selected pantone colors. Only the best for your babes.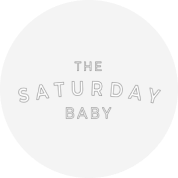 Designed In
Pleasant Grove, Utah
Reviews
Reviews
Our reviews are verified for authenticity
Perfect. Sticks down quickly, easy to get off for Adults, not so easy for toddlers. Fits nicely on the Highchair tray. Easy to wash, Ended up buying another one at my son's house. Love the great color it comes in too!

I really like the silicone plate. It has a compact, rectangular design which fits really well on our slightly smaller high chair. The plate also feels very heavy and durable. It also seems to have good suction, so a little one cannot move it easily. The only thing I'm not 100% happy with is the spoon that came with it. It seems smaller than I expected. But I bought this set for its good quality

I love this plate and spoon! I have bought quite a few different suction plates before but they would not stick to our high chair tray! So, my little man would pick them up easily and throw them at the wall! Ah, the mess and the cleaning afterwards was so tiring!

Highly recommend this product to anyone with a toddler or older infant learning to self feed. The suction power is excellent. The cleanup is easy as it is one piece.I would recommend this for a gift as well. Such a functional piece.

I love the aesthetic look of this product. It's high quality and a beautiful light blue color. It's the sturdiest silicon plate set that I have for my little one. The plate is a great size allowing different appropriate portions and sections. The only downside to the plate is that it has trouble staying suctioned down, especially in the middle, and after a few tugs can be tossed easily. The spoon is a great size, has texture and design that my little one loves, but is a bit not deep enough for him to grab all the food at once. Overall I am very happy with the quality of this product and I would recommend it.

So easy to use, clean, play with. We find ourselves reaching for these items constantly. My almost 1 year old loves to teeth on the spoon (it's deep for his use but he enjoys chewing on it so much!) and the plate is the perfect size for his meals. The feel is very smooth and lightweight but with enough substance to stay put.

I love this set! The suction really works! My toddler couldn't lift it off the table like she can with other brands. The color is beautiful! The silicone is easy to clean and I love that the plate comes with a lid. The spoon is soft and easy for my toddler to use. This is the best set we've purchased so far.

I am committed to silicone for items that may encounter hot foods and this set is great in terms of size, looks, and function for my new eater. Love this for my 8 month old and see that he will grow into it. The suction works perfectly and has made mealtime so much easier. The lid for the bowl is just an extra bonus. Also appreciate the spoon that doubles as a teether during meals, and will definitely be ordering more.

This is a great plate for toddlers! It sticks to the high chair or table really well; if the child bangs on the plate, there's no worries about chipping or breakage (or noise!), and the bright color is fun for the child. It is dishwasher safe but cleans easily by hand washing if you're in a hurry. The sections are rounded and deep enough to let toddlers scoop food as they learn to use their utensils. I'm very pleased with this plate!

I purchased these for my grandchildren. They are 3 and 4 yrs of age and I was tired of spills accidents, where the plates would always end up on the floor, either full of food or not. I am very impressed with these. The suction is very good. They stay put where I set them. The size is just enough for the amount they eat and they are so simple to clean.

This plate has better suction than any I've seen or tried. The only time my 12 month old granddaughter was able to peel it off the table, when it was placed over a decorative crack. You have to press it down firmly when you put it on the table - pressing everywhere you can. It washes up easily on the top rack of a dishwasher, and it goes straight back into the cupboard without needing any extra draining.

This is a great plate, spoon and lid set. Our kiddos love it. The plate actually suctions to the table or surface that we put it on. We've been super impressed by that! We love the fact that it's dishwasher-safe. This means super easy cleaning. Our kids are past teething, but I could totally see how a younger child would use the spoon to feed themselves but also to teethe on. We love the lid that came with a plate. SO easy to store leftovers!! Overall, I was really impressed with this product. The color and functionality are both great. They've really thought about the child AND the parent when designing this product!