Self-Watering Hanging Flower Pot
If you order within
Arrives by
sold in last hours
Description
It's a touch of nature in the air
Add a burst of greenery to your front porch, backyard, or day room with our beautiful Self-Watering Hanging Flower Pot. It's the modern way to get in touch with nature.
Want clutter-free plants or flowers in your space?
We've got just the solution.
Hang with nature
Our flower pot hangs onto any ceiling support or porch beam with an included nylon hanging cord. Set up easily wherever you need a touch of green.
Watch your plant grow on its own
The dual-layer design of our flower pot allows nylon wicks from the inner pot to deliver water from the bottom stoneware pot to the roots of your plant.
Enjoy premium Danish craftsmanship
Our Self-Watering Hanging Flower Pot is built from stoneware, leather, and plastic for a self-sufficient, blossoming wonder anywhere you need it.
Rehydrate with ease
Water low? Simply refill via the watering channel on the inner plastic pot. It's convenient -- without a dripping mess or leaks either.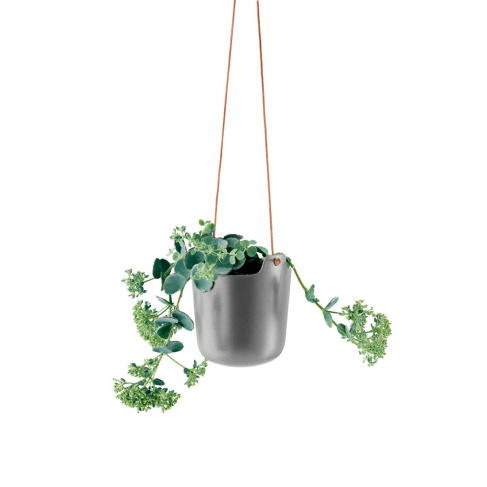 Great for college-bound teens
Let your son or daughter add some of the outdoors to his or her dorm or apartment with this modern, sleek hanging flower pot.
Loved by housewives and decorators
Imagine the possibilities, from breakfast nook to backyard porch. Add a touch of green wherever you envision for your interiors.
Highly-rated by gardeners
Got a greenthumb? Join the hundreds of others who also do -- and love the dynamic abilities of our hanging flower pot.
Less work for you.
Because this flower pot does it all
All you need to do is add water upon initial installation of your plant and its seeds or roots. As time goes on, all you need to do is check on the water refill when needed. Otherwise, for the majority of time, your plant will be drinking predeposited water on its own and growing -- all with minimal maintenance from you. It's the best way to grow a plant or flower without added hassle.
Reviews
Reviews
Our reviews are verified for authenticity
These pots are great. They take the hassle out of watering your plants, you don't have to worry about run over and making a mess they also look good.

Works great, the material looks expensive

The product is great but I particularly appreciated the customer service.

This is a fantastic pot. It looks great and is very durable. All hardware is included. I will purchase more.

Would love for them to be bigger but the self-watering feature works nicely

Wonderful hanging self-watering pots. Both have devil's ivy and are very happily growing plus only have to water weekly!

The planters are light weight, yet sturdy. The spider plant and pothos look great in these planters.

The rope isn't thick enough and even though I tied big knots it still slipped out. Changed the rope and now it's fine

This really helped me look after my plants during my trip, however would love for the pot to have bright-colored options

This hanging basket is sturdy and looks great, I don't need to do any spray painting or other crafty ideas to make it look nice enough to feature in my home.

This plant hanger looks perfect in my mid-century modern style living room, but it could accommodate really so many styles.

These work great! Perfect for my new hanging plants.

The design and functionality of this product is very good.

Works perfect for my patio

Just the right planter for a modern white apartment, but the plants I have needed more root space. The self-watering division took much space. None the less, I really like them.

This basket looks perfect on my patio.

I have a very happy ivy and a very happy pothos! My plants have really taken off since they've been transplanted to these pots. I love self-watering pots; I love not having to guess on how much water the plant needs. These pots are good looking, well made and a great size.

Functioning great, have had it for over 3 months. The material is not something it'd usually go for, but my plants are doing fine

Was looking for something like this for a long time, I wish they'd have them in different colors

These seem to be solid hanging pots. The hangers aren't the typical flimsy plastic that you usually get these days that wears out after about the second season. The pots seem like they'll last a while, too. The only thing I would say is pay attention to the size

Received these today. Pleasantly surprised. They are a generous size for repotting plants from cheap plastic planters. I thought they felt a bit heavy but they don't feel heavier than plastic. I put coffee filter over drain holes as I always have done. They are a nice color and really look great. Actually I think they would look great as non-hanging or hanging.

I bought these to repot my ferns and love them!

Loving this design and functionality

I bought these for a kitchen herb garden but I definitely should have taken my tape measure out to check the dimensions, they are way bigger than I thought they would be! That is alright though as I think it's great for the plants to have room to grow and I can grow a few more plants in each than I otherwise would. They feel like strong good quality plastic, the chains are fine.. down the line I may switch the chains out to something a little cuter though. Hopefully the self-watering aspect works well for my plants!

I recently "rescued" some pothos vines from a friend, and needed a hanging pot for them. This is perfect! It holds a lot of soil, making it great for these vines to grow into - I doubt I'll have to transplant them. The hanging mechanism is simple and seems sturdy. It doesn't get in the way of the vines, like some pot hangers do. I also really like the dual pot design, because a lot of hanging planters don't have proper drainage. This allows the soul to drain, but won't leak on anything below! I wish the product offered a variety of chain lengths, but even so I think I'll be back for more !

These were added to my backyard garden. I hung them from a trellis and my plants are growing beautifully inside them! I love the color of these pots! I have a few hooks on my front porch so I will be making another purchase soon. These were better quality than anything I have seen at the stores. When I purchase again... This is the only brand I will get! They have gone through triple digit temperatures and heavy rain and they are still like the day I bought them... beautiful.

This has saved me and my plants so many times. I have many plants of different kind that require different modes of watering, and it's already hard enough to remember to water them regularly, nevermind instructing others to look after them while you're away. But the pot has really changed the game and now my plants are safe, they're watered just enough so they don't die while I'm away, and the soil is not too wet so the roots won't rot. What's more, the design of the pot is stylish and would fit into about every décor. It's easy to assemble and hang.
Self-Watering Hanging Flower Pot
$96.99