Safari Bowl. Bowling Game for 2+!
If you order within
Arrives by
sold in last hours
Description
A fun game for kids and families
Humpty Dumpty sat on a wall… remove a brick, but don't let him fall! The Don't Dump Dumpty Game is a versatile counting and math game that comes with ideas and rules for so many ways to play. Stack the bricks to create a wall, set Dumpty on top, and take turns removing bricks, but don't let him crack apart! Can be played alone, in pairs, or with teams.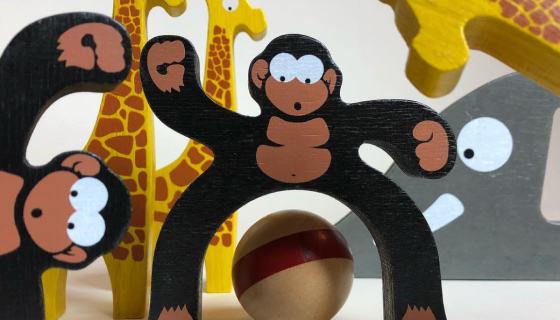 Gets kids up and running
Great active rolling, bowling, and target game
The Monkey Bowl is here
The Safari Bowl is the perfect first bowling set for any little one. It helps to develop hand-eye coordination and gross motor skills.
What's included in the set?
Each set comes with two wooden balls, an elephant 'launching' ramp, three bullseye targets, three giraffes pins, and two monkey targets.
Bowling game and animal play set all in one
This chunky wooden game combines bowling and target play with fun safari animal character play. This 13-piece game and playset is made from eco-friendly rubberwood.
Fine motor development and game play
S.T.E.A.M. starts here! This play set is great for active game play combined with storytelling character play. Safari Bowl dimensions: 12" l x 2" w x 7" h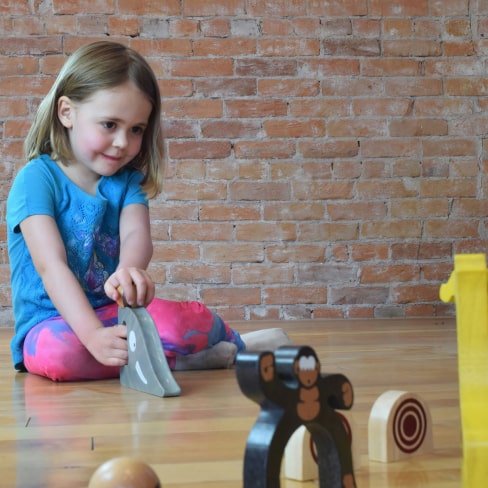 Comes with a wooden storage tray
This fun & durable wooden game by BeginAgain stores nicely in its wooden storage tray. It was designed for easy clean-up and storage.
Kid-powered battery-free play
Kids have all the energy they need to play, and our toys, games, and puzzles need no batteries. These toys are powered by imagination and curiosity.
Thanks from the BeginAgain workshop
Made from eco-friendly materials, the game was designed to offer a variety of ways to play. The Safari Bowl game is a great way to help kids blow off steam and fend off cabin fever, and it's the perfect rainy day indoor toy to keep them moving and laughing!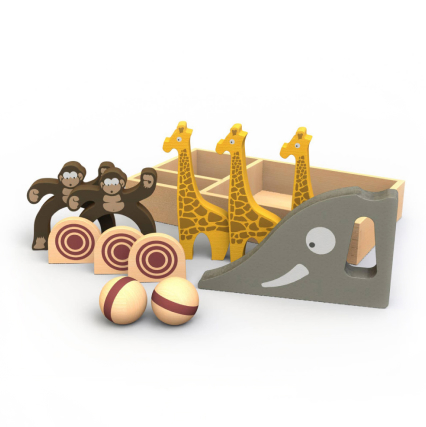 About BeginAgain
BeginAgain is an eco-conscious toy company based out of Fort Collins, CO, who specializes in toys for children 6 months to 6 years old. We design and market toys that are fun and develop the child across all stages of toddler and preschool life, both mentally and physically. Our products are made from 100% sustainable materials, so they are child safe and most importantly mom trusted! Our brand is seeing tremendous growth as a result of: 1. Our sustainability message is resonating with consumers & retailers. 2. We use rubberwood, water based stains & natural rubber for entire product line. 3. Parents are looking for toys that reduce screen time for their children. 4. The revolt against plastic is very real & parents are looking brands not using plastic. 5. BeginAgain has grown as a very authentic voice that parents, grandparents & educators really love.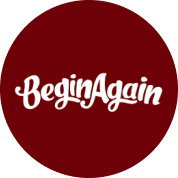 Designed In
Fort Collins, Colorado
Reviews
Reviews
Our reviews are verified for authenticity
Unique toy. Want to pair it with dominoes for even more fun!

Smaller than I imagined it but great product. The material is durable and the animals are cute, toddler approved

I bought this for my 21 month old son. He loves it. He likes helping set up the animals, dropping the ball, and if we miss any he thinks it's hilarious to knock over the animals himself. The pieces are well made and the animals are cute. It's a little difficult to set them up so all the pieces get knocked over (the gorilla is really for aiming between it's legs as you can see from the picture) but it can be done. I like that these are stained instead of painted so no worries about paint chipping when they get thrown on our wood floors. Recommend!

Amazing! The box is a great way to keep it organized and is a quality piece itself with no splinters or rough edges like on some other toys I have purchased. The balls are big enough that that aren't a chocking hazard so this is a good game even if you have little ones that might put things in their mouth. I have no doubt that my son will continue to love this as he learns to do more like aiming for between the gorilla's legs. Currently he likes using targets as paddles to hit the ball back and forth with his dad. I would recommend this as a great indoor game for rainy days. Kept the little guy running after the ball for a good 30 minutes. Buy it!
Safari Bowl. Bowling Game for 2+!
$44.99