Rose Gold Butterfly Bracelet
If you order within
Arrives by
sold in last hours
Description
A special accessory
An amazing accessory that will wonderfully complement your look
This bracelet with butterfly pendants carries a strong meaning and is a great accessory to highlight the gracefulness and delicacy of a lady's wrist.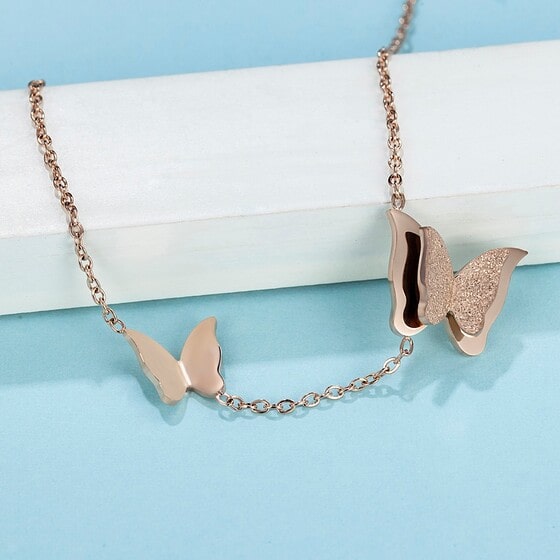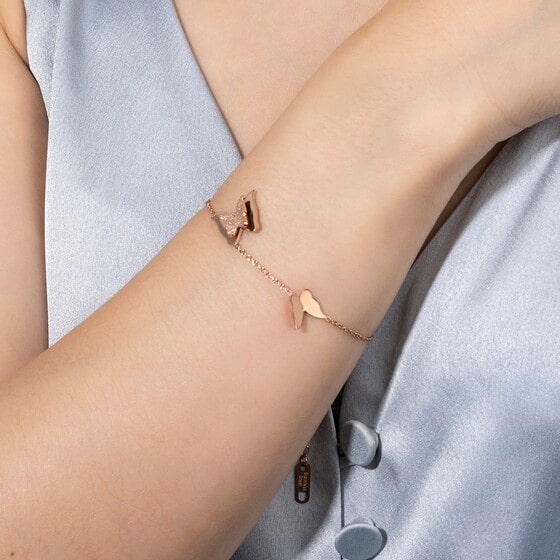 Product details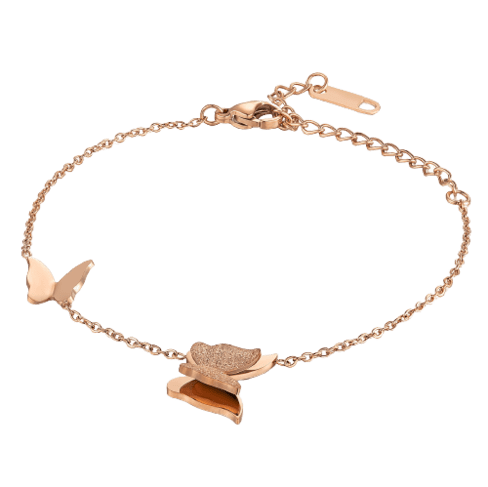 General characteristics
The bracelet is made of stainless steel. It is an adjustable piece of jewelry composed of a flat brass cable chain and connected with a lobster clasp. The bracelet in the golden rose tone is 5.5+2 in. long. The butterfly sizes are: 0.43 in. in height and 0.55 in. in width, 0.35 in. in height and 0.39 in. in width. Weight: 0.14 oz.
Care tips
Stainless steel accessories don't require special care. They don't get corroded or rusted. So, feel free to wear this bracelet every day. Keep a bracelet in a cool, dry place. If stained, wash in a soapy water.
Gaudy as a butterfly
A lovely design of a butterfly charm bracelet won't leave a woman indifferent. A butterfly is believed to be a symbol of change. So, wearing a butterfly pendant means that you're a person who can easily adapt to changes. Wear this bracelet to look forward to new beginnings.
Reviews
Reviews
Our reviews are verified for authenticity
This is a gorgeous bracelet. I love butterflies. The bracelet is nice and lightweight.

This is such a simple but beautiful bracelet. I've had it for a month now and I have had no issues with it tarnishing. I definitely recommend it. I also love the little butterfly charms.

This bracelet is beautiful and elegant, perfect for everyday wear or a special occasion.

Really happy with this purchase. It looks more expensive than it is. Easily adjustable for size. Comfortable. What more could you ask for? Recommended.

I bought this as a gift for my daughter. It is very pretty and very durable! She loves wearing it!

I treated myself to this for my birthday. It gives such a nice flare to any outfit. I've had it on since I purchased it and it hasn't broken. It's pretty sturdy but also dainty enough to look elegant

I love butterflies and wanted a bracelet with the butterfly design. This one is beautiful! I receive compliments whenever I wear it. Would definitely purchase it again as a gift.

I bought this for myself as a very late Mother's Day gift. I love that it is so tiny because I have really small wrists so most bracelets look and feel huge on me. My favorite thing about this bracelet is the cute little butterfly charms. But the chain is really long and hangs off of my wrist. I really love this bracelet. I give it 4.5 out of 5 stars!
Rose Gold Butterfly Bracelet
$18.99