Reload Exfoliating Rub
If you order within
Arrives by
sold in last hours
Description
Refresh, renew
It's all in one powerful yet gentle scrub. The Lumin Reload Exfoliating Rub helps rid your face of dead skin and pore-clogging grime and buildup in a lush, rejuvenating scrub that leaves your face smooth and glowing.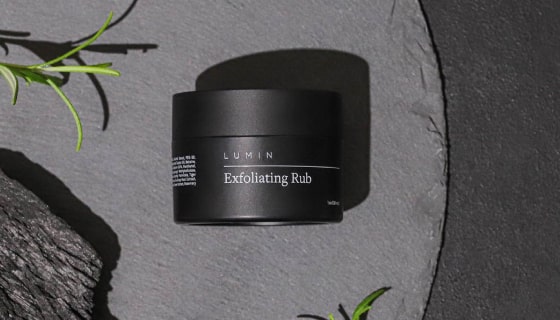 Say yes to fresh
Go beyond just washing
Make it a weekly ritual
Washing your face daily is a must -- but are you exfoliating regularly? Use our scrub once or twice a week to revive a dull complexion.
Reduce scars, clogged pore, and more
That's the power of exfoliation -- and doing it regularly. Our charcoal works wonders to reduce surface buildup and textural issues over time.
Soothing, calming (invigorating)
Calm skin with good stuff like green tea extract, licorice root extract, and rosemary leaf extract.
Easy to use
Scoop a nickel-size amount into your palm and massage your entire face. Use before shaving for a smoother shave, or use weekly for skin maintenance.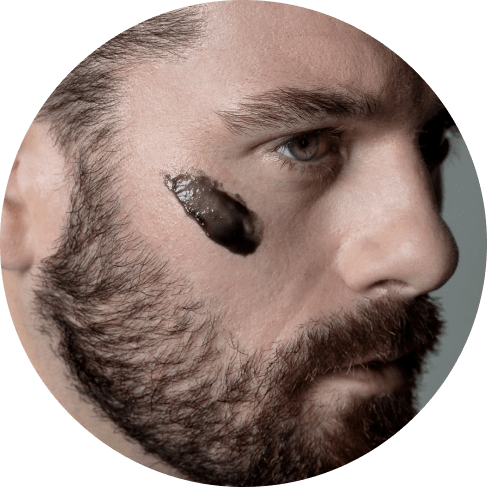 Self-care is self-love
Take better care of yourself and go beyond just plain water or a face wash. Better care of your skin = better looks.
Relax + indulge
Take time for yourself and make exfoliation a weekly thing for smoother, better skin. Regular use will help improve dullness, texture, and clarity.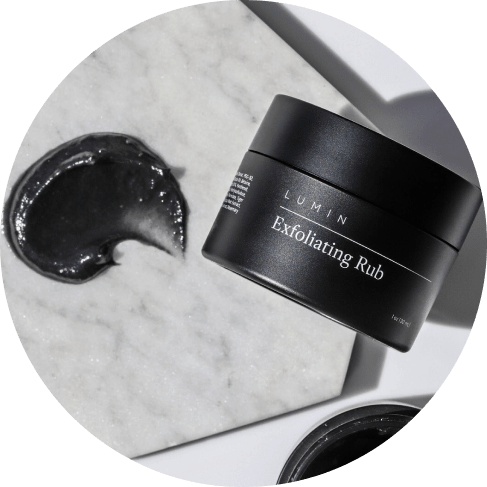 Premium care, just for men
Lumin prides itself on quality ingredients that really make a difference. Go from ordinary to extraordinary with the Lumin line of skincare and haircare must-haves for a better, more confident you.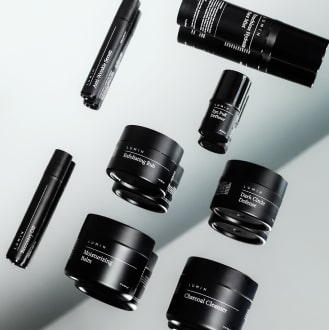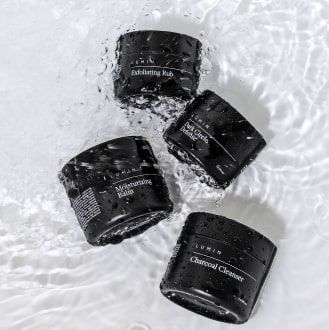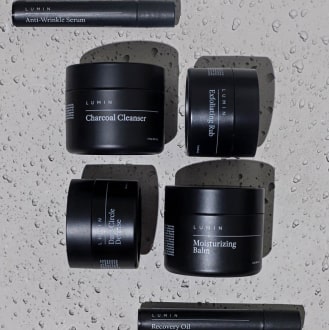 Reviews
Reviews
Our reviews are verified for authenticity
left skin clean and fresh

Smells great. I feel clean after using it.

Great product! First time I used I could already see a big difference no joke

Very good product. Have noticed huge differences in less than a week.

Love everything about this product.This is so awesome

It works really well, I felt like my face was really clean after use and the bottle lasted me about 2 weeks, but for me way too pricey for this amount of product.

Goes on smoothly. Absorbed well.

It is very refreshing to the skin.

This was a gift for my son. He already use the product and likes it, just needed a refill

Really good product. You can feel the change after using it.

One use and my son's face looked so much clearer, he loves it.

Doesn't dry out my skin and it feels like a breath of fresh air through my cheeks

Great skin care line for men. I have seen noticeable differences

ordered for grandson(14) and he loves, as it is helping his mild acne

I loved these products! I saw results the next day and I highly recommend to anyone who wants a better looking skin.

A little pricey but great stuff

Just got the product, but it feels like something is working. Do notice the face is not as oily throughout the day.

I've only been using the product for 2 days, but it does feel refreshing on my face and has helped with some of the pimples I had on my face

This product is awesome, I had dry flakey skin constantly and after a week using this product, not my skin is healthy and no longer gets dry and flakey.

I've been using Lumin since October, and my face is totally clear from pimples from wearing a mask for 10 hrs a day. Definitely recommend this product.

Been using it for a week and I can't believe how good this stuff works. I had a few dry red patches on my face that are almost completely gone. Pretty impressive so far.

The little notecard is very helpful in providing the correct method to apply the exfoliating rub. I've noticed the smoothness of my skin on my face to be improving. You do not have to apply the rub every day, which is great. Recommended application is 2-4 times a week and that's plentiful. Very convenient size and I'm looking forward to my results with continued use of this product.

So I have crazy oily skin and believe it or not, but I started noticing the difference in just a matter of days. My skin looks clearer, softer and smoother. This is the real deal and as long as you're consistent, you'll see the difference.

Excellent exfoliating regime for my skin. Earlier I used to apply only the moisturizer but this exfoliating rub is not hard on my skin and doesn't irritate my skin as other products in the market. Plus no weird after smell!!

I'm not an expert, but I like it makes my skin feel good. I got it for regular care and not as a sort of treatment but I like it, will probably be rebuying!

I got this for my boyfriend who has dry skin and it worked so well! He loves it and will be buying it again.

I love this stuff! I use it before bed and wake up with my face feeling incredibly smooth. Perfect for men of any age. Highly recommend it!

I've used a lot of different exfoliant scrubs before, but this one tops the list. Tough enough to take off excess skin and dirt, but not rough enough to irritate your face or neck.

I've been using their other products for a while now, and just tried this Exfoliator for the first time. Every day I use it, I feel good about how my skin feels the next morning. Will definitely buy this again when I run out!

I've always had skin issues and was never really raised to take skin care very seriously. Now that I'm older, I've tried several products. THIS one works. First day I tried it, I was stopped twice by women asking what to use. The change in my skin was visible immediately.

This is hands down the best exfoliating scrub I have ever used. It's gentle yet very effective. I have been using it for the last four months and my skin is always left clean and smooth after using. The entire Lumin skin collection is awesome. I get so many compliments on my skin!! You have a customer for life!!!

I use a lot of face stuff but get lazy at night sometimes. This takes less than about 3 mins to use and you can feel it when it's done. Not harsh at all and doesn't leave your skin feeling raw at all the next day. I use the Lumin charcoal wash every night and this a few times a week, then vitamin c, retinol, and cerave pm. Skin is always bright and feeling great the next day to where many co-workers ask what I use.