Red Lipstick Earrings
If you order within
Arrives by
sold in last hours
Description
Designed for ultra-modern looks
Sassy & bold
The eccentric shape of the earrings together with their exquisite details will add the ultimate modern touch to your regular looks. Make a bold move!
Be the center of attention!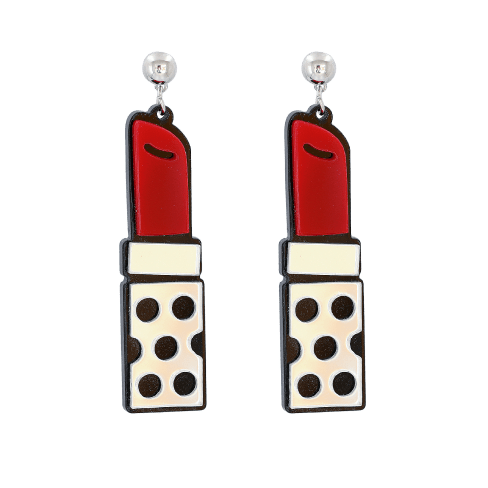 Earrings details
These insanely cute Red Lipstick Earrings are made of resin. Size: 0.4 in.* 2.4 in. Weight: 0.7 oz.
Care tips
Do not submerge in water. Store out of sunlight. Avoid exposing the earrings to harsh chemicals and cleaning products.
Be glamorous!
These gorgeous earrings will perfectly highlight your jawline and skin tone. They are a stunning addition for both casual and fancy outfits. Your extravagant look won't be left unnoticed. Stand out from the crowd!
Reviews
Reviews
Our reviews are verified for authenticity
I am very happy with the earrings. Beautiful bright red color. I'm very glad, the earrings are very stylish, light, well fastened, neat, smooth. And it looks very impressive.

Very cute and high quality earrings! Not heavy, the clasp is quite reliable, and most importantly, that fully coincides with the photo. Thank you!

Earrings are amazing, the quality is excellent, the edges aren't sharp. The color of the is very beautiful.

I thought they were bigger, but it doesn't make them less attractive. Really like them, thank you :)

Earrings are very stylish, light, well fastened, neat, smooth. And they look very impressive.

Wonderful earrings, high quality. They look beautiful. Heavy enough, but you can get used to it.

The goods were well packed. I really liked earrings. Looks like in the photo.

Earrings are very cute, fully correspond to the description.

Very difficult to wear, but cute, worth it.

Earrings are very beautiful, look cool.

Earrings are super! I really liked it.

Earrings are chic, really like them.

Seemed a little bit heavy for me

Delicate and unusual earrings.

Unrealistically cool earrings!

Very cute, beautiful earrings.