Reading Retrieve Bookmark
If you order within
Arrives by
sold in last hours
Description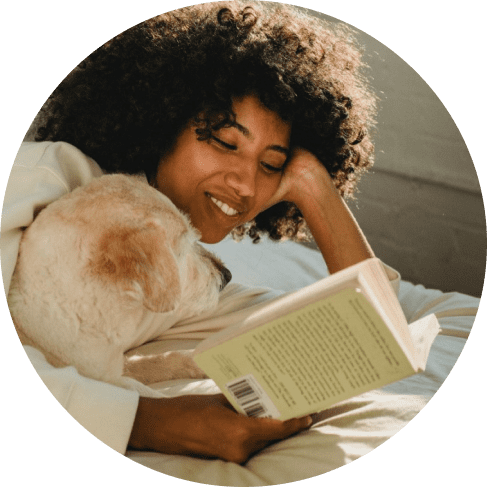 Your book's best friend
Seems like you've just found your perfect reading companion! The adorable retriever print on both sides of this wooden bookmark is sure to lift your spirit when you need it the most.
About this bookmark
An invaluable accessory for any book lover
An eco-friendly essential
Single, flat wooden bookmark is every book reader's essential when it comes to spending your time beside a book.
High-quality design
Made from flexible yet durable, sustainably harvested birch wood veneer (approx. 0.65mm thick).
Made in the United States of America
The bookmark is made in the USA and is 100 percent biodegradable and recyclable with paper goods.
A thoughtful and unique gift
Mark your spot in style with this adorable and natural real wood bookmark that can make a great gift for real book lovers.
Who's a good boy?
This golden retriever-inspired bookmark is hand-crafted from sustainably harvested birch wood and is 100 percent biodegradable and recyclable with paper goods. One side displays a beautiful design to mark your spot and the other side displays a corresponding design.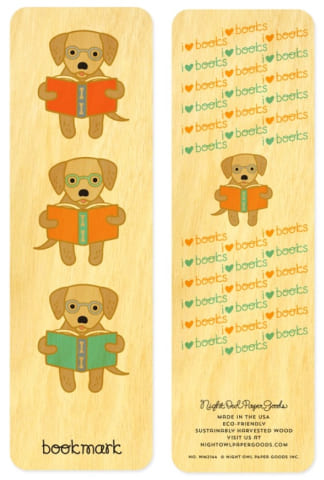 About Night Owl Paper Goods
We are open and shipping daily. We truly appreciate your support of our small, family business! Night Owl Paper Goods is run by two sisters who adore cute critters, silly puns and ample amounts of espresso. Jennifer is a true night owl designing products into the wee hours, while Megan runs the show. With every order we pack and ship we're reminded just how much of a treat it is to own and run a small, creative business. Connecting people with our quirky greetings and whimsical goodies is what we adore and aim for with every new product. From our designs to the renewable resources used to create our products, nature is both an inspiration and an influence in our work. From colors to critters to patterns to textures, Mother Nature is always full of beautiful surprises. It's not only our pleasure but our purpose to make sure you have an incredible experience with Night Owl Paper Goods. We do our very best to be fast, friendly and responsive, and nothing brings us more joy than exceeding our customers' expectations. We're immensely empowered by the support retailers have given us over the past 14 years, and we certainly wouldn't be where we are today without your talent, kindness, dedication, support and oodles of hard work. Retailers, you are our super heroes!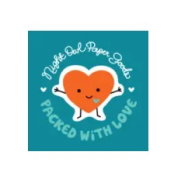 Designed In
Birmingham, Alabama
Reviews
Reviews
Our reviews are verified for authenticity
Beautiful bookmarks. Definitely worth it.

This is fine and beautiful with lovely engrave

This bookmark was a must have for a fan like me, only wish it was a bit thicker and bigger especially for the price but it's a great product nonetheless.

Lovely well made bookmark that's as shown & described. Bought as a Xmas gift for a Lord of the Rings fan.

I love how books so when I saw this bookmark I had to have it. It is a little slimmer than I expected but it looks better than in the picture.

This was a gift for our daughter. It is very high quality and beautifully crafted. Just the right thickness to work well in your book.

This is absolutely beautiful, and clearly made with the utmost attention to detail. I got it as part of my husband's birthday present, and he was really impressed. Everything is inlaid and made of real wood. It's just such a quality thing—give it a shot. You'll be glad you did.