Punk Bracelet
If you order within
Arrives by
sold in last hours
Description
A bold accessory for bold people
When the regular bracelets aren't it anymore
This unique bracelet is a fantastic find for you. It looks trendy, stylish, and one of a kind. There are no other deals on the market that compare in terms of quality and appearance to this one. The bracelet's style, materials, and durability are all examples of well-thought-out design. An offer not to be missed!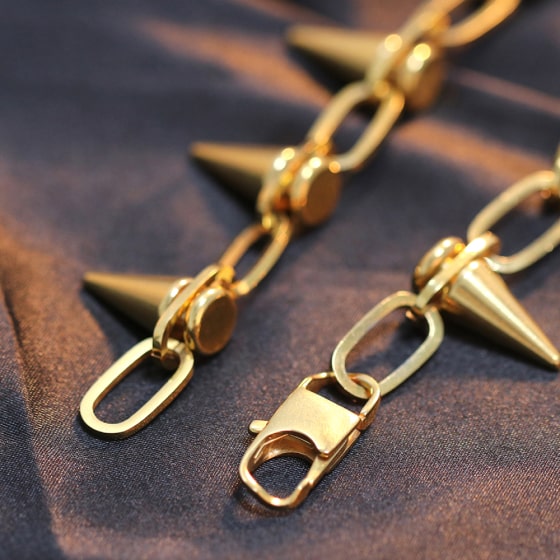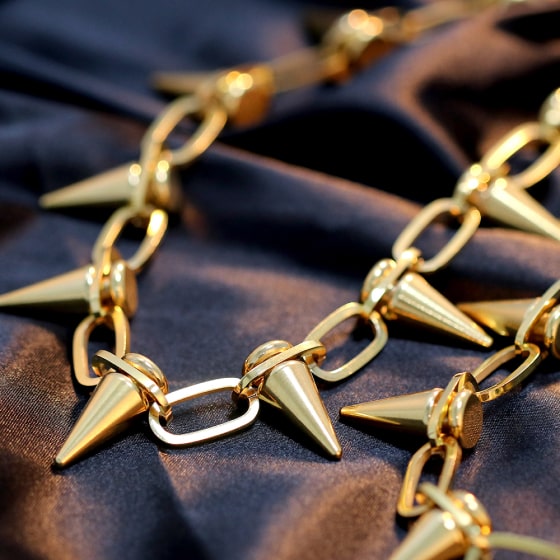 Plain Jane? We don't know her!
A bracelet for people who don't stand in the shade
It's a perfect gift
For any man or a woman. It doesn't matter because the bracelet looks good on feminine looks as good as it does on the masculine ones. Boldness doesn't have a gender, and this accessory embodies exactly that. Rock it!
How to care for it?
The process is indeed simple. Try to keep the bracelet dry (don't put it under the water, if you happen to wet it – dry it out as soon as possible). If it gets dirty, rub it with some alcohol (wear gloves while doing it).
It's made from great materials
Stainless steel that's been used in the production will last you for a long time. It's durable, affordable, and commonly used. The lovely golden tone gives the bracelet a sumptuous finish that grabs everyone's attention and looks sleek.
It elevates your look tastefully
The spikes all over the bracelet look witty, and quite honestly, a bit provocative. You'll be the center of attention, that's for sure. You can wear a bold outfit and it'll fit in just fine, you can wear something low-key, and the spikes will give your look a spicy kick.
It'll be a star of your jewelry box
Enjoy the immaculate workmanship and quality of the bracelet. It's called bold not for nothing – it's made with attention, consideration, attention, and quality. Being bold includes being responsible!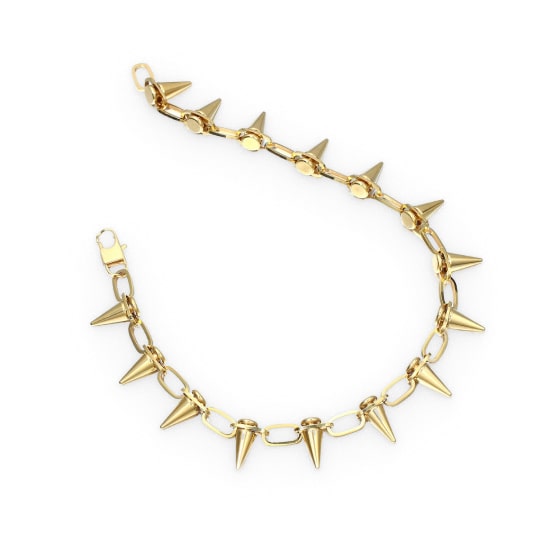 Reviews
Reviews
Our reviews are verified for authenticity
The bracelet is as pretty as advertised. The size was perfect. I have only had it one day so can't comment on durability of wear or color but am pleased so far. The order came quickly and was appropriately packaged. Thank you.

This is, simply put, one of the prettiest bracelets I've ever owned. I'm so happy I decided to buy it! It's delicate, a little sparkly without being flashy, and sits on the wrist so comfortably. I hardly notice it at all, and I never take it off.

This surprisingly was at a great price. I had to get it. It's such a beautiful and dainty bracelet! I absolutely love this! It's a great piece to layer with other bracelets which is what I wanted to use it for.

If you're considering getting this, go for it! You won't regret it. I shopped for a bracelet that has a cute design, size and color. This had all I was looking for.

I love my pretty little bracelet! It's nice and dainty and sparkly! I have two others that are heavy and thick so this one is nice for everyday wear.

I thought it was super cute but after only using it for a week on vacation it was tarnished and worn out looking…

I love this bracelet! It looks & feels amazing. Definitely, I will consider buying another one for a set of two.

This was actually so comfortable to wear. I used it in my Harley Quinn costume and worked so well.

The item is beautiful, however, the spikes. They are too big and get caught on everything.

I like this bracelet a lot,it is a quality piece. Definitely intend on grabbing more for stacking.

I love this bracelet.Very sturdy and durable. Goes well with everything.

Fits even my small wrist! No worries of it slipping off my hand!

It is a beautiful piece that fits well and is comfortable to wear!

The clasp is too big for me! I wish it was smaller.

Cute accessories for my rockstar costume.

The most beautiful jewelry ever!