Premium Acrylic Tortoise Colored Circular Clutch
If you order within
Arrives by
sold in last hours
Description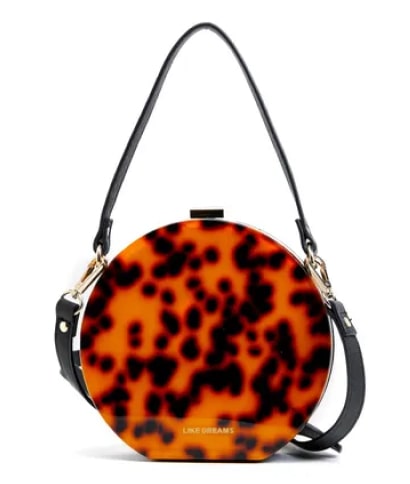 Premium Tortoise Colored Circular Clutch
Classy & eco-friendly clutch for you to impress
Are you looking for a stylish circular clutch made of premium, eco-friendly materials? Then, pay attention to this Premium Acrylic Tortoise Colored Circular Clutch. Designed with an idea of an exclusive look in mind, this classy clutch will definitely attract lots of attention while you're walking down the street!
The way to look even more stylish
Stylish Acrylic Circular Clutch
Brilliant and arresting design
Are you fond of things with a bright design that is able to attract other people's attention? If so, this Circular Clutch with its acrylic cover and brilliant design is exactly what you need!
Eco-friendly components
It's time to start preserving nature with the clutch made of polyester lining and vegan leather top handle!
Detachable shoulder strap
It's extremely difficult to create a bag handle that will look perfectly. Like Dreams decided to go further and managed to design a clutch with a detachable shoulder strap. It's only you who is to choose the way your bag will look!
Compact, but capacious enough
Each accessory is supposed to be not only stylish but also convenient to use. This is exactly what this clutch is able to boast: due to its well-thought-out size, you will be surprised that you've not found it before! Dimensions: 7"W x 6 5/8"H x 2"D.
Perfect present
If you have that special somebody in your life that you would like to show your appreciation to with a special gift, get this circular clutch! Its brilliant design won't leave anyone indifferent!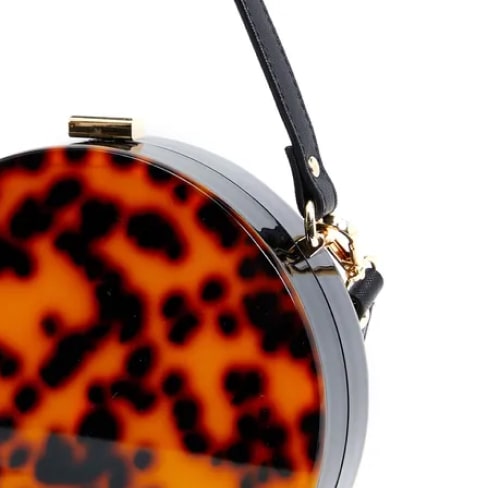 Reviews
Reviews
Our reviews are verified for authenticity
I received my bag once it was back in stock. It was really cute and I liked the detailing on the sides. I bought this purse to have something for my birthday outfit. My outfit was over the top so I wanted a purse that would be cute but not take away from the outfit. It was the perfect fit. I had my purse, lipgloss, and passport on here. There was still plenty of room but this is not the kind of purse you want to over fill anyways.

I love this bag so much that I keep wearing it anytime I go out. The bag matches very well with my vintage outfits. I wish I bought this sooner.

Omg! I'm so happy I got this bag. Thanks to my man for doing so, I received it yesterday and couldn't wait. Heading on vacation this weekend, and plan on wearing it in some nightclub. No funky smell, nice size, and well made.

A fantastic bag for a date night! It has two straps, the short one for carrying it in your hands (or hanging it on the back of the chair) and the long strap for carrying it on your shoulder. I don't really take much with me on a date night, so this clutch has enough space for me. The best thing about it the cool pattern on the side of the bag, which just takes my outfit to a completely different level. Ladies, try it with a black tight-fitting dress, it does wonders!

My wife wanted a smaller bag for carrying her things. She loved this bag upon opening it! It fits an iPhone 7, a small to medium sized wallet, sunglasses, makeup, and keys in it. It has enough room for the essentials. She is really happy and I'm happy too. That's how you score brownie points, guys, get your girl something now!

To be honest I didn't expect a lot from this clutch, I only bought it as a last-moment replacement to a bag chewed by my dog. Overall, it actually is decent quality, the pattern looks fine and doesn't scratch or get any marks on it (I half-expected it to be fractured or smth), the clasp works properly and the bag is spacious for my phone, wallet and a mini make-up bag. Pleasantly surprised by the quality!

If I had a dollar for every compliment I received today I would be able to purchase two more bags. The bag is gorgeous! Small but not tiny where you can't carry stuff around. I can fit my phone inside without squeezing it in. I don't usually carry this around every day, but rather take it on special nights out with my man and he just loves this bag… Really satisfied with this purchase.

I got this for a party and it didn't disappoint. Very well made, vegan leather feels great to the touch and doesn't hurt animals. I love this small clutch. It looks just like the pictures and went well with the outfits I put together with it.

An amazing bag for a date or a party, particularly if you happen to have any animal-print dresses or shoes. Works like magic with mine, fits just enough things, my phone, keys and wallet (I don't need much). The snap lock holds my back closed, the last thing I need is my bag opening on a date! Really cool bag for cute girls!

I recently purchased this item, thinking I'd found a bargain for a very trendy handbag. It is okay for the price, but I wish there was at least one pocket inside, since it is a bag, right? It is supposed to help me organize my things even when I'm partying or on a date!