Precision Screwdriver Set (10 pcs)
If you order within
Arrives by
sold in last hours
Description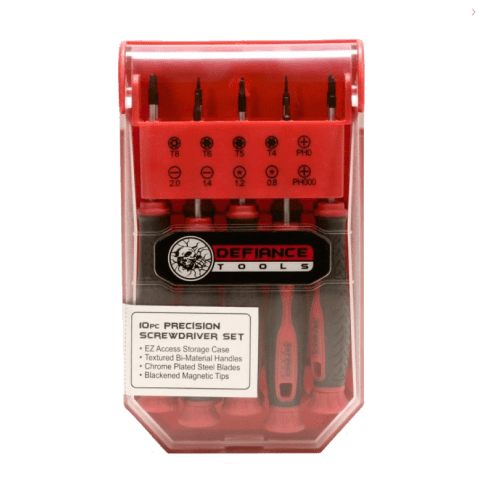 Precision Screwdriver Set
Are you looking for a multi-tool set that includes high-quality instruments only? Is it, in your opinion, essential for it to be easy to store? In this case, take a close look at Precision Screwdriver Set by Defiance Tools. Due to the materials the tools are made of and a clear storage case, it will become a must-have device for home, car, etc.
Precision Screwdriver Set
Your go-to-guy at home, in your car, and in the office
Multi-purpose tool set
The Precision Set of 10 screwdrivers by Defiance Tools includes bit sizes to fit most popular electronics, including smartphones, game consoles, TVs, and radios.
Includes all you need
The 10-pieces Precision Set includes screwdrivers of the following sizes: PH0, PH000, SL1.4, SL2.0, T4, T5, T6, T8, STAR 0.8, STAR 1.2.
Premium quality and durable materials
The screwdrivers feature textured bi-material handles and chrome plated CRV6150 steel shafts with blackened magnetic tips.
Easy to store & convenient to use
The set comes packaged in an innovative EZ access storage case with durable clear ABS plastic cover that presents screwdrivers to the user.
All the necessary tools in a safe case
If you need a really high-quality multi-tool set, consider the one from Defiance Tools. They have carefully designed and developed all their products and have them manufactured by vendors they know and trust.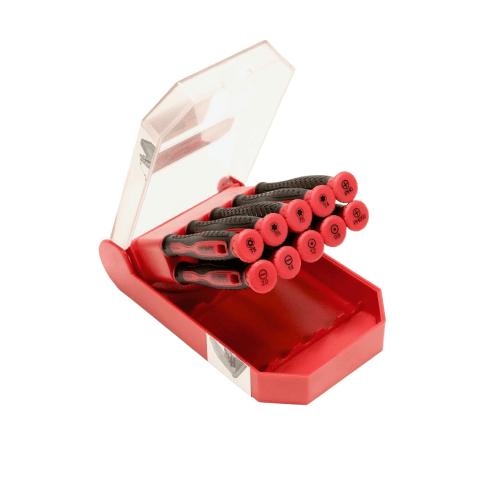 Reviews
Reviews
Our reviews are verified for authenticity
Fantastic for small electronics, folding knives, eyeglasses and more - yes, I have used them on all of those. Rubber grip, the cap spins and the cap indicates the driver tip. No need to pull out the driver and look at it. It's also indicated on the case. The case also stays partially open so the tools are at the perfect angle. I have it at home on my workbench!

This kit is nice, the products are well made. The case is sturdy but the label can't be properly removed. I would suggest they improve the label a bit so you can either peel it or remove it properly. The label is being used to hold the kit closed so it doesn't come apart in shipping, I would guess. But as someone who likes to keep my tool kits clean, organized and good looking the label was very frustrating.

Great set for working on computers or other small devices or objects with tiny screws. The case was a lot more bulky than I was expecting, and it opens up in a kind of cool way that was unexpected as well! The screwdrivers themselves are well made with comfortable large handles great for gripping. The screwdriver bit is indicated on the end of the handle which is so handy!

This is a great little collection of screwdrivers. I keep it on hand to open the myriad of gadgets that have batteries that need to be changed, but you can only access them by taking off a cover with a tiny screw. I got tired of never having a little screwdriver on hand, so I bought this. Now I've got what I need at the ready all the time. I love it. It makes my life easier. I do recommend it.

This Precision Screwdriver set is exactly what I needed! This is a great set, it contains 10 different mini screwdrivers in a very practical case. The case pivots and stays open so you can easily locate and grab the screwdriver you need. The end of the handles and the handles themselves are labeled with the driver size. They also have a magnetic tip. Highly recommend!

I always hold my judgments on tools like these until after I've really put them to the test and although I haven't really pushed these little guys too hard, I can say that they feel really well made. The tips feel much stronger than some of the multi-tip sets I have laying around. And although having one driver with multiple tips is nice and compact, being able to grab a specific driver and not having to fumble with the tips is even better now that I have a set with a good case.

This is a good selection of 10 small screwdrivers in a plastic case. They seem well made, have magnetic tips, and are comfortable to hold. The handles, which have a decent diameter, and the overall length of 5.5 inches make them not just the right size for the screw, but the right size to grip and turn without cramping. My husband finds them especially useful for swapping out computer components or disassembling modern style pocket knives for cleaning. Thank you for reading my review. I hope you found it helpful.

We were so impressed with the quality of this set! The screwdrivers pointed upward, so they're easy to pull out. This set worked perfectly when my husband had to disassemble his laptop to pull out a broken battery. The magnetic tips are extra helpful with tiny screws. He said one of them also fits his pocketknife perfectly, so he can disassemble it for cleaning and oiling. And the quality is still excellent!

I have to admit that I will probably be using the flat and phillips head screwdrivers more than anything else in this set. However, there were many times in the past where I wanted to open up a device or cabinet for one reason or the other and needed one of the other screwdrivers this set provides. This is not a professional-grade set. But I think that's fine; I think of these as really good quality home handyperson grade and that's good enough for me. Highly recommend for the home handyperson.

This is a nice 10-piece set of precision screwdrivers with magnetic tips. Included are two slotted (flathead), two Phillips head, two aster (star), and four torx screwdrivers and a plastic case that is easy to open, close, and store. It's also easy to identify which screwdriver you are grabbing since they are labeled on the back end (very nicely presented when the case is open) and inside the case itself when it is closed. These are ideal for dealing with small electronics (laptops), phones/tablets, gaming systems, or sunglasses. Nice to have around and easy to use.

I'm always looking for precision screwdriver sets that are made like real tools. A lot of the sets with hundreds of bits have bits that are made of cheap metal that strip out or deform easily. The tips on this set seem more robust than most. Not sure if they're "tool steel" but they're certainly not the soft chrome plated pot metal that you get in a lot of other sets. I really like this little screwdriver set. The case is sturdy and opens up in a novel way giving you a handy little tray to store fasteners and put all of the drivers at your fingertips. The ends of the screwdrivers are clearly labeled to make it easy to find the one you're looking for. The end caps spin independently from the rest of the screwdriver. This set doesn't have every bit under the sun but it has a good number of sizes that you encounter with today's small electronics. This is very good precision screwdriver set.