Oblong Gold Earrings
If you order within
Arrives by
sold in last hours
Description
Your new favorite accessory
An eloquent peace of jewelry
Sophisticated and glamorous, these oblong gold earrings will become your favourite jewel. The bizarre shape of the earrings together with its delicate details will add the ultimate modern touch to your regular look.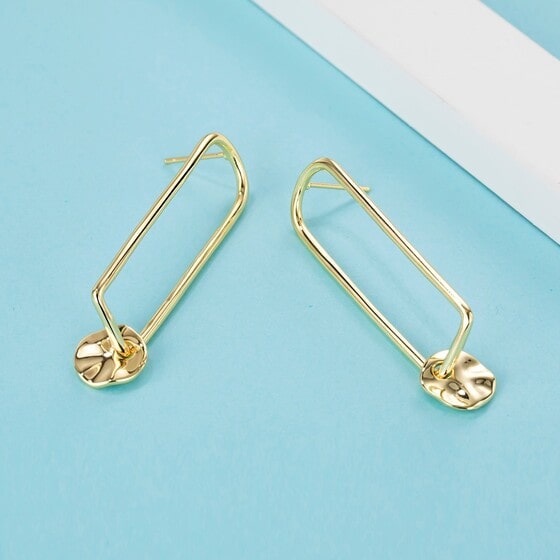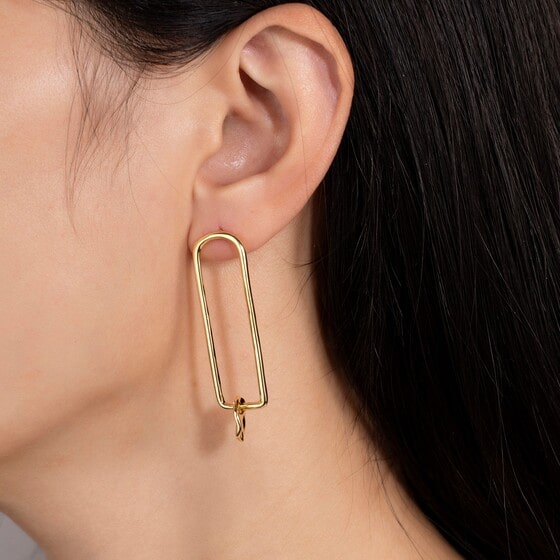 Product details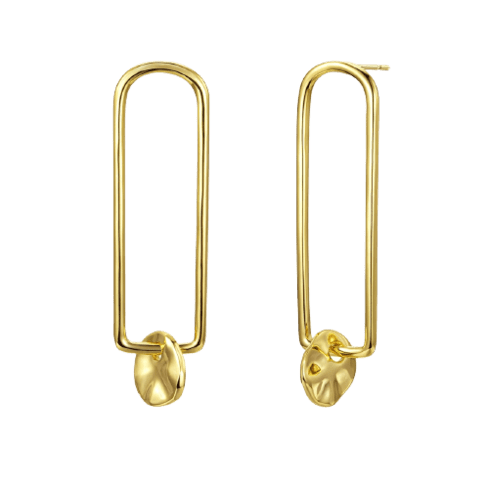 General characteristics
These copper stud earrings have a lovely golden tone. The ear pin length is 0.5 in. The rectangular buckle size is 1.6 in x 0.5 in x 0.04 in, and the disc size is 0.39 in x 0.04 in.
Care tips
Copper jewelry doesn't require any special care. If stained, wash the earrings in warm soapy water, then dry and polish with a soft cloth. To prevent your skin from turning green while wearing the earrings, coat them with clear nail polish.
A gift that lasts forever
The oblong gold earrings make a wonderful gift for any occasion. Giving your loved one these stunning earrings will show them your love and commitment. Any woman will feel beautiful and desired wearing this accessory. Besides, it can be enjoyed for a lifetime.
Reviews
Reviews
Our reviews are verified for authenticity
Quality is good. They look great.

So far it looks good. Not bad for price

There was nothing I disliked about the earrings.

Nice size . Simple and cute . Can't beat the price either .

Beautiful for everyday wear, nicely packaged for gifts as well.

Just received these earrings and couldn't be happier. Perfect size and weight.

They are lightweight and at a great price for the money. I really enjoy wearing them.

Awesome earrings!!! I love them!!! super shipping and delivery! thanks 🚛😍😍😍😍😍😍

I simply love my new earrings, love wearing them. They're my go to earring now, love the thickness. Going to get another pair!!!

These are a nice size. They are solid, not hollow. I liked them so much I bought a second pair for a friend.

I love these earrings! I had some similar to these earlier and they were one of my favorite earrings. These are attractive and just the right size.

They're perfect! They look and feel expensive, and no one will ever be able to tell that they aren't real gold.

They are absolutely gorgeous. The quality it's amazing. I have worn them and they don't go bad. They are very light and don't hurt my ear. I love them and they look great.❤️

They're beautiful and exactly what I wanted. I have only been wearing them for a week but so far I'm pleased. Just the right weight and my hair doesn't get tangled in the closure.

Bigger than I expected but lightweight.

Love the shape. Somewhat heavier than expected.