Mini Makeup Brush Set 8 pcs
If you order within
Arrives by
sold in last hours
Description
Compact make-up set
Looking for a smaller brush kit for travelling or applying make-up on the go? Tired of the other excessive and bulky brush sets not fitting your purse? Try this adorable pink brush set with 8 essential brushes. Great for any make-up lover, this is just what you need for flawless and trouble-free makeup application.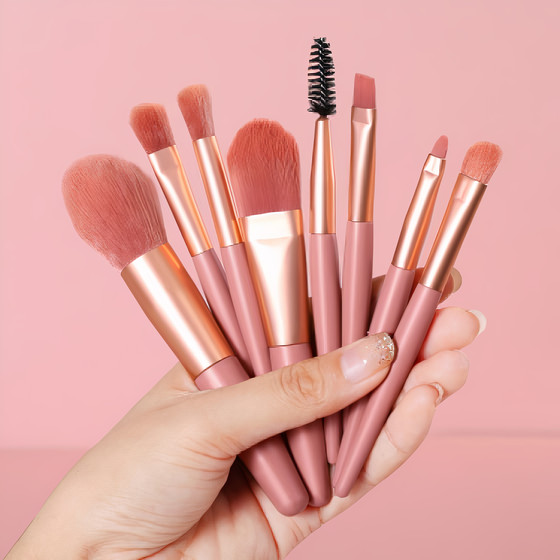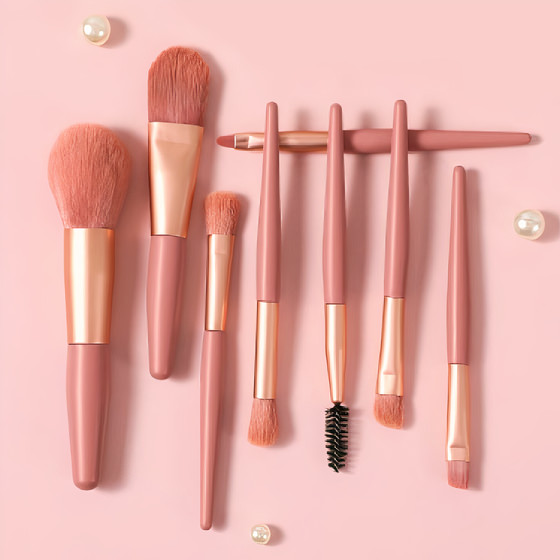 8 mini make-up brush set details
Bring any look to life
Comes with 8 different brushes that will help you transform your look. Applying make-up has never been easier!
Eco-friendly and cruelty-free
All the brushes are crafted from quality materials that can be recycled. Made from synthetic hair, which means no animals were harmed.
100% safe
Clean and sanitary, our cute brushes are made to last. We care about our customers and never use toxic materials. No lead, no toxic paints, no risks for your health!
Materials and construction
Material: synthetic hair (brush), wood, aluminium (handle). Color: pink. Size (individual): 15*10*1.4cm. Size (package): 22*13.5*4cm. Weight: 55g. Attached to the handle firmly, no shedding or fraying.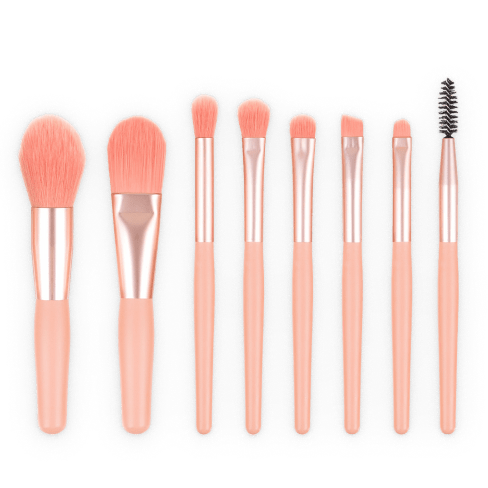 Amazing gift
Whether you want to get a present for yourself or one of your lady-friends, this great brush set is a perfect choice! Great for beginners and professionals it has all you need for a flawless and complete look. Perfect for any kind of make-up, our brushes can be used with powders, creams and liquids.
Reviews
Reviews
Our reviews are verified for authenticity
I love love LOVE these brushes! They are super soft and clean up really nice.

The brushes are so soft and in great condition! I absolutely love them! It came with all 8 pieces. Would definitely buy from this seller again.

Great for me. I'm not a beginner with makeup but definitely not a make up artist either lol compared to many brushes I have, these are great for my eyebrows, highlighter, and eyeshadow.

I love this set of makeup brushes, they have the perfect size for travelling! They're so soft and I love the cute color. I also kept them clean by washing them, it is very easy. I am happy that I decided to try this one. Love it. Soft. Soft. Soft. Lots of options.

The quality of these brushes are much better than I expected. They are so soft and don't hurt my skin when I use them, unlike some other bad quality brushes. I have also not had a problem with hair fallouts. It's great size; it makes it convenient for traveling and bringing on vacations. The color of the handles are exactly as pictured. Definitely recommend to others.

GORGEOUS, GORGEOUS, GORGEOUS brushes. Like, SO pretty! I had recently seen similar brushes online but as someone who can be a little rough with their brushes and someone who considers herself a thrifty shopper, I couldn't justify the price. I'm SO GLAD I found these beauties! The photos just don't do these brushes justice. Aside from their aesthetic beauty, they're actually really quality brushes for the price! I've owned several cheaper and more expensive makeup brush sets in the past and these rank among some of my favorites. The brushes are super soft and make blending out various pigments a dream.

The handles are a little bit shorter than I thought they were in the picture. I have yet to use them but as of right now I love them.
Mini Makeup Brush Set 8 pcs
$21.99