Metal Cactus Silhouette
If you order within
Arrives by
sold in last hours
Description
Add something special to your home
This cactus decor is a great accent for a side table, shelf, or nook that needs a little something "special."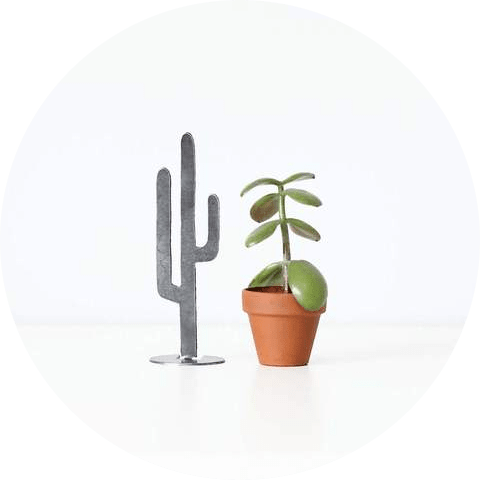 Metal cactus details and specifications
Made in the USA
The metal cactus silhouette is plasma-cut out of 16 gauge steel in Tennessee, United States of America, for a durable yet lightweight piece.
The size of the cactus silhouette
This small cactus measures 6 inches tall and 1.75 inches wide with a 2-inch diameter base.
A special design
Bring in the southwestern vibes into your home! With this special design, you can brighten up any room with the western aesthetic.
Use it any way you like
This cactus silhouette is great for multipurpose use. Place it next to your plants, to create a one-of-a-kind feel, or place it on a bookshelf. Your imagination is the limit.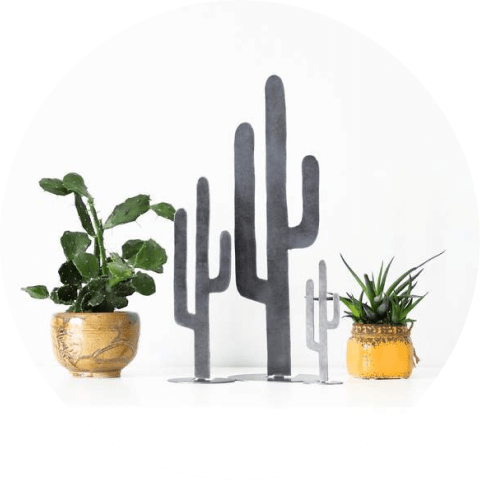 Love that desert's feel? Create one right at home!
This cactus silhouette is a great accessory that will embellish your home in any way you see fit and adds a special touch anywhere you place it.
Reviews
Reviews
Our reviews are verified for authenticity
Really pretty, I love the height and size. This was exactly what I was looking for.

I like the look of this sculpture very much. The delivery was so fast that's great. But I did not expect it to be a little bit dirty. Took off a star. But still love it.

It is a very good looking, excellent design and mostly steel material. Highly recommended.

Very unique cactus .. lovely shape.. I was surprised by the high quality of it since it's priced so well.. very detailed .. I receive many compliments on it. I love it as I'm a cactus lover anyways.

I took two cactuses. These actually look good in the garden. They have nice detail and are heavy so they don't blow over. We put them in pots and people have to look twice before realizing they are metal. Very happy with them.

The Cactus looks just like the pictures in the advertisement. It is absolutely exactly what was advertised. So easy to assemble. It was the easiest thing. Took all of 10 minutes to assemble. Marvelous addition to the patio. Our dog Cyrus loves it already as you can see in the picture. Well made and very sturdy.
Metal Cactus Silhouette
$25.99