Magnetic Eyeliner & Eyelashes Kit
If you order within
Arrives by
sold in last hours
Description
For your magnificent eyes
This Magnetic Eyeliner & Eyelashes Kit comes with five pairs of lashes, two magnetic eyeliners, and a tweezer. Creating a gorgeous wide-eyed effect has never been easier!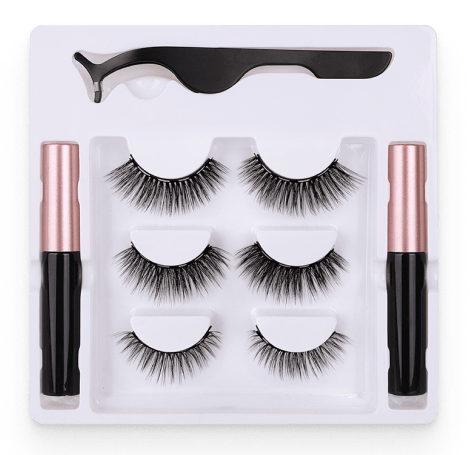 Tired of sticky glue on your eyelids?
Check out the Magnetic Eyeliner & Eyelashes Kit
A pair for every occasion
The kit includes five different pairs of magnetic eyelashes, so you can experiment with your makeup and style. Be sure you'll always look stunning!
Easy to use
All you need to do is apply magnetic eyeliner and then adhere eyelashes on top of it. They will quickly attach themselves to the eyeliner. That's it!
No glue needed
No more glueing your eyes shut! You don't have to possess any special skills to highlight the beauty of your eyes. A special magnetic eyeliner will do it for you. Line, lash, done: it's as simple as that!
Long-lasting
The eyeliner holds the lashes for up to ten hours. Thus, you can enjoy your gorgeous look for the entire day. The magnetic eyelashes are reusable and require no special care.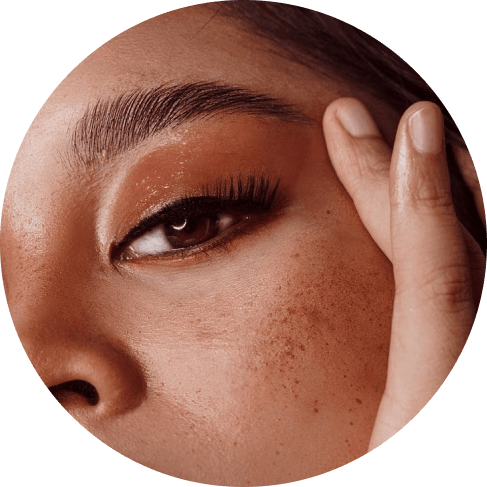 Every girl's dream
You're guaranteed to turn heads with your natural but bold look created with the Magnetic Eyeliner & Eyelashes Kit! Give your eyelashes a decent amount of length and fullness to achieve a flirty cat-eye look.
Reviews
Reviews
Our reviews are verified for authenticity
I'm very pleased and glad I tried this product.

Super easy to use. Looks great!

So easy to use and pretty.

Very nice product. Easy to take on and off. Will differently be buying more of these lashes.

These are really easy to use and look pretty natural but I wish that the eyeliner came in a clear color.

These lashes look great, and are so easy to apply. I also feel they are safer on your real lashes and eyelids compared to using glue.

These are great eyelashes, they have the perfect amount of magnets and the adhesive holds all day, no lifting. They hold until you take them off! I love them!

They are all beautiful and make my makeup look perfect, they stay in place all day, they are easy to apply and easy to remove…. I am happy with my purchase… They arrived on time

This set is a great buy. You get a great variety of lashes in different lengths and thicknesses, two tunes of liner and an applicator. The liner goes on easily as do the lashes. And they look great!!!

These lashes are fantastic for people like me who have thin, short lashes that no mascara can help. It always left my lashes looking like a few spikes coming out of my lids. This set of lashes is a great value and well worth the try.

I have dark and decent lashes, but wanted to add more thickness. This is my first try with magnetic lashes. These are very easy to use (take it slow in the beginning), once you learn to use them, it takes only a few minutes to put them on.

I really despise wearing fake lashes but I'm really glad I found these as my 1st magnetic pair because these were super easy to use and came with plenty of styles to choose from (5 to be exact)! AND it came with a magnetic liner (plus an extra tube), and also a large tweezer made just for putting on lashes. All in all I'm happy with it

I love magnetic lashes, they feel like a healthy alternative to traditional glue lashes (which can rip my natural ones out sometimes) and even lash extensions. Super simple and I love that I can choose whatever look I want because it's such an easy process to change the thickness, all I have to do is put on a different pair! You can't do that with extensions, and these require way less care than anything else too. 10/10

These eyelashes are pretty awesome! Lash glue has never been a strong suit for me so I was excited to try these magnetic strips. The magnetic eyeliner went on smooth and like any typical eyeliner. Unlike glue, it is important to let the liner dry completely. I didn't use the tweezers to apply as I found it easier to place the lashes with my fingers. They clipped on great and looked a lot more natural than glued lashes.
Magnetic Eyeliner & Eyelashes Kit
$28.99