Luna The Black Cat Kitty
If you order within
Arrives by
sold in last hours
Description
Black cat enamel pin
Who says black cats are unlucky? We think they're beautiful! This black, white & gold enamel pin is produced in a woodcut style, to give it a beautiful, raw look. If your witches coven doesn't have a black cat yet, you can adopt this one!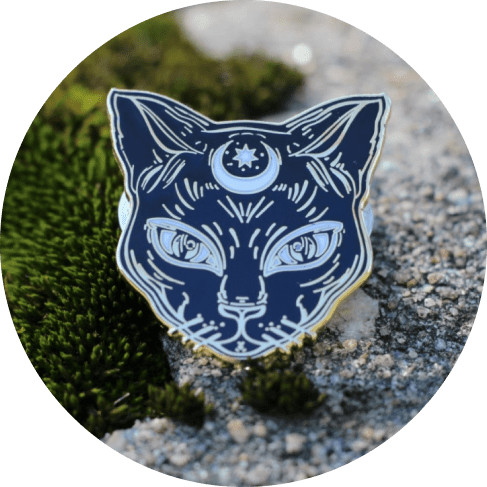 About the Luna Black Cat pin
Great accessory for jackets, backpacks, hats, bags & tops
A black cat pin
For the Sailor Moon fans, this pin reminds us a little bit of Luna, because every witch needs a black cat.
Premium quality lapel pin
We go above and beyond to use the highest quality material to deliver the best product to you. Hard enamel & real gold plating.
Perfect size
1.3" double posted hard enamel. Premium enamel pin, well-suited for denim, jackets, backpacks, suits, & shirts for men and women.
American brand
Real Sic is based in Atlanta and sells unisex fashion accessories for the greatest people on planet Earth, the customers.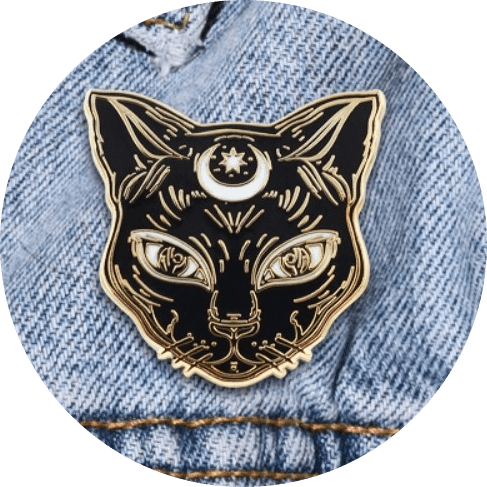 Who says black cats bring bad luck?
This pin looks great on leather or denim jackets, backpacks, hats, or your pinboard. This is the perfect pin for the cat lovers & witches of the world.
About Real Sic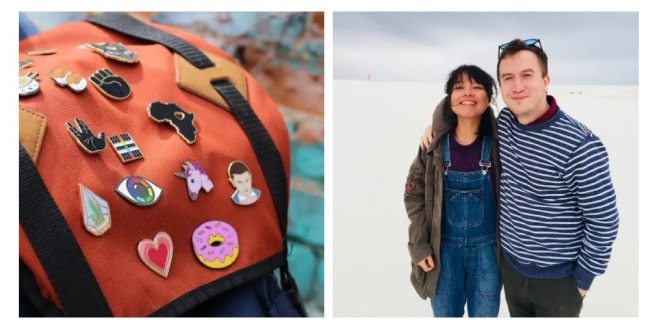 Real Sic is a unisex fashion accessories company. We're famous for our enamel pins and have been featured in Vice, Buzzfeed and Marketwatch. We have literally hundreds of products because when you find something that is perfectly you or perfectly them, it's like magic. With tens of thousands items sold, we have happy customers all around the world. We are all about spreading joy and creating products that people love for years. Our small-batch, independent operation is run by a husband and wife team from Atlanta, Georgia. We are intentional in our material selection and never use real fur or leather in any of our products.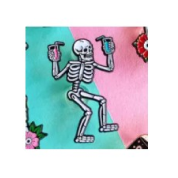 Designed In
Atlanta, Georgia
Reviews
Reviews
Our reviews are verified for authenticity
Lovely. Doesn't look nor feel cheap. Very pretty, good energy. Getting another as a gift.

The enamel is beautiful the whole pin is beautiful. We just don't know what to name her.

Beautiful, well done. It's a little heavy (which I like) and the details seem perfect. I haven't noticed any signs of wear, etc. It has two pin points on the back that hold it up on your garment. I'm pretty happy with it.

I really love the look of this pin! I am happy to see the it had two pin placements to keep it from moving/ falling out.

Beautiful cat pin. It is detailed and we'll done. I was pleasantly surprised at how perfect It is! It has 2 very sturdy fasteners on back!

Love this pin. Sturdy with 2 posts so it's secure. Not just for Halloween for fellow pagans/heathens/cat lovers or enthusiasts.

I love this pin! It's beautiful and well made. The double fasteners on the back is great for secured attachment to wherever you want to place it: jacket, backpack, etc. Super happy with it!

I got this cute pin for my best friend for his birthday and he absolutely loves it. It stays on his bag properly and it hasn't fallen off. It's nice and witchy looking without going overboard. I love it and so does he. Highly recommend this pin!

this pin is larger than expected, but that's actually awesome. it has a lot of detail and is made well, with a double post closure, which is necessary, considering its size, and keeps my little cat friend nice and secure. the detailing is mostly gold, with some white, incase some screens make that hard to determine. it's an awesome looking little pin that will be a nice addition to any of my jackets. i'm a happy buyer.

Smaller than expected but super cool ! Great detail and would make a great gift.

Its small about quarter size but nice.