Love Letter Necklace
If you order within
Arrives by
sold in last hours
Description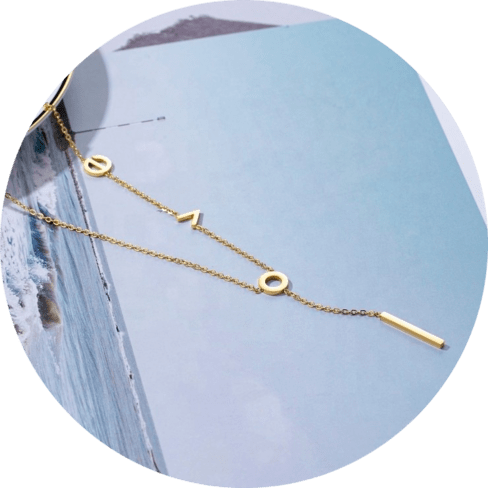 A lovely reminder
An elegant and meaningful necklace
Wear this beautiful Love Letter Necklace as a reminder that love is infinite and boundless. It surrounds and fills you wherever you go.
An accessory of your dreams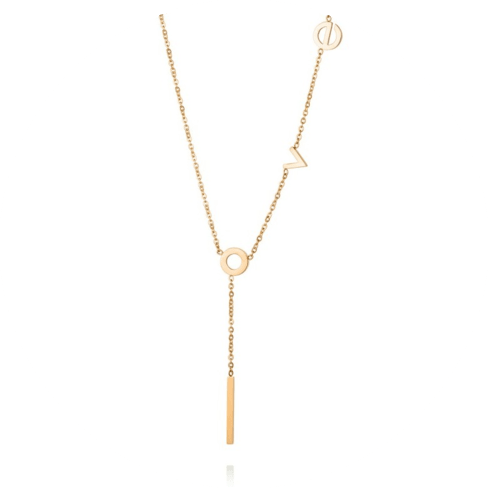 Necklace details
This stainless steel necklace has a pretty golden tone. Weight: 0.7 oz. Length: 18 in. The letter "L" is hanging, letters "O", "V" and "E" are a part of the chain.
Care tips
Good news for you: stainless steel jewelry doesn't get corroded or rusted. That's why you can wear this necklace every day. Keep it in a cool, dry place. If needed, wash in soapy water and dry with a soft cloth.
A great gift
A delicate Love Letter Necklace will be a perfect gift for your loved one. Whether it is an anniversary, Valentine's day, birthday, or any other occasion, it is always a good present idea. Wearing this necklace so close to heart, any woman would feel cherished and adored.
Reviews
Reviews
Our reviews are verified for authenticity
Perfect necklace for a sister!!

Such a lovely, dainty necklace.

This necklace is perfect. Very cute and durable!

Looks like the pic, dainty and small.

Loved this necklace. Perfect length and is semi adjustable!

My daughter bought this for me and I absolutely love it! Nice quality and lays where it shows when I'm wearing a v-neck.

This item looked even better in person, great materials used, very happy with this purchase.

I love this necklace it's just the right length and shade of rose.

I LOVE this necklace—it adds the perfect touch of feminity and beauty to any outfit.

I received this, put it on stacked with my moon necklace and haven't taken it off. I love it! It's dainty and my everyday wear!

I've bought four of these now! Any occasions coming up where I need a gift- my friends are getting this!

This was the perfect gift for my young son to give to his teenage sister. It is a pretty shade of gold and fits perfectly. She loves it!

I LOVE this necklace! Looks just like the photos and has a nice shine. I'm very pleased with this purchase. I think this will make a very pretty Valentine's Day gift for a special lady. Great quality!

I bought this for my granddaughter after hearing she watches the movie again and again. It arrived as promised and packaged nicely in a velvet bag as well as a plastic pouch. It's a lovely piece of jewelry for a young girl!

This necklace makes a perfect gift for any occasion. I gave this as a birthday present and got myself my own sis necklace. It looks great, very fashionable. Hasn't rusted on me, and I accidentally showered while wearing it at least three times.