Highway Kid Car Seat Organizer
If you order within
Arrives by
sold in last hours
Description
Highway Kid Car Seat Organizer
This seat organizer is an must-have car accessory for families with kids who want to organize the backseat space and keep their car clean on family trips.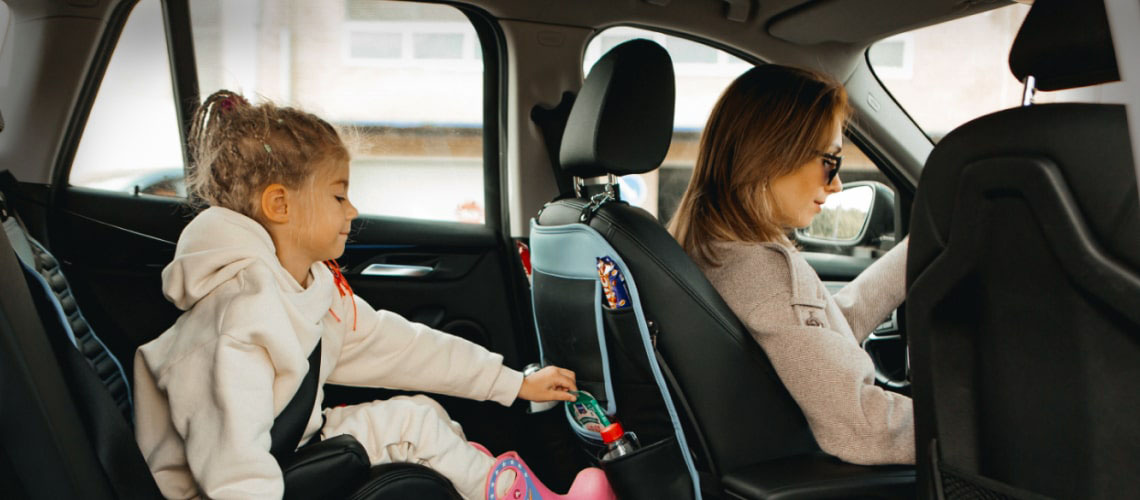 No more stress
You key to smooth family trips
Travel essentials in one place
Store drinks, snacks, wet wipes, hand sanitizers, books, and other things conveniently close at hand.
Easily cleanable
Remove dirt, liquids and dust effortlessly in a flash with a damp cloth or a wet wipe.
Doubles as a kick mat
An extra layer at the bottom softens baby kicks and protects car seats from dirt, scratches and scuffs.
Unique design
Soft PU leather with a geometric pattern will fit your car interior and double your car travel comfort.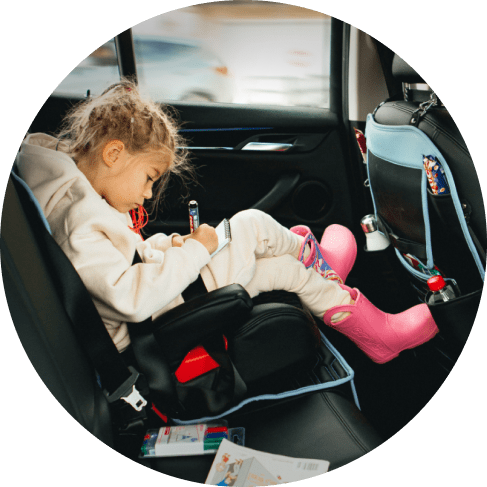 Keep kids busy all way
Store toys, tablets, books, coloring pages, board games and much more in your Owleys organizer - keep kids entertained on any trip.
Manage it all
Make your kids happy on the road and keep your car interior perfectly clean at one stroke - keep it easy with Owleys.
One-size-fits-all
This organizer fits all car models - from SUVs to vans - with detachable seat headrest. Plus, the attachments straps are easily adjustable for a perfect fit.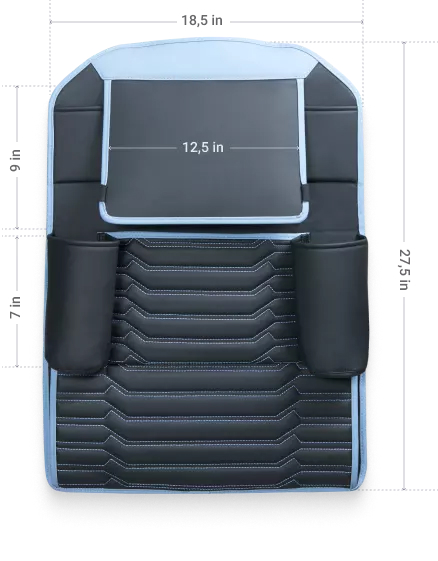 Forget the mess of family road travel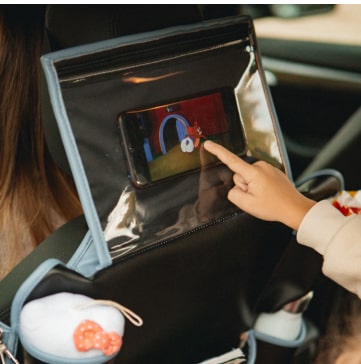 Quite a few pockets
Eight pockets for all your child's travel essentials - from toys to books - and a touch-friendly tablet pocket for cartoons.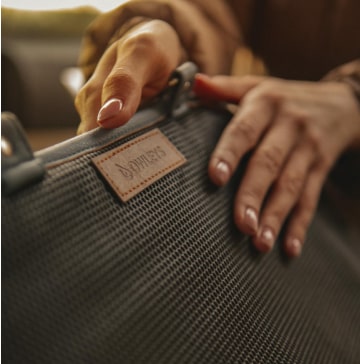 Smart & secure design
Metal hooks and a non-slip bottom keep the organizer securely in place. Installation is easy and takes less than a minute.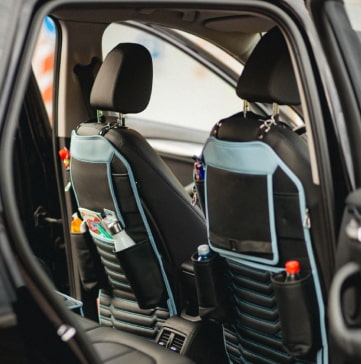 High-quality materials
Only vegan and non-toxic materials - durable, easy-to-clean PU leather and waterproof baby-safe TPU tablet pocket.
Improve your road trips with our premium-quality products

FAQs
You can wipe it with a damp cloth or hand-wash it with warm water and mild soap.
They hold bottles and glasses up to 1 liter.
No, legroom will not lessen, even if you fill up all the pockets.
No, you can just attach the organizer to the headrest and to the back of the seat and that should be enough. You can opt to fasten all three for a very snug, rock-solid hold though.
Yes, the TPU pocket is designed to be touch-friendly.
About Owleys
Owleys is a premium car accessories brand based in California. We create accessories for any kind of car traveling - road trips, camping, picnics, nature trips, and daily rides. Our main goal is to bring comfort, convenience and emotions to every moment you spend in your car. We ourselves enjoy traveling with our family and friends, so we have two main product lines: traveling with kids and traveling with dogs. With these products, we want help you take care of your loved ones when traveling by car and spend a great time on a road together. Creating our accessories, we care for both kids and adults - as well as both pets and their owners. Therefore we never use genuine leather and choose PU leather instead. For our products, we prefer using low-maintenance, eco-friendly and durable materials that will withstand your trips with the most mobile kids and pets.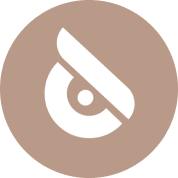 Reviews
Reviews
Our reviews are verified for authenticity
great solution for a family car. helps keep the back seat area tidy. kia soul fits well, I think it will fit any car

Design, quality, delivery and packaging - ALL is excellent! The organizer worth the money!

Ford Mondeo fit well. Delivery 2 days

Usable, big, cute! Hyundai Elantra fits well.

Honda Accord perfect fit 👍

Fits snugly on the back of the car seat and is very easy to install. Many pockets. Stylish design. Can recommend this seller.

quality of the organizer is actually amazing definitely worth the money the blue color looks lovely.

We all loved this organizer! Beautiful blue color, excellent quality! Ordered for hyundai solaris, the size fit well

does NOt completely cover the back of the seat and I need full coverage

Amzing organizer for the seat back. Lots of pockets so kids can easily get what they need. Convenient pocket for tablet or phone. I recommend ordering!

Good quality, many strong pockets, non-slip coating on the back. very convenient for a child to watch his phone just at eye level. thank you!

Convenient and beautiful. Doesn't interfere if an adult sits in the back in front of this organizer. Installed in about 2 minutes

convenient 2 in 1 thing! car organizer + seat back protection

Super car organizer! Looks nice and neat. My daughter liked it and so did I 🤗 Received in 3 days, in branded packaging

The organizer has excellent quality of workmanship and materials, installation is simple. Blue color looks fresh in the car. Highly recommend!

I am very satisfied with the fast delivery and the organizer itself. Exactly what I was looking for to travel with my son.

This seat organizer is handy for use and the size fits perfectly.Many useful pockets for toys and coloring books, a separate tablet holder and pockets for bottles.The quality is perfect! I'm 100% satisfied!

super easy installation, metal locks and hooks. on the road, it stays firmly in place, also with the help of a non-slip back i guess. the bottom is layered to protect from children's feet. love it

Great high-quality car organizer! The whole mess my kids made in the car is now stored in one place. Thanks for the quick delivery

many pockets, tablet holder, perfect size for sentra. looks very cute. designed with anti-slip back so keeps on the back of the seat well. thanks:)

Everything as advertised ! Useful and stylish. And not only for kids!! For those who like to watch a movie on a long trip , this organizer will work great :)

We ordered two for our children so that they can put all their toys and books in one place and also to protect the seats from dirty feet. The organizer works just fine 👏

Great organizer for kids. Has enough pockets to store everything your kid might need on the go. Lots of pockets, tablet holder and two side hooks. The bottom protects from dirty shoes and is easy to clean.

Eight pockets, ideal for one child on a long trip. Fits the seat firmly. For drinks, for snacks, for all kinds of toys, books, pencils... Most importantly, the dirt can be easily removed with a damp cloth. I definitely recommend this organizer!

I want to note the tablet holder is really convenient to use! It's touch friendly! And i'm very glad that all the toys,food,drinks are now all in one place. Just a great solution for parents. Makes life much easier

Must have for parents! We purchased two. Toys, snacks, comics have found their place inside this seat organizer. And of course cartoons! You can't ride without cartoons 😂 Both sons are happy, because their hands get tired of holding tablets

I love this blue color! I've been using this car organizer for about three weeks now. It perfectly protects the back of the seat from dirt. There is enough space to put toys, bottles, napkins, some food for the trip. The tablet holder is conveniently placed so that kids don't have to hold it in their hands all the way. Thank you

Nice to have such an organizer in the car, especially if you have children. You can put a lot of things in these pockets, like toys, drinks and snacks, and the most convenient is that it has iPad holder. The organizer itself is of very good quality, doesn't slide 👏🏼👏🏼

The leather its made from is soft and the design itself is sooooo cute! We conveniently put all soft toys, books, coloring books, felt-tip pens, notebooks together with my daughter. It was nice and simple so now the knows where her things are kept. It is also convenient to store the iPad in the top holder! A very useful thing to keep the back seat clean! Thank you!

I ordered 2 before a long road trip - one for my daughter and one for mom. Daughter kept there her toys, pencils, notebooks, snacks for the road. Mom used to store thighs like wet wipes, medicines, sunscreen, sunglasses, etc. Tabler pocket also came in handy - my daughter watched cartoons and my mom watched movies. Wonderful organizers!

very handy organizer to keep your car in order!!!! perfect for road trips when you're driving and the kids are in the back. the organizer easily fits a tablet, water bottles, cookie packs, toys, books and other travel activities for kids. and you don't have to dig through your bags every time to get something for them. 1000% happy with my purchase!!!!

quality material, soft eco-leather. non-slip coating. hardware made of metal, not plastic! the organizer sits on the back of the seat perfectly, the pockets also hold their shape well. already tried it on a road trip. there was enough space for everything that my daughter took - for her toys, books, pencils, snacks and drinks for the road. great accessory for kids to learn how to be organized. and of course for the parents to avoid the mess in the back seat. definitely 5 stars

Extremely handy car organizer!!! All pockets are tightly stitched. Foldable see-through pocket for gadgets on top. The largest iPad fits in size and the sound remains good,and you can also press the screen. Seven pockets for children's stuff, hooks on the sides, you can hang toys on them (my daughter hangs her little travel backpack). Installed in about three minutes, everything is easy and simple to figure out. Recommend this to all parents! You need this!

The organizer is pretty easy to put on. Perfect for a medium sized crossover. Sewn carefully, materials and fastenings are good. 8 pockets and two hooks for all your kid's travel essentials. The organizer fits snugly to the back and keeps quite securely on the road even if you kick it. The bottom is made to protect the upholstery from children's shoes as well. We traveled to another city in rainy weather and our daughter left a lot of dirt on it. Everything was washed off in a minute with a damp cloth, no traces remained! I'm satisfied with my purchase!
Highway Kid Car Seat Organizer
$87.99