Hanging Woven Porcelain Bird Shelter
If you order within
Arrives by
sold in last hours
Description
Just a place to chill
Flying isn't easy. Some birds are believed to fly up to 600 miles in one day. So provide a space of rest in your backyard or on your front porch with our Hanging Woven Porcelain Bird Shelter.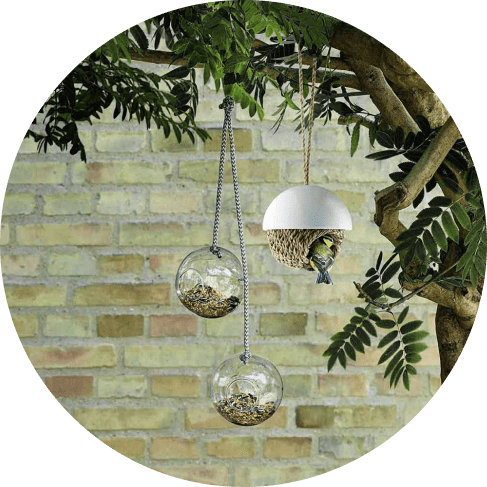 Take a rest. Hang out.
Come (stop by)
Quality you can see
Our little bird shelter is crafted from porcelain and woven rush for a modern feel and look wherever you place it.
Hang tight there
Each purchase comes with a suspension cord that is adjustable to your height of choice for accommodating birds in your space.
Works inside (and out)
Built from materials that are weather-resistant, hang this bird shelter indoors or outdoors without worry of wear and tear.
Mini-sized for mini fun
Our hanging bird shelter accommodates smaller-sized birds, measuring 20" in length and 5" in diameter.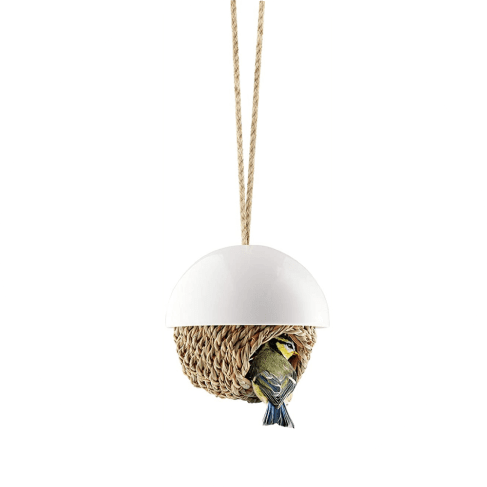 Feel like something is missing from that backyard lounge?
Fill in the gap where a tree is by hanging this bird shelter. It'll bring nature's friends over to you when you're resting.
Want to decorate your front porch?
Hang this decorative piece from a tree out front for a modern touch that helps hard-flying birds relax when tired.
It's the Tools® difference
Style you won't find elsewhere
The unique craftsmanship and attention to detail provided by Tools® ensures you won't find another dual-design bird-resting piece like ours. Our Hanging Woven Porcelain Bird Shelter is made with the greatest attention to detail and quality for a decorative piece that will remain timeless and provide birds with a place to rest and gaze around.
Reviews
Reviews
Our reviews are verified for authenticity
It was a gift to my sister...she liked it.

Nice birdhouses! Looked just like pictures.

Got these as a gift for a bird lover and he really liked them.

It is hanging next to my finch feeder just in case they need it. Great combination.

Our finches love this! Days after getting it they finally played eggs.

Adorable. Birds took to it after a few weeks.

I love these - super cute and I think the birds will love them too. I need to get more.

These are so cute and make my backyard so cute. I don't know if one of the birds will notice it and move in but I love them.

Love these bird hideaways! They are well made and just cute!!! We have a whole slew of birds that circle my one little bird feeder, and I wanted to give them another place to go, and rest up if they wanted without being bothered by other birdies or predators. I am absolutely satisfied with my purchase. Thank you so much :o) <3

I have a lot of trees in my backyard and was looking for unusual birdhouses. These are perfect! Very well made and very sturdy.The opening fits sparrows wrens and robins and such but the blue jays the opening for them is a little snug. I hang them pretty close to the main part of the tree and secure the hemp that comes with it very tight around the branch and then around the main part of the tree. This keeps it secure and the wind cannot rock it. They are very cute houses!!

Cute, perfect to add to a tree. But I thought it would be bigger.

Adorable bird shelter, like the material, the size. Only thing is, I wish it would have other colors.
Hanging Woven Porcelain Bird Shelter
$91.99