Green Toys Submarine
If you order within
Arrives by
sold in last hours
Description
Submarine by the Green Toys™
Turn bath time into an exciting nautical journey!
The Green Toys Submarine invites your child on their own undersea adventures in the bath! It will be your best friend, too, as it makes hair washing easier and less stressful for all involved. Simply fill it up under the running water or submerge in the tub: either way, this eco-friendly bath toy will be ready to pour water from its handy spout or mouth at the fore - like a jug, but with much more precision.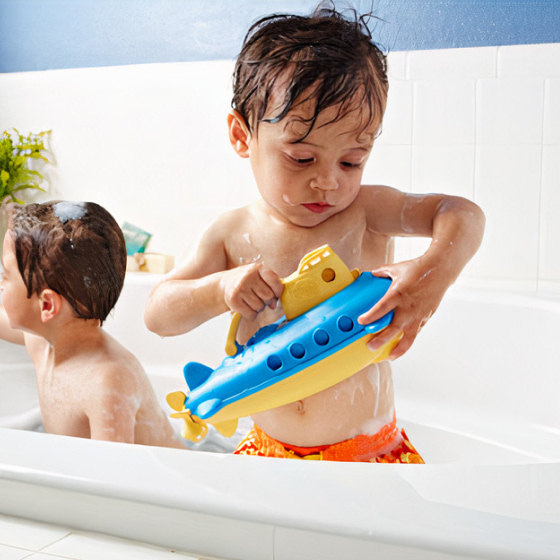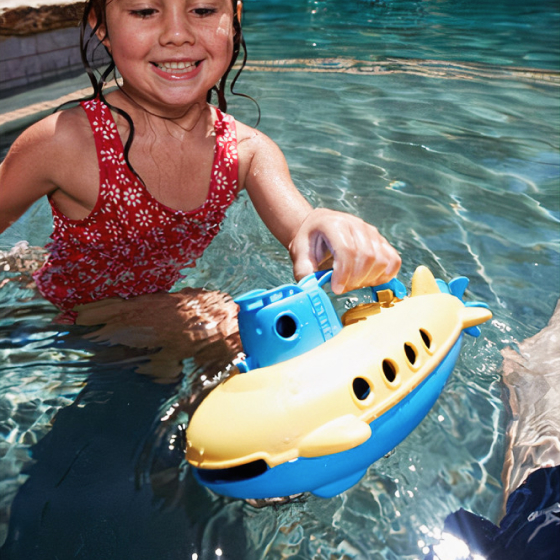 About the Submarine by the Green Toys™
Dive deep and explore the depths of an underwater world!
Interactive features
This sturdy watercraft features a spinning rear propeller, a flat bottom for added stability, and the classic handle and wide mouth opening combination for plenty of scoop-and-pour fun.
Easy to clean
This toy submarine is dishwasher safe and easy to clean. The cabin of the submarine can be opened for easy cleaning. Use mild baby soaps or shampoo and try cleaning the toy as often as your child prefers playing with it.
Made with 100% recycled materials
Manufactured and assembled in the USA, it is made from 100% post-consumer recycled plastic milk jugs that save energy and reduce greenhouse gas emissions. It is also packaged in recycled and recyclable materials with no plastic films or twist ties, and printed with soy ink.
Safe for your kid
This submarine toy meets FDA food contact standards and contains no BPA, phthalates, or PVC. Suitable for indoor and outdoor play.
Details and specifications
Recommended for ages 6 months and above. Dimensions: 10.25" L x 5.25" W x 4.5" H . Weight: 0.32 lbs. Awards: Oppenheim Toy Portfolio - SNAP; Oppenheim Toy Portfolio - Platinum.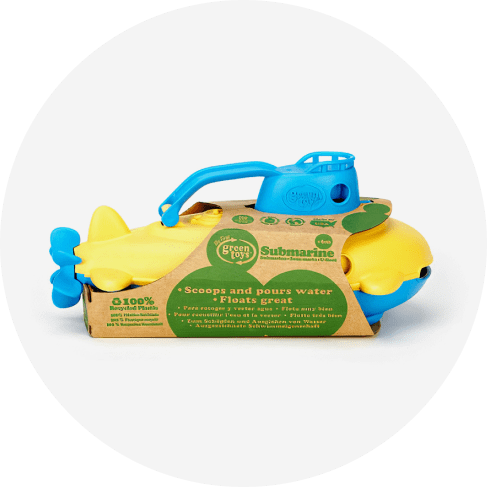 About Green Toys
Made Safe in the USA We're 100% US-made, from manufacturing to assembly to distribution. As a result, we reduce greenhouse gases, energy and save on transportation. Through our tight local supply chain, we maintain stringent quality control and on-site factory presence, provide local jobs, and generate a whole lot of company pride. Recycled Plastic Our products demonstrate that recycling can result in something tangible and meaningful – old can become new. Our toys are living proof that milk jugs, just like the ones in your refrigerator and recycling bin, can ultimately end up back in your playroom. This helps close the loop for kids because they can see their own environmental efforts in action.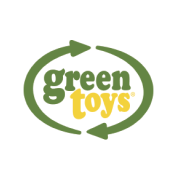 Reviews
Reviews
Our reviews are verified for authenticity
Very durable, fun, and one of our favorite bath toys. It's the perfect thing to use to wash the littles hair while keeping it fun!

My kids ages 4 and 8 were so excited to play with these toys and they are also perfect for outside use

This toy is awesome. It floats and kind of sinks lol and it's poor water out. Fun fun fun! My toddler loves it.

I really liked this product because I love the Beatles and I want to get my kid all the Beatles toys I can find. I was thinking that if you bought both versions you could make one All Yellow submarine. So I did. You do have to cut the blue parts off, be careful, but it's pretty cool. :)

Wonderful and durable toy! Great for inside or outside! These have become my kids new "go to" toys. They have gone to the store, as well as to and from school. They are great for everyday play, the bathtub or water tables, pretty much anywhere your child's imagination can take them.

Purchased for my son to play with in the pool. I wouldn't recommend this to be used in a lake or beach (water) as it does sink slightly. It's made of thick textured like plastic which I feel is very durable.

I cannot tell you how happy I am to have a bath toy that I don't have to deep clean with bleach. I don't have to worry about standing water in this toy or it getting moldy. Not to mention it's made from recyclable and recycled plastic so that's a bonus. My son is absolutely loving this toy and I'm going to be buying from this brand from now on when it comes to bath toys.

We love Green Toys! My son plays HARD with his toys, and every Green Toy has withstood him. We love that the toys are durable, larger than average (to allow a toddler a good grip), made out of recycled plastic, and has very little packaging waste. We have 6 different Green Toys, and we just keep getting more! This sub has plenty of holes for easy drainage, and it holds quite a bit of water. It doesn't sink, which I don't mind. Propeller moves, which my son enjoyed.

The sub floats well on the water. It's durable. It can easily be pushed under to fill with water. And, it pours water out of its "mouth" (which my 2 year old really loves to pour water into because the submarine is 'thirsty'. The rear propeller spins easily, and when we run bathwater or use the shower head, we can get it going really fast. She loves that.

Overall we love green toys, my boys have many of their products, they are built well and hold up to extreme play by two boys. The submarine was a little disappointing- the hatch is hard for them to open, and once something is placed inside it is very difficult to get it back out! They have enjoyed it in the bath tub, and I like that it dries out well! No moldy hidden water! Just wish it had a bigger hole for toys to fit.

It's a fine toy, but my daughter was somewhat confused about if it was supposed to open (it looks like it is, but it isn't) and it didn't become a favorite. But it's a nice toy for the tub or the pool.

Love all my green toys (have a dozen different green toys for my kid) but I wish the handle on the submarine was a bit more sturdy. It's too easy when it's filled with water to slip open when I'm trying to use it to pour water.
Green Toys Submarine
$34.99