Gold Snake Chain
If you order within
Arrives by
sold in last hours
Description
Elevated simplicity
An eloquent accessory
The elegant Gold Snake Chain will wonderfully complement your daily outfits. This lustrous piece of jewelry will become a great addition to your collection.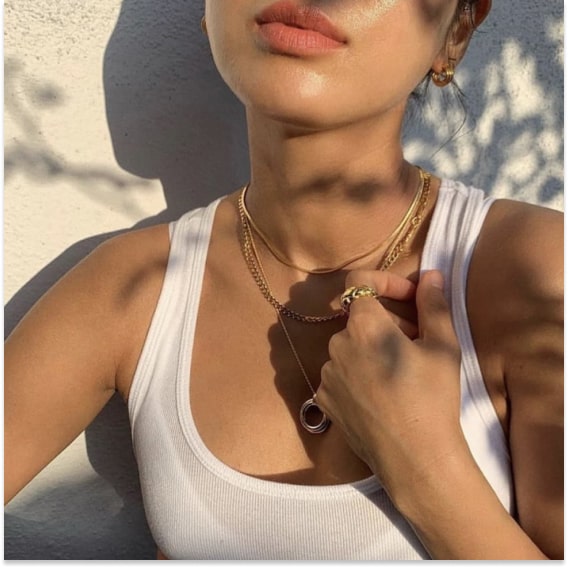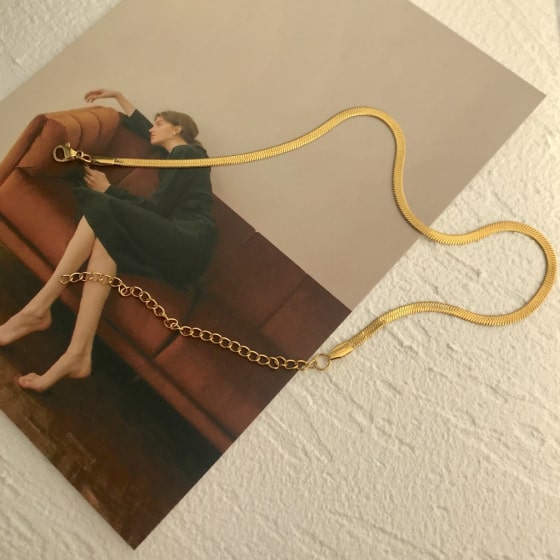 The accessory made to turn heads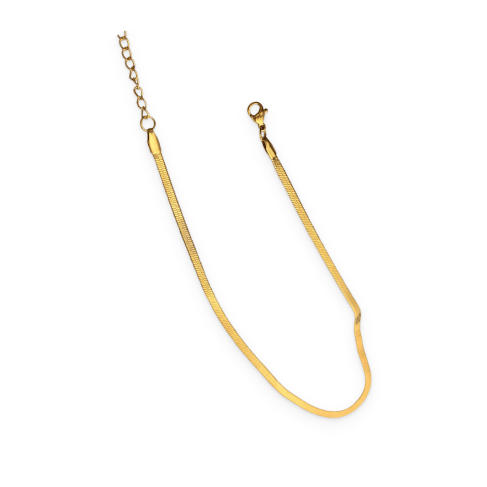 Necklace details
Color: gold. Length: 15.4 in. Width: 0.04 in. Weight: 0.07 oz. Type of chain: snake.
Care tips
Good news for you: stainless steel jewelry doesn't get corroded or rusted. That's why you can wear this necklace every day. Keep it in a cool, dry place. If needed, wash in soapy water and dry with a soft cloth.
Perfect for any occasion
Crafted to follow the natural curves of a lady's neck and collarbone, the Snake Chain necklace will look great with any outfit, casual or classic. It will add a delightful touch to your natural beauty and boost your confidence. Layer it with other necklaces from your collection for a glam effect.
Reviews
Reviews
Our reviews are verified for authenticity
Very cute and dainty as the product describes! I love it. ❤️

Awesome Chain! Great quality! I wear it in the shower and while working out and it hasn't tarnished !!

It is beautiful but I thought it would weigh more.

A must have for your jewelry collection! It is great quality for the price and is a perfect size to spice up your fashion.

Love this! It's so simple and delicate but adds so much beauty. A little goes a long way! Definitely one of my new favorite pieces.

Wish it was longer, didn't realize it was short. Still like though!

Love this necklace. Great deal for the super price point. I've gotten many compliments on it! I've only worn it for a few hours at a time. For the price, I will be ordering another one.

Purchased this necklace for a beach trip and it was perfect! It did not give me any irritation or trouble with the claps. I wore it to the beach, pool and shower and it has not turned. I love it so much it's a new staple for me!

I LOVED everything about this chain, from the fast delivery, to the packaging, to the beauty of the chain itself! I read the reviews before I made online purchases and everything positive mentioned about this chain is TRUE. If you're looking for a high quality chain that looks real , buy this chain..it's GORGEOUS.

I received this necklace and I am very happy - it is Beautiful! It is a gift for my daughter for Christmas and I know she will love it. It is not flimsy / doesn't look like it will break easily. It is a fashion necklace but it is gorgeous and shiny. Time will tell how well the finish will hold up, but I think she will love it and wear it often! 😍

Honestly my hopes weren't high for this, I was purchasing it more so for a halloween costume this year.. BUT low and behold, it's actually a really good quality necklace! It's thick enough, but not too heavy. And doesn't look like costume jewelry. This has become a go-to neck piece for me.. I feel naked without it. Good length. Cost friendly. Very good packaging. 5 stars item!