Geometric Gold Charm Earrings
If you order within
Arrives by
sold in last hours
Description
Unusual charming geometric earrings
The jewelry that will elevate your look
Can there really be too much jewelry? Certainly not! Especially as beautiful as these stylish geometric earrings. Add something unusual and unique to your collection to make your look special and memorable.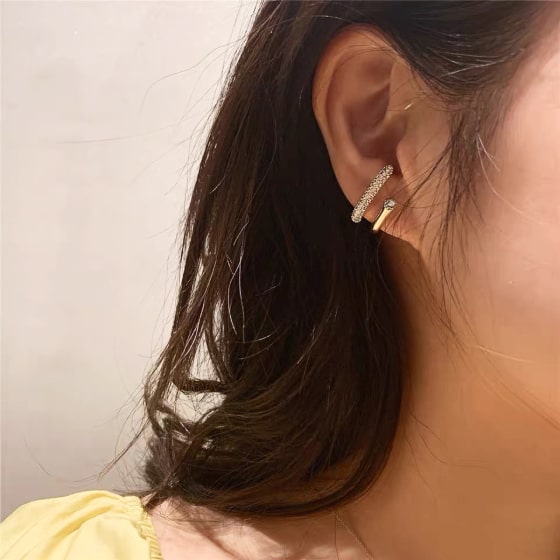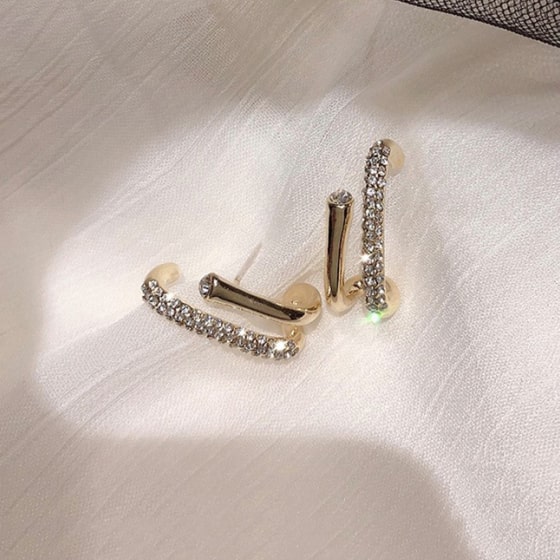 Earring specifications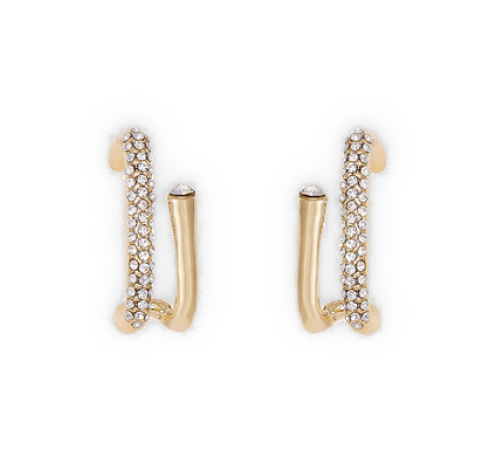 Care tips for jewelry
Keep the jewelry away from chemicals, high temperature, bath, water, sweating, cosmetics, moisture crash to avoid any damage, please treat it carefully. Store your earrings separately in a sealed box or sealed bag to avoid oxidation.
Earring details
Jewelry materials: alloy and zircon. Weight: 0.17oz./pair. Size: 0.9 in.* 0.3 in.
A charming accessory for any occasion
Earrings can complement your fashion sense and also highlight your external features, like your facial structure, skin tone, eye and hair color, etc. Furthermore, they will complete your fashion look and make it truly special and unique. The best part is that these earrings are great for practically any occasion, whether it's an anniversary, engagement, wedding or even a party.
Reviews
Reviews
Our reviews are verified for authenticity
Another cute pair of earrings!! Thanks!!

I love these. Very petite but noticeable. Easy to put on and take off. And pretty for not much money.

They are really pretty and classy. I wanted earrings I could put in and forget about them, and these little ones are perfect. Highly recommend them. I plan to give these to my mom and sis!

My daughter loved these. She wore them nearly every day for 5 months. They are the perfect size and shape. Also they're made of a high quality material. For the price they were a great buy. I'll definitely buy them again.

This is my fourth pair of similar earrings, and I must say that every pair has been a hit. I changed things up and got the silver or white gold color for these, and I love them! They are amazing. I can't wait to wear them dressed down or up. They're not too heavy either. Love!

I love these earrings. Still very comfortable to wear and I'll definitely be switching to these for my daily earrings. They're still dainty and minimalistic with a sparkle. I think this is the perfect small hoop size for everyday wear. I'm obsessed!

I love the style of these earrings. I have gotten several compliments on them. They are a new modern style. I love the durability of them. They aren't too heavy. The price is incredible for the quality of the earrings. I love that they don't easily come off because I always get so worried that'll happen. I recommend these for a dressy look or even around the house look. These have become my go to earrings because I love everything about them.

Just received!! Beautiful, well made and pretty. My family is all things jewelled mini earrings like these because the open ones poke into your skin. Perfect size for small ears (small face) but big hair. Nice proportion to ear. Can't wait to wear these. I am very picky so the thumbs up is meaningful.

They're lovely but a little smaller than I expected.