Faux Diamond Lock Pendant
If you order within
Arrives by
sold in last hours
Description
A luxurious unisex pendant
No matter who you are, the sparkling of this pendant won't leave you indifferent
Jewelry with locks have been around for quite a long time! The Georgians and Victorians would use it to "lock" the feelings between two lovers, protecting them that way. But the beauty of symbols is in the diversity of their meanings, and different people give them different significance. It doesn't matter if you're into deep meanings of symbols, or you just like the aesthetic aspect of it all – this pendant is an amazing piece of accessory for any person!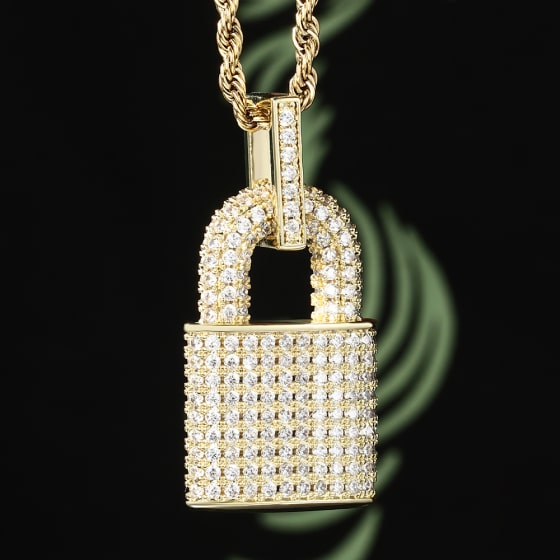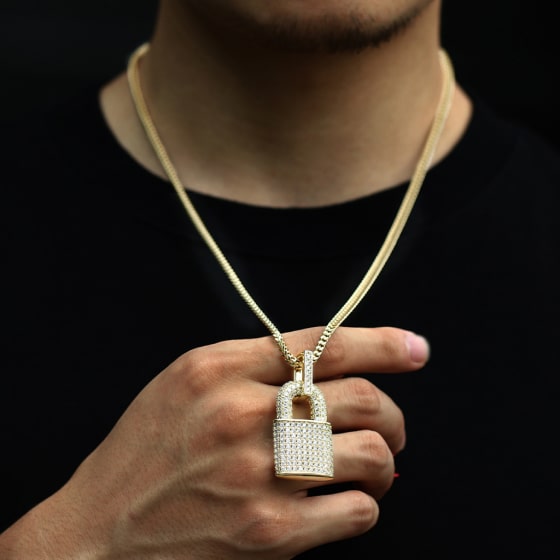 Lock the style in!
A chic pendant for the occasion when you need to SHINE
It's made from great materials
Brass is a very durable material, and the golden tone makes it look so expensive! 5A zirconia stones give it the immaculate shine that we all love.
How to care for it?
The best way is to keep it dry. Don't put it in water, and if it gets dirty – wear gloves and rub it with a bit of alcohol.
It has the perfect dimensions
With 1.37x1.18 inches in size, the pendant is just perfect for any look. It doesn't drive all the attention to itself, but rather elevates the whole image.
It looks immaculate
The stones complement the golden foundation beautifully, bringing in a wonderful stylistic match. The pendant sparks mesmerizingly in the light!
Why keep it simple when you can be stunning?
If you want to elevate your look and add a sprinkle of chic to your image, this pendant is just for you. It's impossible to take your eyes off, and you don't really have to. Enjoy!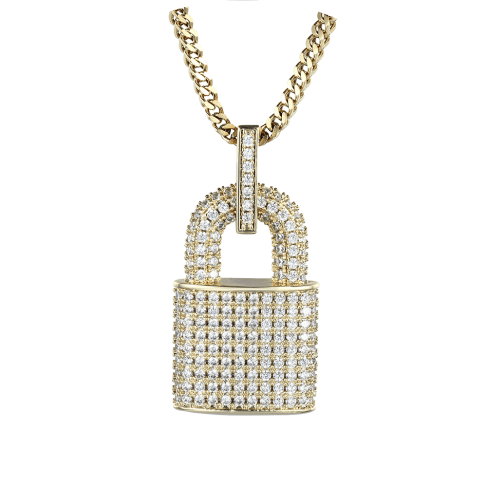 Reviews
Reviews
Our reviews are verified for authenticity
I was pleased with the quality and length of the product. The description and pictures feature the product in an authentic way. It truly looks like the picture. Also, the packing that the necklace comes in is an awesome bonus to help you protect and store the necklace or allow you to give it as a gift. I love it and would definitely recommend it!

Ok this is so cool. My daughter got it and she loves it. The pendant has a great value for price. It's very well made and doesn't look like it will break. My daughter wants to be kinda like an evil and this pendant just makes it look really good with her outfit she says. Definitely recommend.😁

This pendant is really pretty, feels amazing, and is fairly high quality especially considering the price. As someone with a large necklace collection, this one fits right in and looks as good as some other necklaces that I've paid more for.

It's extremely nice to wear, not too heavy on the neck or anything. It's rather flimsy and can break easy but other than that I'd say it's perfect for cosplay.

I am very impressed with the quality of this product. The packaging is very nice. I appreciate your attention to customer satisfaction…

Love this pendant, it's a nice size. It's the perfect shade of gold. Does NOT look or feel cheap.

Very heavy and substantial. Much nicer quality than I anticipated. My teenager loves it!

Wasn't sure on the quality of this but it has held up well. My daughter loves this.

It's very heavy and hefty. It's you're ok with that then it's the best thing ever.

My mom called me a thug with these on, lol! Exactly what I was going for.

Every time I wear it I always get compliments! Amazing!!