Faux Diamond Golden Grills
If you order within
Arrives by
sold in last hours
Description
The ever-popular teeth accessory
They've been around for a lot longer than you might think!
Grills are currently well-known and popular thanks to hip-hop culture, which keeps them alive. People, on the other hand, have been adorning their teeth for quite some time! The first grills were discovered in Giza in 2500 BC when a man was buried with two gold teeth. They were even worn by the Mayans.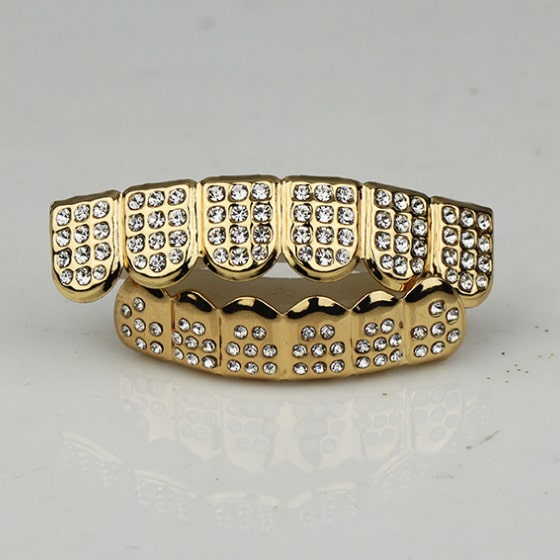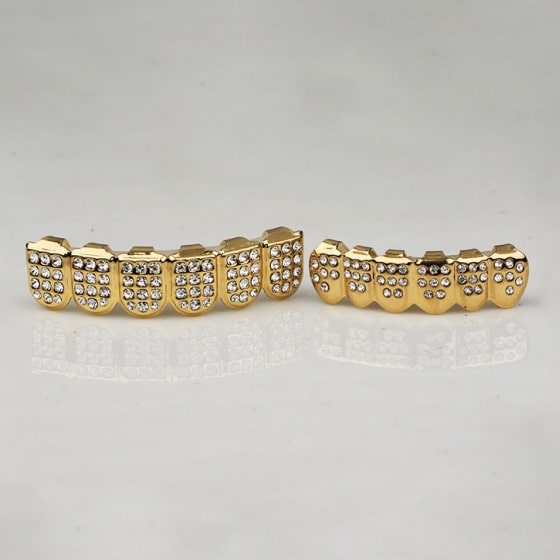 Wealth, power, status
Three things grills have been symbolizing throughout the history
They're made of well-known materials
The grills are made of golden-toned copper and zirconia. Those materials are fairly inexpensive and comfortable to wear. Make sure you don't have any allergies before you put them on!
Precautions for safety
When eating, remove the grills to avoid choking or tooth damage. Before putting them away, wash and dry them after each use.
They're perfect for plenty of occasions
These grills are pretty universal and not overly flashy, so they may be worn in a variety of ways. Parties, regular life, or special occasions when you can (or must) look extra cool.
They will fit you easily
Place the silicone part in the grill, put the grill with the silicone inside in hot water (NOT boiling) for 15-30 seconds, place the grill in your mouth, and bite it to form the silicone to your teeth. If you're not happy with the results, repeat the process.
One accessory, any time, any place, any person
It doesn't matter who you are or where you live; the grills will always be a stylish addition to your looks. That has been their mission for the entire time they have existed!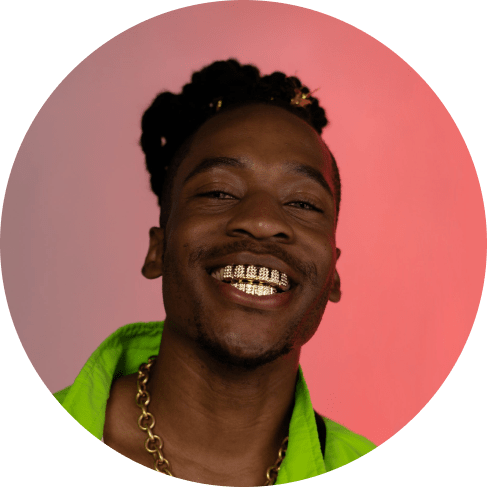 Reviews
Reviews
Our reviews are verified for authenticity
These are super killer for the price. The only big downer is that I feel like the silicone inserts were too small so I bought some replacements in a pack of 4 sets. You have to be careful when fitting and don't expect the raw metal to fit like a glove - that is what the silicone is for! All in all pretty dang comfy and super iced out and shiny! My sister got this for me as a gag gift but they're super dope! Take good care of them and they will last a long time! makes me feel like Post Malone. I'd keep it only doing top or bottom at a time so you can talk clearly! Carry the case with you and do not eat with them in... Gross!

This costume jewelry does the job. Why purchase the real thing if you aren't about those styles. I would strongly suggest reading the directions on how to make these fit to your teeth. If you ever molded a mouthpiece for sports it's a similar process.

My 9 year old dressed as Post Malone for celebrity day and she LOVED these! Easy to fit and easy for her to pop out during lunch/snack at school. SO many compliments!

The grills are not too bad. But I feel like it's just more of a prop for photos. Talking with the top ones might be hard. I suggest you follow the instructions, they were helpful.

Bought this as a small gift for a family member. It received RAVE reviews and was admired by so many that I re-ordered a second one for another family member! :-)

They were a gag gift and I couldn't be happier they actually were pretty good fakes. They came in a nice package and the delivery was literally the next day.

My son loves them. The grillz are made for adults, however, they are also suitable for kids. It was easy to mold them and the color hasn't faded yet.

They shine in the light so well, they come very clean, very sparkly also. It is a very great buy, these grills are really good ones!

My daughter wanted a grill so she could be like her uncle! Mission accomplished! She loves it.

Surprising good quality for the price. My kids are having a blast with them.

Very bulky, not natural looking, but they were easy to wear.

Purchase as a gift. Recipient was pleased.

Worked out very well for a photo shoot.

Looked awesome and felt good too!

Great! I wore them for my birthday.

I loved the way it blings to the light!