Faro Cat Bowl
If you order within
Arrives by
sold in last hours
Description
A new bowl for your kitty
The Faro Cat Bowl by Park Life Designs is a decorative, designer dish patterned with a sardine print inspired by the Portuguese coast. This chic piece can be used for your pet's water or its food! Park Life Designs bowls are perfect for cats, dogs, rabbits, reptiles, and all other animal companions.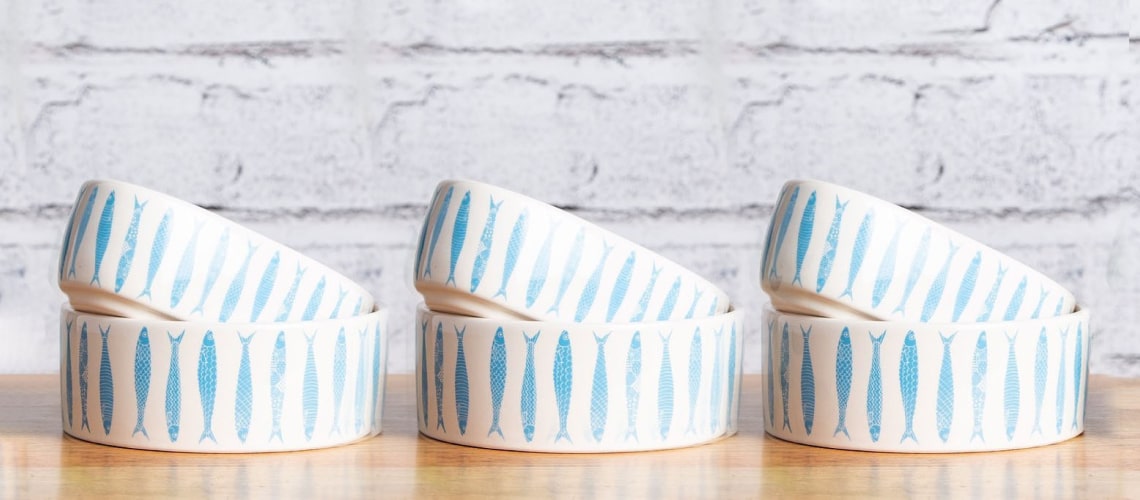 A chic saucer with a playful print
Perfect as a feeding or drinking dish
Premium quality
Each premium-quality pet bowl is crafted from heavyweight, FDA-approved ceramic that stands strong against slippage and spills.
Sizing information
The Faro Cat Bowl by Park Life Designs is only available in small size and measures approximately 2" high with a 5.25" diameter.
Your kitty will love this design
The Faro Cat Bowl by Park Life Designs features an eye-catching blue fish pattern. An artful, eye-catching exterior makes meals fun!
Safe to put into microwave or dishwasher
The stoneware is also 100% microwave- and dishwasher-safe, so you can warm up your furry friend's food and wash it with ease when the meal is over.
Serve your companion's dinner in style
Cat lovers will adore this cat bowl! It is perfect for a practical cat with a sense of style. With its cute design, it will totally stand out among ordinary cat bowls. Your favorite pet will definitely enjoy it all year round! This chic Faro Cat Bowl may become a nice gift for any occasion for a family member or friend that has a furry companion.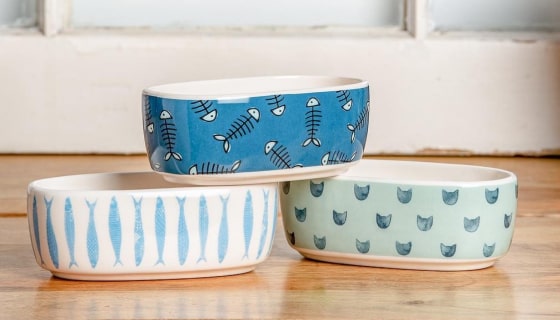 About Park Life Designs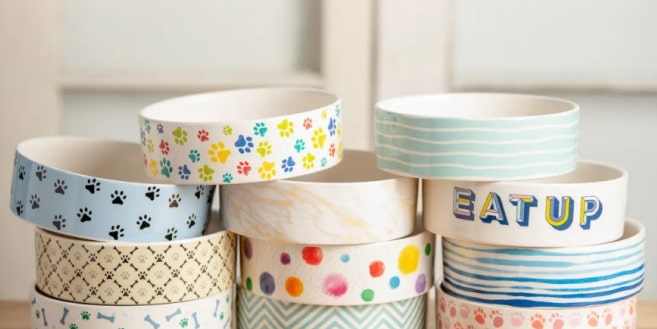 Founded in New York City by a team of innovative animal lovers frustrated with the lack of affordable, fashion-focused pet choices in the market we decided to shake things up in our own fun and vibrant way! Park Life Designs was created for stylish and fashionable pet lovers who love to express themselves with their furry ones. Animal lovers who want chic, fun and playful designs that love giving their pets a little extra flair! Park Life Designs believes every pet deserves decor reflective of their unique personality. Bring Style To Your Pets Life!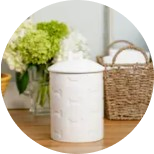 Designed In
New York, New York
Reviews
Reviews
Our reviews are verified for authenticity
This dish is a great addition to my cats' collection of dinnerware. I like the weight and thickness of the container. I like ceramic because it's easier to wash and safer for their health.

Received on time little bit disappointment with the size of the bowl

I like them so much that I bought 4 of them. I love the size for cats....no too small, not too big. Very easy to clean and way better than plastic where there might be chances of allergies or plastic poisoning or what not. I prefer ceramic over stainless steel as steel might be too cold too hot depending on the food. This is just perfect for us!

I use this as a water bowl for my petite cat (7lbs) and she seems to have no issues with it. I do notice, however, that my bigger cats (11-15lbs) won't drink from it. I think their whiskers hit the sides and so they don't like drinking from this bowl and choose the larger bowls. In terms of quality, the bowl has some weight to it and feels sturdy. Easy to clean and the sardine print makes it adorable.