Everyday Tote: Panda
If you order within
Arrives by
sold in last hours
Description
Not your average tote bag
This large-capacity bag has a cute panda inspired design
Introducing the Everyday Tote in Lady Alamo's signature prints. The humble tote bag. So common that you may have grown bored of hearing about them...but we don't do boring. It will make you feel special every day of the week. Store all your essentials in style and comfort!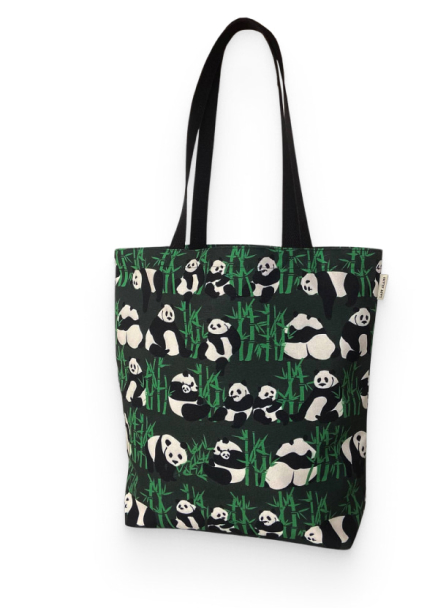 The tote bag details and specifications
Bag details
The bag is proudly made right here, in the United States of America. It comes at a size of 16" W x 15" H x 5" D and weighs 1 lb.
Bag materials
The bag is made out of 100% cotton with parallel handles that emerge from the sides of its pouch.
How to take care
You can machine wash it in cold water with similar colored clothes. Don't use any bleach.
Dry it up and go!
Line dry it outside to make it look fresh. After, simply warm iron it and it will be as good as new.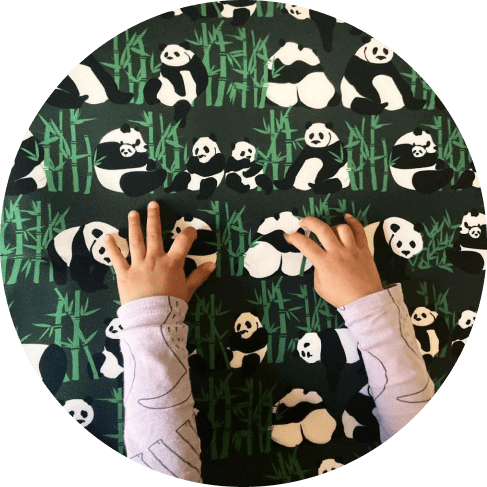 Make every day special
These eye-catching beauties are built for the everyday, but it will feel like a special occasion every time you walk out the door. Bring what you want, wherever you want.
About Lady Alamo
Lady Alamo is an accessories brand based and manufactured in San Francisco. Since 2011, we have been on a mission to bring joy to people's everyday lives with original prints & vibrant colors. In 2011 wife & husband team Yiva & Bryce began printing and sewing bags out of their tiny apartment in San Francisco's Alamo Square neighborhood, home of the Painted Ladies (Alamo Square + Painted Ladies = Lady Alamo). Having since moved into the City's Mission District, the commitment to producing locally and finding happiness through design remains. At Lady Alamo we strive to create everyday items that bring joy with each use. Focusing on natural materials, versatility and of course color, we've created a variety of Zipper Pouches, Backpacks and Reversible bags that you will want to show off every chance you get.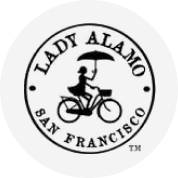 Designed In
San Francisco, California
Reviews
Reviews
Our reviews are verified for authenticity
I love this bag! It's really cute, and well made. Very pleased with my purchase!

Nice design, good quality and perfect size. Exactly what I wanted.

I love this beautiful bag! Very well made and will last a long time.

I thought the bag would be bigger and more sturdy. Not a bad bag though. Just not what was in my head when I pictured it.

Super cute! And very roomy!

It's so cute! Can't beat it, especially for this price

Love love love. Just love it.

Very spacious with the perfect panda theme!

I love it. It's a great tote. I love that it has a zipper.

A little bigger than I thought it'd be, but that makes me love it even more! I bought it as a work bag, but it could also be used as a small overnight/ gym bag too!! I really like it 😊

Bought as a gift. Perfect

We use this for snacks when we have a long day of medical treatments

This tote is roomy. I take it to work everyday and I can get a ton of stuff in it.

This bag was everything l was looking for. It's the perfect size, doesn't wrinkle, and zips closed looks amazing. I love it

I love this bag. It feels good, the perfect size for my class books and notebooks. I think they would make nice gifts

Great looking, roomy! Comfortable shoulder strap; tote is large enough for folders and print is perfect!

Great quality bag. Perfect size for carrying my water bottle, lunch bag and other small items to work. Comfortable straps! I love the design also!

Perfectly sized for what my daughter uses it for. Color is great and decal has not faded at all

Bought this bag for a granddaughter who loves pandas. The bag is large, has a zipper top. The print is great. Granddaughter loves it! Definitely recommend these bags!

Wash's well. Joyful little creature to look at. Many of my friends try to "borrow " when we are out. Give some as gifts to save on plastic, one uses bags. It's a start!

Beautiful well made tote bag I purchased for my coworker as a present. He loves it. I'm definitely buying another tote for another coworker she love the bag to so I got in trouble for not buying 2 extra

I needed a good tote to hold my things for chemo. It holds my books, sudoku book, pens, knitting supplies, snacks, and a couple bottles of water or Gatorade. It's exactly what I needed and is easy (and cute) to carry around.

It's a pretty big tote. You could use it as an overnight bag or a carry on for a flight. I use it as my purse. Fits all my stuff and a few groceries when I go to markets where you bring your own bag.

Bought it for different kids stuff to take outside. It has a big capacity but doesn't look very sturdy. First usage was ok, all toys and snacks fit perfectly. After all, I found it fine. Can recommend for everyday use.

We needed cotton bags to use for everything now due to ecology. This was a practical, pretty and roomy choice. My mom said she liked art. It is vibrant. Price was affordable and thankfully it is machine washable. UPDATE: I bought 2 extras, we are in love. ⭐⭐⭐⭐

Great bag! I use it for daily medical supplies such as blood pressure kits and blood sugar testing supplies. I am buying two more. One for pet grooming supplies, and one for the knitting project I am currently working on. Perfect size and love the top zipper to keep everything in place.

This is an excellent quality bag. It will hold more than I can carry. I bought it to go to the library with my laptop or tablet, a notebook, and several books. There is still room but this is my personal weight limit. I expect it will hold up for a long time. And the picture is just so darn cute. I may buy a black one as well for groceries.

Using less plastic is a goal for our family, but many of the reusable bags on offer at the supermarket are made of plastics. I wanted something cotton, and in a darker color. This bag fits the bill...it is far more sturdy than expected, and the print is stylish enough that I've used it for carrying items when out and about...not just for shopping. I got two and am so glad. These items will last a long time, and I smile thinking of all of the plastic bags not being used because of these lovely, useful and durable totes.