Emerald Charm Bracelet
If you order within
Arrives by
sold in last hours
Description
Versatile & classic
Want to add elegance and charm to your regular looks? Then this Emerald Charm Bracelet will become a wonderful addition to your jewelry collection! It is a graceful and unique accessory, perfect for any occasion.
A stylish accessory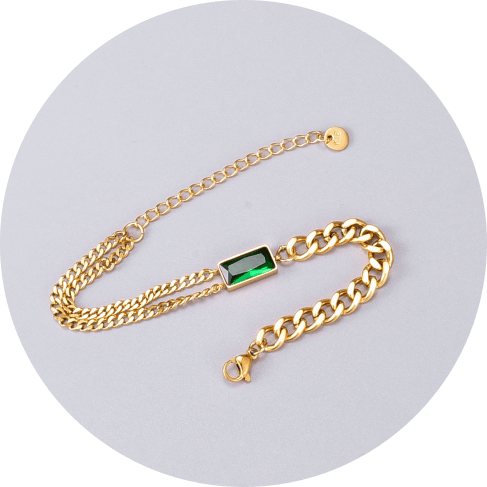 General characteristics
Material: stainless steel. Type of chain: curb. Weight: 1.2 oz.
Care tips
Keep it in a cool, dry place. If needed, wash the bracelet in soapy water and dry with a soft cloth.
A meaningful gift
Whether it is an anniversary, Valentine's day, birthday, or any other occasion, the Emerald Charm Bracelet will serve as an incredible gift! Emerald color represents hope and spiritual growth, and is believed to bring good fortune and wealth to your life. Thus, by giving this bracelet to your significant other, you will make them feel loved and cherished.
Reviews
Reviews
Our reviews are verified for authenticity
It's beautiful! So far I haven't had any problems. It fits my hand perfectly, not heavy, so I wear it everyday! The green color is sooo beautiful, especially when it's sunny, my friends keep asking me what material it is :) I'm not sure about the winter, but for summer it's the perfect choice!

The chain is quite long as for me, but the "stone" looks cool and bright, so I still like it. Already wore it twice.

It's so elegant and outstanding, I wore it with the green dress, it was perfect.

As on the description, super pretty I'm delighted

It's very pretty and delicate, I love it!

It's prettier than the pictures.❤️

Very satisfied with the bracelet.

Very pretty Bracelet, I love it.

Looks pretty, I liked it.