Earth Paints
If you order within
Arrives by
sold in last hours
Description
Add more color to your day!
This 100% non-toxic Natural Earth Paint Kit offers rich, vibrant colors that can be used for crafting and scrapbooking! The paint works perfectly on wood, rocks, fabric, paper, glass, and more.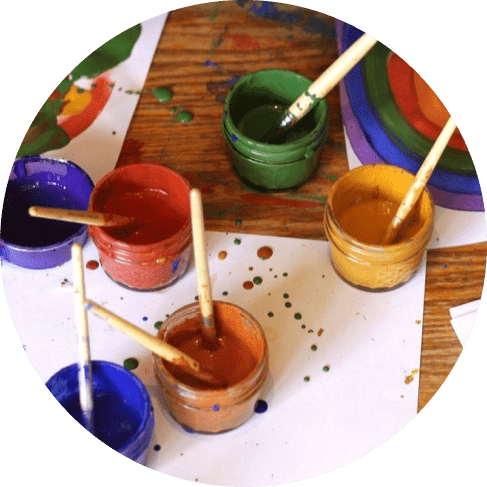 What's in the package?
Here's what the Natural Earth Paint Kit is all about:
6 vibrant colors
Venetian Red, Orange Ocher, Yellow Ocher, Green (Terre Verte), Ultramarine Blue, and Brown (Raw Umber) – 6 packets in total!
Ample supply of paint
Each packet creates approximately 10-16 ounces of paint depending on the amount of water added. In total, this kit makes up to 96 oz. of paint.
Hand-crafted, powdered vegan paint
When mixed with water, Natural Earth Paint Kit creates a creamy, tempera-like paint for you to create brilliant watercolors!
An extra accessory you'll love
The kit comes with 1 bamboo brush: just the perfect eco-friendly addition to your art & craft supplies!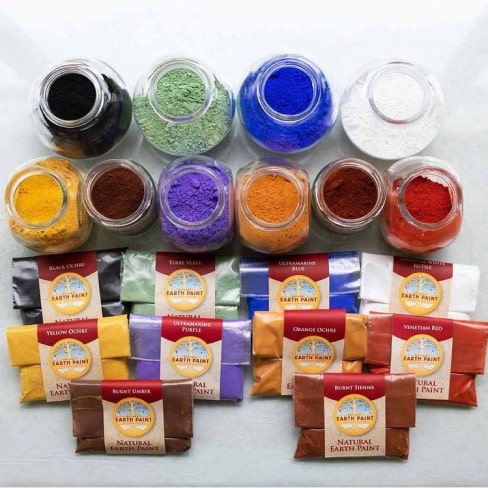 Safe and responsible entertainment
Easily washable and non-toxic, this paint kit is suitable for people of all ages. Made in the United States of America, our powered vegan paint provides a great deal of responsible entertainment to just anyone!
About Natural Earth Paint
Natural Earth Paint was born from the mind of a professional artist, mom and environmentalist. After deep research on ancient paint making recipes and studied Renaissance techniques, coupled with extensive experimentation and testing, Natural Earth Paint began to blossom. Over the past 10+ years, we've developed a full line of children's products, natural face paints, fine art supplies and the world's first all-natural, non-toxic varnish. Natural Earth Paint products are made in small batches in our solar powered facility, with natural earth pigments, organic binders and ingredients. We hope you enjoy creating memorable art with our products which we bring to you, with love and a passion for a better, brighter world.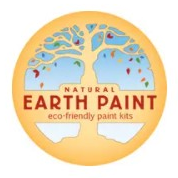 Designed In
Ashland, Oregon
Reviews
Reviews
Our reviews are verified for authenticity
They are great vibrant colors! They paint nice and smooth and I feel safe of my child actually tries to taste it!

Easy to mix and gives rich colors.

He's my great you're in trouble loves this he's three

Love love love! Beautiful colors and I think it's great that you can mix a little at a time.

My kids loved painting with this set. My older one helped mix the paints and then we all made a huge mess. Everything washed off easily, no stains on anyone's clothing. I'd highly recommend.

love these paints, easy to mix and I like that you can make the paint thicker or more watery if you prefer. I love that you can store the leftover paint in the fridge for use later in case you mix too much. I also like how you can just mix up a small amount if you want. Vibrant colors. Would buy again.

Love these paints! I've only mixed up the red, blue, green and yellow so far, but they are great. I love the colors and the consistency. I like the way they look when dry. I used a more water color consistency because I just like how that looks.

Love them!! I painted some peg people for small world play but wanted to make sure the paints were as safe as possible for my toddler. I'm more than pleased with the colors. You can make the paint thick or just do multiple coats. The red, orange, and yellow aren't super vibrant, but I expected that. They're very natural and earthy colors. Blue and green are gorgeous. I made the purple by mixing a tiny bit of red into blue. I may coat with beeswax later. It's more paint than I expected and will last a long time just doing wood projects. Their website has a couple more colors so I will probably order those too!

So amazing! I was so hesitant to do painting with my kiddo because of the potential mess, not to mention the eating of the paint that was likely to occur... anyway I heard about these paints on an Instagram page so figured I'd try them. My 19th month old has a total blast! He got some on his hands and feet and this stuff dries so fast when he started walking around and touching stuff the paint on him was dry! Sure a little got on the floor and the wall because it was bound to happen but it was beyond easy to clean. Easier to clean than when they splatter milk and it starts to dry! when we were done, it only took some water and a rag to get him all cleaned up. We took a risk trying this out and this mama could not be more pleased! Oh I also prepared the paint in advanced, they ended up sitting in my fridge for about 2 days before use and it was like I had just mixed them. If it helps, I taped (packing tape) the little cups with paint to the paper to reduce spillage.