Double Layered Gold Necklace
If you order within
Arrives by
sold in last hours
Description
Fashionable sun and moon necklace
Simple double layered gold necklace for women
A golden necklace is so much more than a regular accessory. A fitting gold necklace will not only greatly enhance your look, but will also elevate the gracefulness and beauty of a woman. Enrich your style with this gorgeous gold necklace.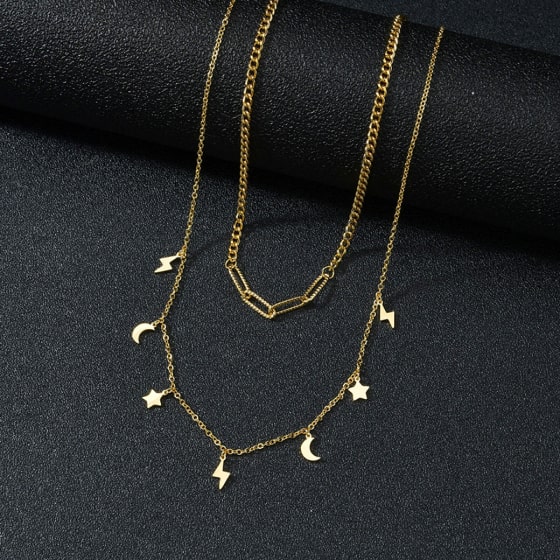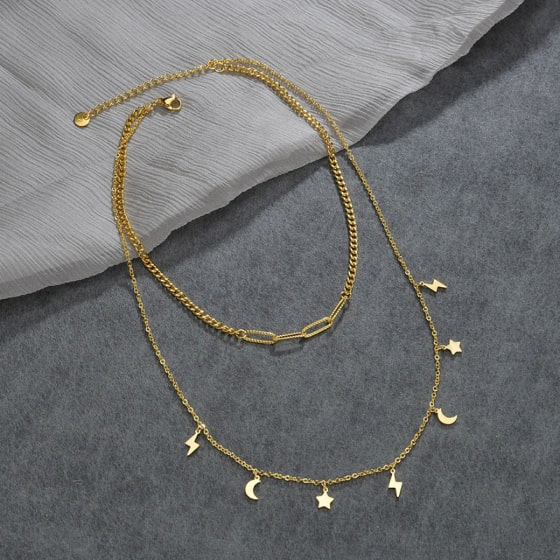 Gold necklace specifications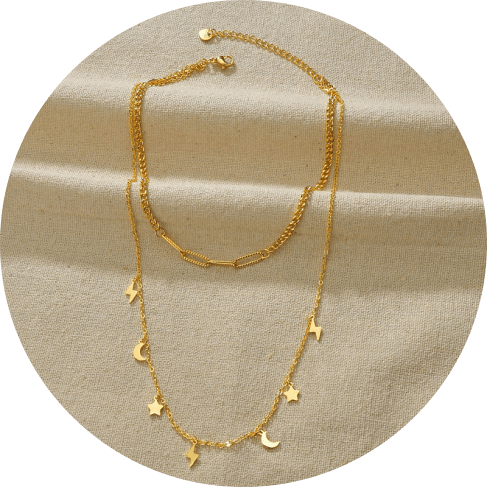 Care tips for jewelry
Keep the jewelry away from chemicals, high temperature, bath, water, sweating, cosmetics, moisture crash to avoid any damage, please treat it carefully. Store your necklace separately in a sealed box or sealed bag to avoid oxidation.
Necklace details
This gold necklace is made of stainless steel. The length of the necklace: 17.7 in.
It's perfect for any occasion
Whether it's an anniversary, a party or any other significant date, this double layered gold necklace is ideal for any woman on any occasion. It will be the perfect addition that will highlight practically any look! By wearing this wonderful necklace, you can experience a broad range of new positive emotions and raise your confidence level.
Reviews
Reviews
Our reviews are verified for authenticity
This is a very nice set. I've received so many compliments with his necklace. Definitely packaged with love!

Not a bad necklace, not the cheapest nor the most expensive thing I own. It's a fun piece

It's so beautiful and feels sturdy. I love Dainty gold jewelry. This is my first day wearing it. Mom loved it.

Beautiful necklace as a gift. Very excited to see if they will enjoy it as much as I have hoped.

As advertised. Looks like the pic provided. Good quality and came nicely packed. Will be great as gift. A lot of details put into this precious handmade Jewelry.

Very cute! Packaged nice. The smaller paper clip chain could have been a little longer. But it looks nice.

Great quality. Very inexpensive. The middle chain is real 14K gold and you can't tell the difference. I bought five to give as Christmas gifts for my family - love it. The clasp is a crab claw and easy on and off.

Love these necklaces. They look great! I don't understand some people criticizing it looks cheap. When you pay $14 for gold tone jewelry, obviously it doesn't look like fine jewelry nor will last many years. I will be happy if these last a season after daily wear.

Love both necklaces. They are still gold. I haven't worn them in water. I most likely won't. I do have sensitive skin so they do itch me sometimes. The quality is nice. They look like 14k gold necklaces.

Very pretty great presentation, but I didn't measure, it is short, but pretty I wish their was length options. Not as pictured almost same lengths.

I bought 2 of these, 1 for my 28 yo daughter and 1 for myself. They exceeded my expectations! They are quality made and very fashionable! My daughter Loves hers and I Love mine! We both wear them daily. We don't shower or sleep in them. I have received several compliments. I will be gifting these to fam & friends.

I have wore this necklace so much and once in the water and accidentally in the shower and it never tarnished or left my neck green etc. The little chain that comes with it is also freaking adorable, with the necklace or without. Both together is a power move. I get so many compliments on this necklace I never want to take it off. It isn't heavy, doesn't look cheap, and you can adjust the length.

This set is everything I had hoped it would be. Given the reviews, I knew it would likely meet my expectations, but I didn't know just how great it would look. I love that these can be worn together or separate. My MIL actually thought they were solid gold when she saw them on me! If you're on the fence, I highly recommend this set. It's versatile, and for the price you can't go wrong.

I bought this necklace after seeing a review on youtube and honestly wasn't expecting too much. I love it! It's really stylish and classy, and the quality is way better than I expected. I've worn it two days in a row and people on my video calls have given it compliments. Buy it, you won't be sorry!

I got this as a birthday gift for a sixteen-year old girl who is very fashionable. She loved it. I thought the paper-clip chain would be the attraction, but she immediately put on the initial medallion. The overall quality was better than I expected. And if you need to mail a gift, this is compact and lightweight to mail. Highly recommended.

Nice weight, shiny & so pretty! There's an initial on one side and a heart on the other. The two necklaces can be worn together or separately. There is a tiny crystal detail at the end of each chain for a finished look. Comes with a polishing cloth and a little card with envelope in the box incase you are giving it as a gift ♡ love. I would ne happy to give OR receive this as a gift. Highly recommend for any special lady in your life.