Creative Reusable Food Storage Tray
If you order within
Arrives by
sold in last hours
Description
Stackable. Storable. Safe.
Less bulk, more room. Stockpiling leftovers and ingredients into the fridge can turn into a war. That's why our Creative Reusable Food Storage Tray is a kitchen-smart solution for cutting storage bulk while maximizing your fridge space.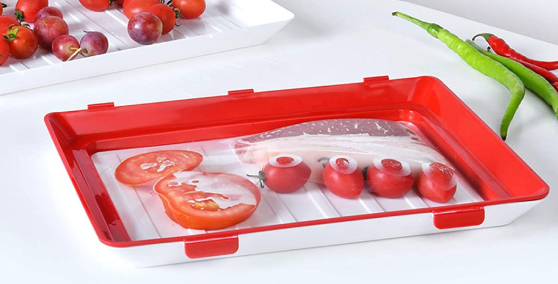 Less plastic wrap. Less eco-impact.
Imagine storing leftovers and keeping food fresh without going through sheet after sheet of plastic wrap. Our reusable food storage trays are just the solution, with a built-in elastic film that's washable and reusable, reducing your use of plastic wrap; help reduce your footprint on the environment.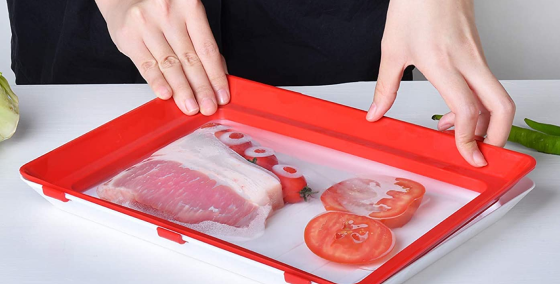 A versatile wonder for clean up, prep, and serving
Discover the greatness in this multi-use solution:
Safe for refrigerators, microwaves, ovens, and dishwashers.
Trays double as serving dishes at parties or dinner around the table.
Stackable tray design helps save space.
Trays and covers (including elastic film) are sturdy and cleanable.
Buckle design of tray covers makes it easy to seal food.
Buy in doubles or quads
Our beautiful trays come in sets of two or four for great gift-giving or personal use.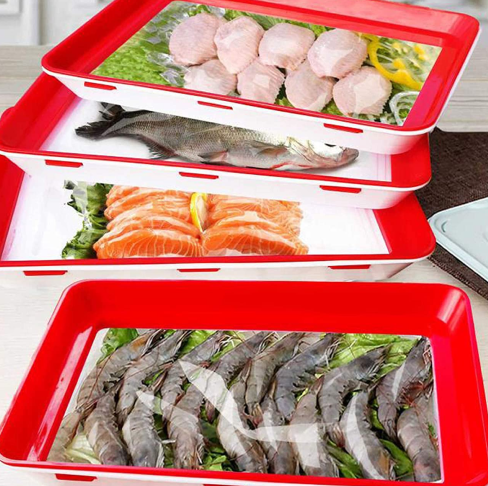 Modern build + design
Our trays are made of polypropylene plastic, with the wrap being advanced elastic film. All trays are white with a red border frame for the film cover. Each tray measures 9 x 12 x 1.14 inches (L x W x H).
Reviews
Reviews
Our reviews are verified for authenticity
Good thing, especially around the remains a knuckle. Work great and sealing seal. This can be at me öfters in use. Recommended.

The stuff is good and the packaging is good, really good quality and low price. The first is the quality clearance, and the second is a long time before it is decided to buy it. In the case of quality clearance, the personal is still relatively preferred or the colors are carefully selected by yourself. If you have watched for a long time, do n't hesitate It 's time to start. Do n't let yourself regret it. The quality of the stuff is still good.

I had really been wanting to try these trays for a while after seeing lots of advertisements for them. I tried a couple different brands and both met my hopes for their use. They are so convenient to use and nest together compactly. They take up even less space in your cupboard when not in use too. A great alternative to trying to store mis-matched Tupperware. I rarely fall for advertising gimmicks, but this storage concept was irresistible. I plan to use these for storing things like cold cuts and sliced cheese for easy access, while keeping air contact at a minimum. They offer the convenience of a lidded container with the minimal air contact of plastic wrap. It is as close as I can get to vacuum sealing without having to seal a bag every time I open it. I think they would be great for taking to parties as a cheese platter so things don't shift in transit. The other containers I have reserved for lunch trays but these would be great for that too. They work well for anything up to about 2" thick, depending on how much you put in them, thinner if you plan to fill all the way to the edges and have it seal. Give them a try, you may love them as much as I do!

I liked the fact that I could use these in lieu of all the plastic bags for protecting my food. I love the fact that I can freeze many items without the use of plastic! I throw a couple of pork chops in, close the lid, lock it and throw it in the freezer. Love them! I would love it if could handle bulkier items too.

We're really enjoying these. They're highly stackable and very easy to clean. They keep food fresh and are suitable for food presentation as well.

Everyone's family needs these plates to store food and keep it fresh. I ordered these plates, this is my first time to order these, I am very satisfied. There are many fresh fruits and vegetables in my fridge, so I need to use them. The fresh-keeping effect is very good, I am very satisfied with this shopping.

When I used it the first time to save some bbq ribs leftovers. It closed and sealed just fine. All was well until I wante to open it back up. It was simple to open but the film came out of the frame. I could see the frame had 2 parts so I could put some more film in the frame. Should have done a better job of sealing the film in the frame. I would not buy it again.

Came across these and decided to take a shot. Admittedly, I've never even heard of such a thing as these. They are awesome though. It basically vacuum-sealed food in, and they stack easy in the fridge as opposed to the random food packages strewn everywhere. I don't think I would put anything TOO thick in these to be safe, but the wrapping seems super durable. Happy with this buy for sure.

Love way these stack in freezer and frig. Easy to fill and easy to use.

I purchased this container to hold bacon. After opening bacon package there was no way to reclose. This container holds the whole package with no fluid leakage. Its neat and I can put it in my deli drawer and put stuff on top of it. Only thing I've noticed is the clear window seems to stretch. It's a great product.

They are a bit smaller that I expected but still work great. Thank you, fast service!

Can't hold much food in it

easy to stack trays, great for cheese and craved meat or ham slices. Easy to clean much less space that tupperware would great if they were a bit bigger

There are two free silicon pouch that come with it; however they are a pain in the neck to clean (even in the dishwasher) and the white powdery on them made me uncomfortable using them.

I really love this, takes a bit to make sure your items fit but has been working very well. Don't put any wrappers inside so you can avoid tearing. Make sure to hand wash with warm water

Put frozen fish in and sealed it. Next day no fishy smell in my fridge. Fish was fresh looking not and ugly smell left behind. I'd buy it again. But the tray could be bigger anyway

I had been tempted by advertisements for these food preservation trays for a while and finally took the plunge. I think they are great! You can put an entire lunch in them or leftovers and they are much more compact than ziploc containers. The clear cover is stretchy so it can accommodate things with a bit of depth like a sandwich or a banana. They are neat because you can put your lunch in them and they take up about the same amount of space as a laptop in your bag. It slides easily in between your books. In the fridge, they nest together well. Instead of layering leftovers between wax paper, I can divide them up in separate trays and stack them. So far they wash well and return to their original shape after using them. I'm glad I tried them! I will be buying a couple more.

At first I was a little skeptical of the overall design and how it would work, but after trying it out for a couple days I love it. I don't have to worry about putting things in multiple plastic bags. They keep everything fresh and take up minimal about of space they stretch so makes it convenient for different types of food items. The lids also lock securely in place so you don't have to worry about spilling or shifting of items

Just got these, didnt realize I needed them so bad and that it was missing in my life lol, figured they would be so cheap they would snap and break but no, they are built well, I used it on keeping a few slices of pizza for leftovers and it worked great. Easy to clean to.

This is a really neat idea! I live in a small space with roommates and the fridge has always been a thing of disagreement. However, this little product is exactly what I was looking for! It's easy to snap on and fits flat in my fridge so I can use the space for other things!

These food preservation trays are so convenient, seal well, and are easy to clean! They come in a pack of two, and seal well. I turned them upside down and nothing came out. You can lay food nicely without squishing it as there is plenty of space on the tray. Thank you so much for a great, affordable product!

Love Love Love this product. Used it for the first time for leftover Christmas ham and two days later the ham was still as fresh as the day it was made. Best part about this product is the space saving it gives in the fridge!! Will definitely recommend this product for leftovers and even to take lunch in. Seals tight and can even stand on end if need be.

I like this food tray. This tray is BPA free so it is safe in dish washer. This tray is very useful keep food fresh in the refrigerator and It can be used to freeze meat, fish, etc. also this tray can be reused.

Love this! Replaces a lot of disposable items.

Its a very exciting product! My husband can never find anything in the refrigerator unless it has a see-throw lid so i usually use glass containers and they are rather bulky and take a lot of space. So i found these trays and gave them a shot. So far im happy with it. The lid has a built-in film in it, film looks thin but it Is definitely very strong and stretchy. Lid locks with two latches and stays secure on the bottom part. I really like the fact that you can stack trays one on top of another so it saves some room in the refrigerator. Easy to clean, film does not stretch out. Very promising product. And now i want to order more to be able to organize the whole freezer and refrigerator sections.

This tray is perfect for meal prep. I marinate meats and then seat it off with the tray, let it marinate for a few days and it's good to go when I need it. I've also used it for cut up fruits and veggies and it keeps them fresh for a day or 2 until I need it.

I liked, the material is nice without smells, in the trays, of course just something flat will enter

I purchased this container to hold bacon. After opening bacon package there was no way to reclose. This container holds the whole package with no fluid leakage. Its neat and I can put it in my deli drawer and put stuff on top of it. Only thing I've noticed is the clear window seems to stretch. It's a great product.

I love fruits and always buy a lot of them at home. Sometimes we can't finish the fruits after washing, so if we put them back to the fridge, the next day most of them are bad. This pack of trays, they really help us to avoid so much waste on fruits and keep them fresh. We really appreciate it.

This is pretty great actually. It was stiff to snap closed (you'll see me push hard to close it) but it is very secure. I show a peeled hard boiled egg in my video. The plastic did secure tightly while not ruining the egg.

great container, especially for steaks

I bought this pan for my daughter as a Christmas gift, as a replacement. She dropped the one she had and needed this one to fit into her set. She loves the set.

It's phenomenal, it's an invention, I recommend

Nice space saver! keeps the veggies fresher longer. Great for packing the leftovers work, or just storing Left overs for next day. They snap together easily And save space for storage and dishwasher safe.

Keeps foods fresh. Stackable so takes up less room in my refrigerator. Easy to clean. Love the cloths that came with them, so many uses from cleaning my trays to cleaning my glasses. Planning to order more for putting up Thanksgiving left overs.
Creative Reusable Food Storage Tray
$50.99
2 Trays