Cow Tote Bag
If you order within
Arrives by
sold in last hours
Description
Cow Shopping Bag
Keep calm and love cows!
This funny cow print tote will definitely keep you in the mood every time you carry it ;) Sustainable, eco-friendly, and reusable, this tote bag is a great alternative to plastic bags. It is a perfect size to slip in your handbag, work bag, or pocket to use as a shopping bag or for those essentials you need to carry when you're out and about.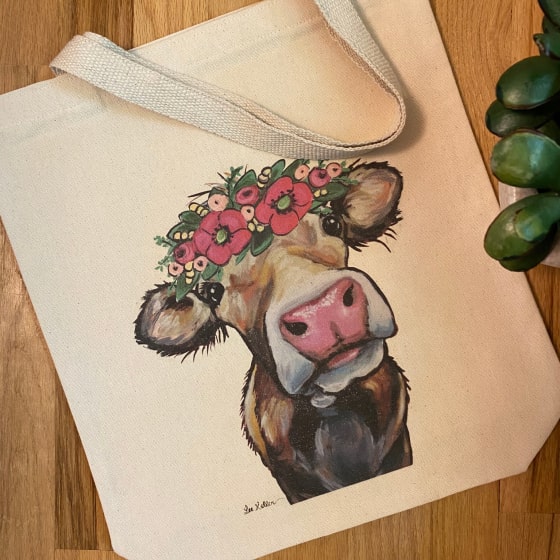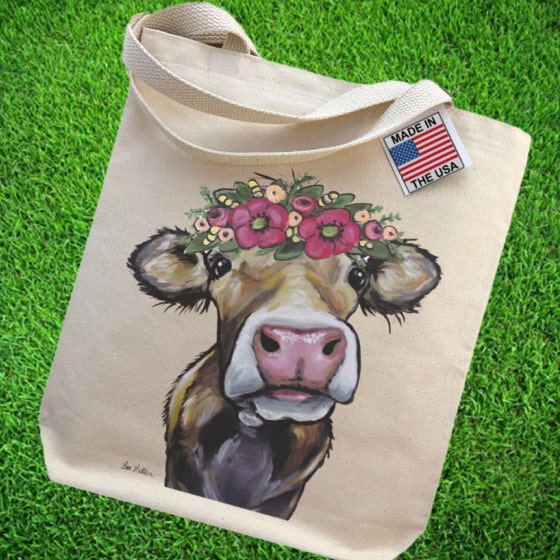 Highlights & features
What makes this Cow Shopping Bag special?
Handmade in the USA
We are very proud to say that our tote bag is manufactured locally, in the USA! Each bag is printed in North Carolina by Hippie Hound Studios. * Bag is printed on one side.
100% eco-friendly
Made of 10oz cotton canvas, the bag is ideal for replacing those plastic shopping bags and doing your bit for the environment!
Easy care
Made from a heavyweight organic cotton, this tote bag is washable and durable. Spot clean using parchment paper between iron and art transfer. A fabric protectant can be used on the tote.
Multiple Use
The Cow Shopping Bag is perfect as a school bag, lunch bag, clothes bag, laptop carrier, laundry bag, diaper bag, beach bag, gym bag, grocery and farmers market shopping bag, or travel bag.
Your ideal shopping bag
Measuring 15.5h" x 14"w x 3.5", this Cow Tote bag is super convenient for shopping! It has long cloth handles which make it very easy to carry by looping over your shoulder or just by the hands.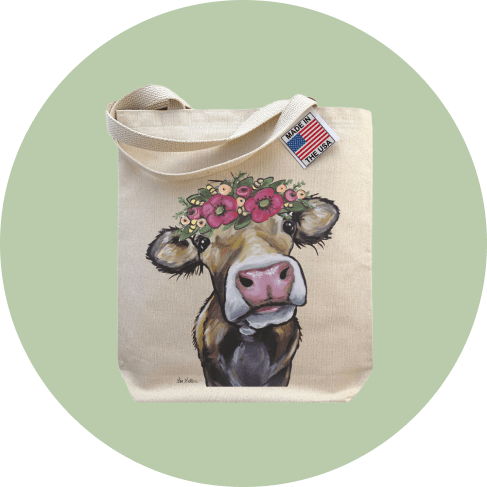 About Hippie Hound Studios
My obsession with animals began at a very young age. It all started at 2 years old with my first dog. I quickly realized dogs didn't talk back, they love you unconditionally and never judge their human companion. Soon after came my love for art. However, it took me a few years (quite a few!) to get up the nerve to combine the two into my dream job! I was born and raised in Western NC. I studied Fine Art at Western Piedmont Community College, then Fine Art and Graphic Design at Appalachian State University in Boone, NC. However my fear of being a 'starving artist' held me back. I changed directions and spent 17 years working a fulfilling career in Occupational Therapy with special needs children. I experienced many of the typical bumps in life that most adults experience. However, in 2015 I experienced a life changing event of losing my father in law and nearly losing my husband in a terrible car accident. It was then I decided life was too short not to at least make an attempt to follow my passion. I combined my love for animals and art into my full time job and couldn't be happier!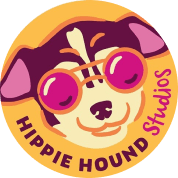 Designed In
Morganton, North Carolina
Reviews
Reviews
Our reviews are verified for authenticity
Very cute- my aunt will love it!

I love it! It was a gift for my aunt. She loves cows! Thanks.

Very well made, super cute, large bag.

Just what I needed. Beautiful cow picture. Save our 🐄

A little smaller then I was expecting

Really nice product, I use it as a lunch bag. Very well made and durable material :-)

This bag is a nice canvas with handles. The cow pic is absolutely adorable! Fast shipping! Would order again!

Sturdy canvas. No smell. Roomy.

So cute! I wish everyone I knew were farmers/ animal lovers. I'd buy more! I'll probably need one of the pig ones for myself in the future!!

We have purchased these grocery bags before. They are strong and they are easy to fold and use. We really like them.

I just received the bags, so I don't know how durable or easy to clean they are. They are of high quality.

These are great, hold loads and seem very durable.

these are REALLY heavy duty bags. i honestly can not imagine them failing to do the job. the handles are a little bit too long, but no big deal, just tie a knot in them to make a little shorter.

Excellent shopping bags. I wish at least one of the slotted pockets along the inside was sewn at the bottom. Still, tall things will stand up in them if there is stuff also in the middle (think: bottle o' wine). Super sturdy, nice looking and they fold up pretty small to throw in the trunk.

They're as expected. They all seem to be pretty close in size. Hope they don't shrink.. haven't used them.

After a couple of weeks of use, I have confidence that these canvas bags will endure many years of my use and abuse! Shopping store baggers, also, delighted me when I discovered that they had been making use sidewall sleeves without needing to be told.

I bought these to deliver my Holiday Gifts. Everyone loved the bag. My daughter love the bottle holders, my other daughter loved that they are organic, my nephew was wowed by the craftsmanship and strength! Thank you for such a great product.

Excellent quality and materials I feel good about using. The bags are sturdy, comfortable to carry, and their flat bottoms fit groceries well. I'm very pleased with this purchase and would buy them as a gift.

Although these are a little awkward to load at a grocery store, I love how much they hold and how easy they are to carry.

I like these bags. After washing I hang to dry until light damp and then pop in dryer for about 5 mins or so to soften fabric. They did shrink a little from 1st wash but have held up quite well. They are sturdy and very useful for many needs. Happy.

Incredibly happy with this purchase. These bags are thick and STURDY and just the right size to fit in the grocer's bagging area. The bottom isn't tapered, the seams are secure, and the handles aren't too long.

The bag is not so big that it would be hard to carry if full but not so small that it won't hold anything. The inside slots are perfect for bottles and things you don't want rolling around. The fabric is thick but still folds easily. Really, it is a simple but great shopping bag.

I needed some new ones to replace my very old canvas grocery bags. I actually like the bottle straps inside. Vinegar, spaghetti sauce and wine bottles are kept from clanging. I liked them so well that I have bought another pack of three. I haven't washed them yet and will update if there is a problem.

These canvas bags are fantastic! They are strong and durable. I don't worry if the straps will break because they are securely stitched to the bag. They are wide and comfortable - no cutting into your shoulders because the contents are heavy. The bags have internal pockets for easy organization and so that you don't loose the small things. I use these for grocery shopping. They could easily be used for the beach or pool.

I love this bag. It is very pretty, and is made of cotton, which by the way will shrink quite a bit if you put it in the dryer, so lay it flat to dry and use cold water. It actually holds more groceries than I first thought, and it holds many books as well. Down with plastic! Save the poor sea creatures! And it is so pretty that it makes a nice gift bag for birthdays, etc. Highly recommend it!

These are the best canvas grocery shopping bags I've found anywhere. They are made from heavy canvas that holds up to heavy loads like canned goods. They clean beautifully and are ready to go again. If you need sturdy and durable bags these are for you. I now have 18 of these bags purchased a few at the time because they are expensive but worth every penny paid for them. Every time I go grocery shopping the baggers want to know where I got my nice bags. These bags aren't made from flimsy, light weight canvas.