Cooling Aftershave
If you order within
Arrives by
sold in last hours
Description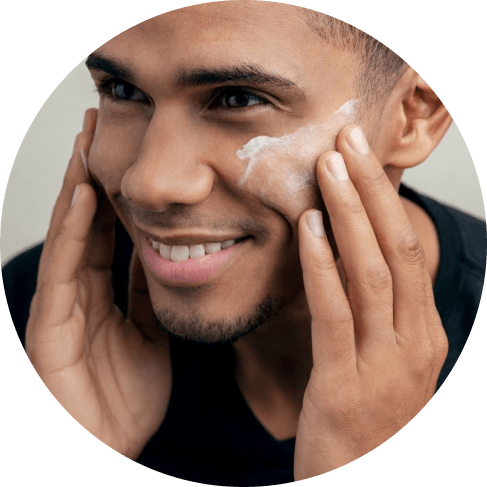 Less irritation starts here
Say goodbye to annoying ingrown hairs or post-shave redness with the soothing power of our Lumin Cooling Aftershave. Get your smoothest, cleanest shave with this calming solution.
Soothe + calm
For healthier grooming
No irritants here
Formulated without drying alcohol, our aftershave features moisturizing shea butter and calming extracts such as willow bark, rosa canina fruit, and cucumber.
A little goes a long way
Apply a dab post-shaving for an instant cooling, anti-inflammatory effect.
Strengthen and de-puff
That's the magic of relief to freshly-shaven skin on your chin or mustache area.
Lightweight and non-greasy
That's how Lumin does it, with easy, fuss-free formulations that give you max performance and comfort.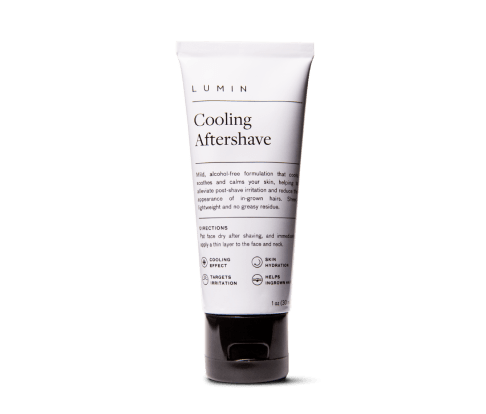 Smell great
Our Cooling Aftershave blends natural extracts with our invigorating fragrance for a fresh scent, everyday.
Give the gift of clean
Know someone who's out of product? Someone just starting to shave? Give them our high-performing Cooling Aftershave.
Premium care, just for men
It's the Lumin difference
Lumin prides itself on quality ingredients that really make a difference. Go from ordinary to extraordinary with the Lumin line of skincare and haircare must-haves for a better, more confident you. Nourish hair and skin with natural ingredients in refreshing, high-performance formulations.
Reviews
Reviews
Our reviews are verified for authenticity
Excellent aftershave. A tiny bit goes a long way, so the product lasts.

Husband loves this aftershave. Soothes skin after shaving

With one drop I covered my whole face. Very smooth skin after.

Soothing and great scent. Will definitely purchase it again.

The scent is a little much. But the product works great for post-shave moisturizing.

Boyfriend loved it, he has sensitive skin and doesn't like heavy scents. His favorite 💗

I use this on my face and head. (bald dude here) It isn't shiny, and it goes on very lightly. Keeps the red bumps in check as well. I re-order this regularly.

Definitely for sensitive skin! I'm allergic to fragrance and this has no fragrance whatsoever! My skin doesn't burn anymore when I workout

Excellent skin conditioning, but the scent is unusual and needs a little time to get used to. But I will definitely buy it again!

I have sensitive skin and am pleased with this product. It soothes and moisturizes, and has a pleasant scent. I strongly recommend this product

Absolutely awesome product. I shave my head and apply it afterwards and its soothing capability is delightful.

I love this stuff. I was breaking out with itchy patches after shaving recently. Decided to get this and it does a great job of removing discomfort and hydrating dry skin.

It's a must for my husband's head after shaving. He loves this as a moisturizer and doesn't leave his scalp greasy. Also helps against bumps. He's been using this already for months. A bit pricey but a good product.

Classic example of getting what you pay for. This stuff is awesome and doesn't burn like other products with ingredients intended to make you think it's "working". Great product

The aftershave keeps my head moisturized all day as well. I'd definitely recommend giving it a try!

It moisturizes perfectly, even when my skin is super dry in the dead of winter. A bottle lasts months and I shave 5-6 days a week. I'm a repeat customer and will continue to be!

This product has become my new favorite aftershave. Does a great job of healing my skin of any red bumps that I get on my neck after shaving from time to time.

I get irritated easily from shaving my neck.... and have been looking for an aftershave that reduces this. This product has done wonders! I would recommend it to anyone!

I really enjoy this product, it makes my skin very smooth after each shave and I feel no irritation after applying it. I used to get irritation bumps after shaving, now I do not! Definitely recommend!

This feels great on my skin after shaving. I have thin skin from medication, so it gets irritated easily. I use this with the shave oil using my electric shaver or the shave cream with a straight razor. Works fantastically!

This is a wonderful product that does the job. Only a small amount is needed and it really works well. Kills the burn and leaves my face soft. My wife made mention of how soft it was.

Love this organic product. The aftershave is amazing and feels great post-shave. You only need to use a small amount to get good coverage. I am definitely checking out some of their other products. I wish it came in a bigger bottle.

Works well, no irritation (and i have very sensitive skin) - no redness remains after a few mins. Only need a tiny bit each time I shave - so basically the bottle lasts a long time. Smells great too. Highly recommended.

First off, the smell is amazing and has a clean aftershave scent. You can feel it work immediately upon application to the face and neck post shave. It's moisturizing agents work great with my sensitive skin.

It has a mild scent and a little goes a long way. It soothes extremely well and that's coming from someone that at times does have redness after shaving. I highly recommend it and I have repurchased it already.

This stuff not only makes my face feel great after shaving. I have seen a big difference in my skin. I am a 50 year old man and after using this for only a few weeks my skin looks years younger. Highly recommended!

This after shave really works! My skin usually gets irritated after shaving (blade or electric) but if I apply this aftershave, any irritation or redness is gone within about 10 minutes. Highly recommended!

My boyfriend was suffering from red irritated bumps on his neck after shaving. He's been using this aftershave and the bumps are almost completely gone. He had tried so many products and nothing ever brought too much relief. He's so happy we found this aftershave!

Best aftershave I have ever used, by far. I have extremely sensitive skin, especially on my neck. I have been using this product for roughly a month now and it has essentially eliminated all of the red bumps I used to get on my skin plus it leaves it feeling moisturized. Just buy it and you'll be happy.

I have very sensitive skin. Very sensitive, and very oily, so I'm not one to typically use aftershave. I tried this when I switched to a single blade setup and figured I would need something. The scent is great for about 5 minutes, then seems to fade away quickly. It leaves my skin very smooth and I haven't had a single breakout from it. Overall, I'm very happy and would buy again.

I really love this product. I usually cannot stand scented products, but this one has a really nice masculine smell that I actually like. It really feels good when you put it on after shaving and feels like you just got a shave from a barber. The other positive reviews aren't wrong. Based on this product I will definitely try others in the brand's line up.

I shave my head and have a clean shaven face. So I wanted an aftershave lotion I could use on both my head and my face that would help reduce razor burn and not have an overpowering scent. This product was just what I was looking for. Doesn't leave my head or face feeling greasy, has a nice scent that is not too strong. Will definitely buy it again!

I wasn't sure what to expect and was willing to settle for something that smells good and isn't full of toxins. The product beat my expectations. It does smell good and is made of natural ingredients. But it also makes my face feel like no product before. It's hard to describe - like a gentle wave over your skin. Will buy again!

I love this aftershave. It instantly relieves irritation and has virtually helped eliminate red bumps. I shave every day, face and head, it really helps me better than any other product I have tried. I highly recommend this aftershave if you suffer from sensitive skin. Before using this it was difficult to shave more than twice in a week due to razor burn, I now look forward to the cool feeling this product gives me.

I bought this because the ingredients list is excellent. I find the performance is great as well. This product is not inexpensive, but a little goes a long way. I found I could use less than half of what I thought. Many aftershave balms seem to clog my pores, but this one doesn't. No real scent either which I prefer. I really don't get razor burn so I can't say how well it works for that, but I find this moisturizing for the winter.

This is the best aftershave lotion I have ever used and I have used many. I am a wet shaver and get irritation on my neck after shaving. I use this after shaving and it immediately calms my face and neck down. I really like how the lotion contains natural ingredients. The scent smells good and fades away shortly after application which is a good thing. It may seem expensive but you definitely get what you pay for and a little lotion goes a long way. Buy it, you won't be disappointed.