Coin Pendant Necklace
If you order within
Arrives by
sold in last hours
Description
A sophisticated piece of jewelry
This fashionable accessory will elevate your look
The eloquent design of this Coin Pendant necklace and its lovely golden tone will add the ultimate modern touch to your regular looks. Make your outfits look lit!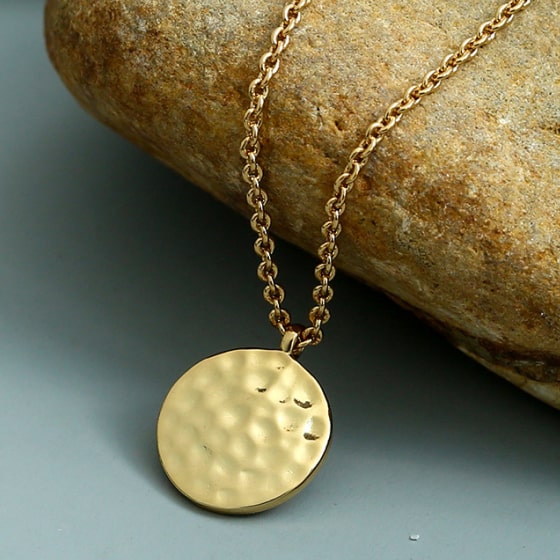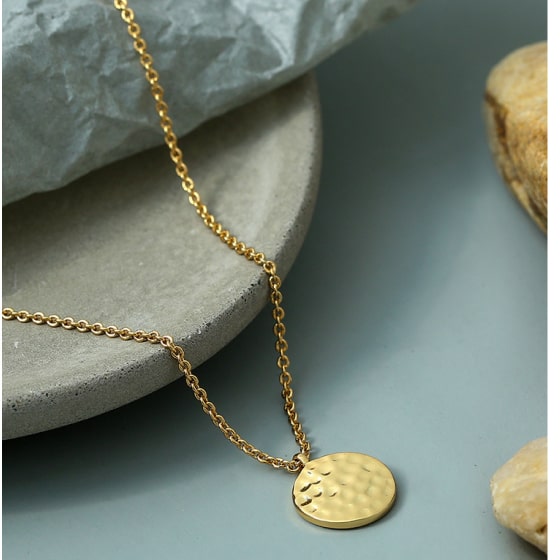 It's all in the details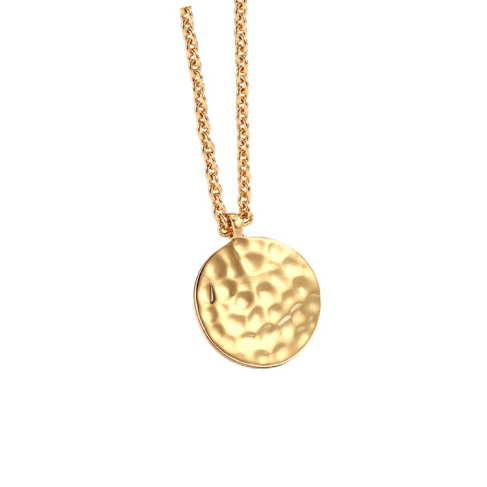 General characteristics
This gold-toned necklace is 15.7 in. + 2.4 in. long. The size of the coin pendant is 1 in.*1 in. Type of chain: cable. Weight: 0.7 oz.
Care tips
Keep the necklace in a cool, dry place. If needed, dry with a slightly wet soft cloth.
It's a perfect gift
A charming design of the Coin Pendant Necklace is suitable for many occasions. Coin pendants are believed to bring luck and good fortune to its wearer. Together with warm wishes this necklace will become a pleasant memory. Make your significant other feel loved and adored!
Reviews
Reviews
Our reviews are verified for authenticity
I love this necklace! It's gold fill so it lasts longer than all my other plated necklaces. LOVE!

Perfect length and so cute, but unfortunately it doesn't match my earrings. Very very cute though.

I love this necklace! I've worn it in the hot, humid climate and I just knew it was going to turn, but alas, it's still as shiny as the first day I put it on. If it can withstand hot summer heat, it's a great buy. Recommend it!

I love this necklace. I have worn it every work day since I bought it over a year ago, even in the crazy heat and humidity of summer, and it is just as shiny and perfect as the day I got it! I love it that much. Highly recommend.

For the price, it's great! I just need a little "every day" accessory to wear. Over a few months, if you sweat/swim and shower in it, it's gonna lose its color, BUT NOT THIS NECKLACE. Perfect little piece to rotate into your wardrobe.

Beautiful necklace! It catches the light for a little shimmer and adds a nice touch to any outfit. Great price and value! Gave it to my daughter for her 19th birthday and she loves it. She wanted something simple and pretty to wear with anything. It works for casual and dressed up attire.

So pretty!!! I was worried it wouldn't be good quality but this necklace is amazing! the gold plating hasn't rubbed off at all. I accidentally wore it to sleep 2 or 3 nights in a row which is when I would normally get that green plating residue from cheap jewelry but I didn't have any problems with plating rubbing off. It's the perfect dainty gold necklace I've been looking for and I love it!

I shop here probably twice a week and I don't think I have ever left a review on any product I've bought simply because I didn't feel like it. But this necklace seriously deserves it! I can't remember when I bought it but it has been at least 1 months now. I was looking for a simple gold necklace since most of my jewelry is silver, and I bought this. I was expecting it to look like a kind of quality jewelry and I found it. Let me tell you- best buy ever! I've worn it every day since I've gotten it, and I never take it off before showering. Totally worth it 10/10 recommend!
Coin Pendant Necklace
$29.99