Cinnamon Firestarters
If you order within
Arrives by
sold in last hours
Description
The missing piece to a campfire
With a pleasing aroma to create a special atmosphere
Our firestarters are perfect for fireplaces, wood stoves, campfires, and more. You'll never need kindling again. Each Down To Earth Firestarter package contains 10 pods.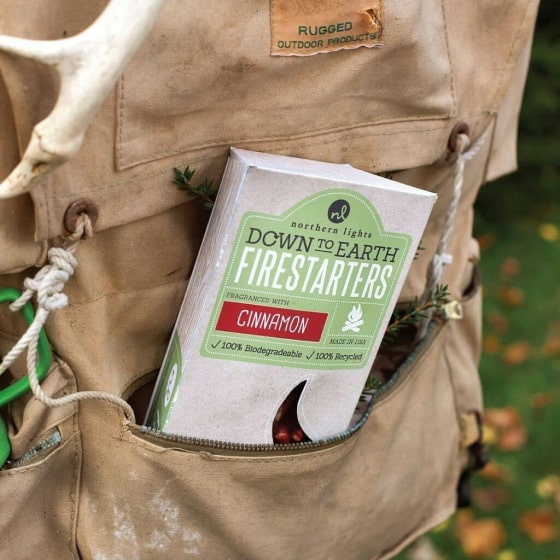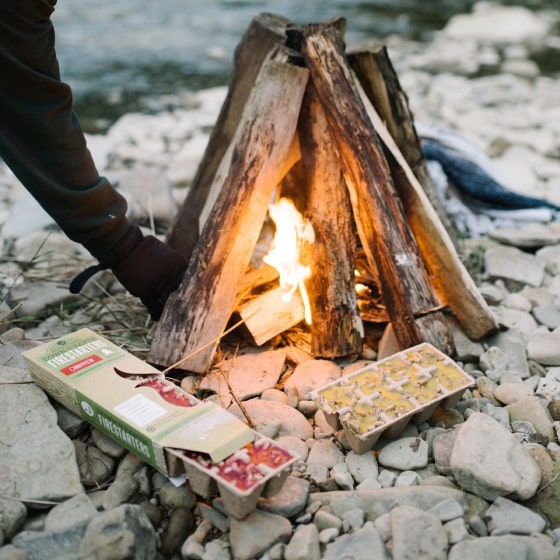 Firestarters details and specifications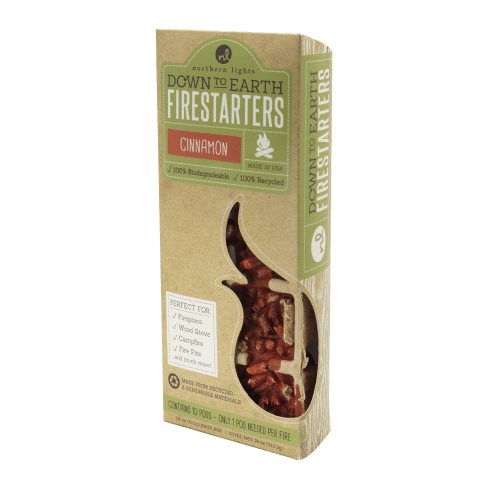 Product details
It has the following dimensions: 4.25in x 10.25in x 2.25in. Contains 10 pods - only 1 pod needed per fire. Total NET 18 oz. (510.3g).
Perfect for
Fireplace, Wood stove, Campfire, Fire pits… and much more! Contains the fragrance notes of fresh-cut pine. Made from recycled and renewable materials.
Easy lighting every time
After you try it once, you won't be able to start a fire without it! Great for all kinds of occasions, to start a fireplace, bonfires, and especially camping! Soak into a relaxing and pleasing atmosphere surrounded by a delightful cinnamon fragrance. The candles are proudly hand poured in the USA. 100% biodegradable and 100% recycled.
Reviews
Reviews
Our reviews are verified for authenticity
These are great fire starters!

Great product. It took me 5 minutes to start lighting up the charcoal

Help me. Quick burn startup. Easier for regulating temp.

Perfect starter, no smell

Work perfect. Only reason for the 3 stars is for the price.

Start charcoal fire. Excellent choice.

Use for my charcoal grill - easy to use!!

Love these, no fuss, no muss!! Would buy again.

Easy to light and don't leave any residue or smell

I LOVE them! Easy to use and no more lighter fluid 👏🏻🙌🏻

Great for starting a grill....no lighter fluid needed. Great for starting up a campfire!

Great product lights like a dream and gets the coals going quickly

The work is great. Lights quickly every time!

a perfect purchase and a convenient way to help us enjoy the outdoors.

Worst thing about this is the price. They catch on really well and you only need 1 if you set up your fire power properly.

These made starting our fire in our firepit nice and easy! Will definitely be buying more once we use up the ones we have.

One of these is enough to get a great fire going in our wood stove! It burns for a long time so other starting components get burned!

Love these things ! No lighter fluid for coals . No kindling and newspaper for fires . Delivered fast!

These fire starters work great. We liked them so much this is the 2nd time we ordered them. Great time saver starting grills.

I'm using these in a Kamado grill and they work great. Would make for good campfire starters too, I'd think.

I've made multiple purchases of these, and will not go back to using anything else! They produce a great, intense flame.

They work like a dream! We didn't use any lighter fluid. We will definitely purchase this product again.

Used for the first time last night worked great. Only one starter lit my whole chimney in minutes. No more scrounging for paper or ripping in my bags.

Where has this been for so many years-great product, just light it,easily and it starts your fire.Wish i had it years ago.Nice to find a product that actually works as intended and lives up to manufacturers claims.

I like this product. I needed something to light the charcoal that goes in a green egg cooker. These worked really well. I added two to the charcoal and they got the fire started.

I wasn't sure that these fire starters would work that well, but I have to say I really liked this better than using fatwood. It lights up quickly and starts the burn for slow cooking very quickly.

These are absolutely great for starting a wood fire. Using them in my new pizza oven. They light quickly and put off enough flame to bring solid wood kindling to a bright steady flame. Recommended and would buy again.

These are great! Easy to use and quick to light. We bought them for our fire pit in the yard, and use them about every week or so- it makes it so much easier and less time consuming to start a fire.
Cinnamon Firestarters
$42.99