Butterfly Pendant Necklace
If you order within
Arrives by
sold in last hours
Description
For the stylish accessory lovers
Create a lovely look
The necklace with butterfly pendants carries a strong meaning and is a great accessory to highlight the gracefulness and delicacy of a lady's neck.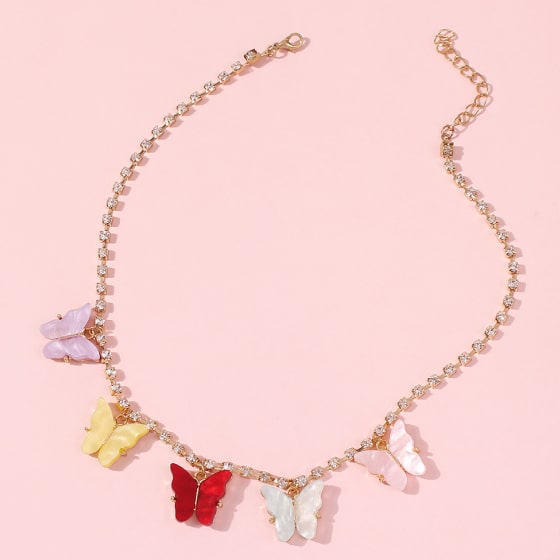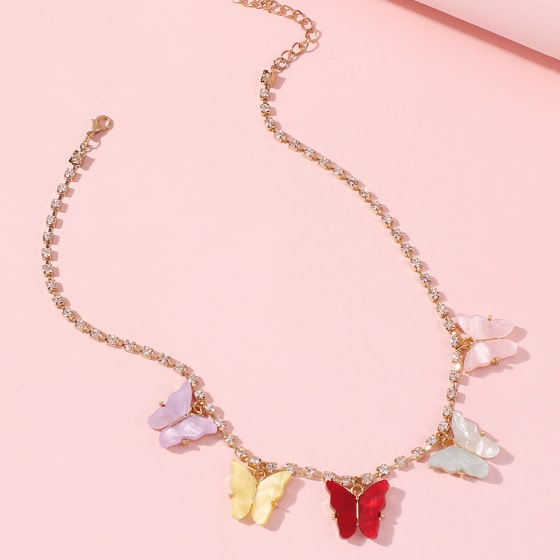 It's all in the details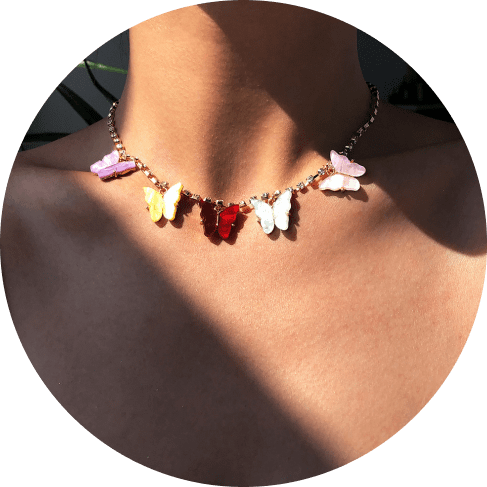 General characteristics
The necklace has five butterfly pendants. Type of chain: cube. Each cube is enchased with a rhinestone. Material: zinc alloy.
Care tips
Store in a dry place in a ziplock bag. Wipe with a soft cloth. Keep away from chemicals and avoid high temperatures.
Gaudy as a butterfly
A lovely design of a butterfly pendant necklace won't leave a woman indifferent! A butterfly is believed to be a symbol of change. So, wearing a butterfly pendant means that you're a person who can easily adapt to changes. Wear this necklace to look forward to new beginnings!
Reviews
Reviews
Our reviews are verified for authenticity
I love the way this piece looks! It's simple and super cute.

Beautiful, elegant, and precious. My daughter loved it. Thanks so much 😊

I love this necklace so much! It is the perfect size for me! I was afraid that it would be too long, but it fits just right.

The butterflies are kinda thin so you gotta be careful but other than that it's great.

I think it looks best with a low cut top. It's very cute and I wear it with almost every outfit. Butterflies are my favorite.

I bought this necklace a couple of months ago and it's still in great shape. It's one of my favorite necklaces I own and it's great quality for the price. 10/10 recommend.

Good for the price. Really lightweight and dainty as well which I like. Not as long as I expected.

I really love the way this product looks and especially when worn. The only thing I would say I don't like is that sometimes the butterflies dig into my skin. I still really like this product and still wear it!

Everything from the packaging down to the looks are amazing. The material was a little cheap but that was to be expected with the price. The picture that they posted is what you get. Definitely worth it!

This necklace is absolutely beautiful! The silver is so crisp and shiny. My favorite part is the length, I have a very small neck and Décolletage and most necklaces fall past my collar bone. The necklace is also super light and you can barely feel it which is important to me. 10/10 would recommend and will purchase from this company again!

This necklace is SO unique and beautiful!! I absolutely love how different it is, yet it is still dainty and flattering. It is PERFECT for layering with other necklaces, it goes so well with everything you put it with and immediately takes your look to another level!! The length is also super perfect, you can wear it as a choker or when fully extended it lands right at your collarbone.