Bullet Pendant Necklace
If you order within
Arrives by
sold in last hours
Description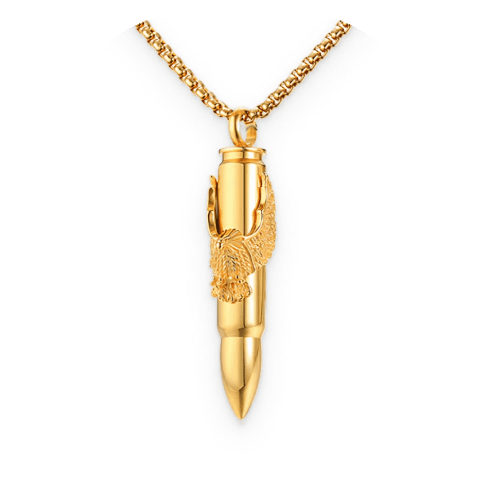 Magnificent elegance
A graceful accessory
This charming Bullet Pendant Necklace will wonderfully complement your daily outfits and become a stunning addition to your jewelry collection!
Make a bold move!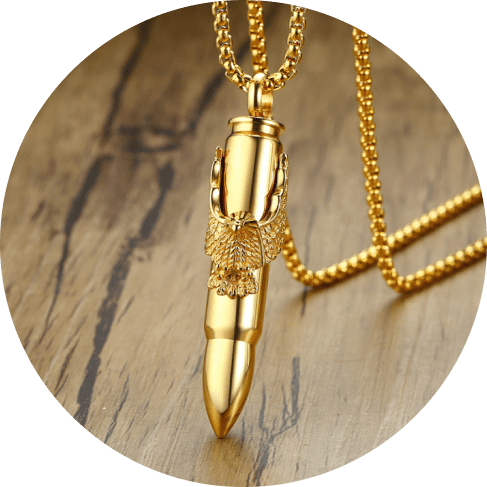 Necklace details
A 23.6 in. long chain is made of stainless steel. A gold-toned bullet pendant is decorated with a majestic eagle outspreading its strong wings.
Care tips
Since stainless steel accessories don't get corroded or rusted, you can wear this necklace on a daily basis! Keep it in a cool, dry place. If stained, wash in soapy water, then clean with a soft cloth.
An exquisite gift
A chic design of this Bullet Pendant Necklace together with its elegant details won't leave anyone indifferent! Suitable for both men and women, this necklace carries a deep meaning. An eagle represents release, freedom, loyalty, and longevity. Feel brave and free wearing this sophisticated piece of jewelry!
Reviews
Reviews
Our reviews are verified for authenticity
A brilliant accessory, I like it so much. It's bright and noticeable. The color is ok, just yellow, but not too bright. The eagle is accurate, well-made, I haven't noticed anything bad. I managed to open it, but maybe it is not supposed to be opened. It almost doesn't weigh anything, very light.

I really like the pendant! Looks great. I thought that the bullet would be smaller, but I like it a lot. The color is yellow, as in the photos, so don't expect it to be like golden, it's not. And the eagle is just adorable :)

I gifted it to my brother, he liked it. I was afraid he wouldn't like the color as it is bright yellow, but he said that it was ok and that it's even better.

It is really well made. I like everything about this necklace, especially this little eagle. Very interesting and original accessory.

So light and pretty. I have been wearing this necklace everyday for almost two weeks now, and it is ok, no deformation, nothing.

The pedant is nice, and the chain itself is very good. Durable and long enough to adjust it as you like.

It is very elegant, not only for men. I've worn it already, everything is good.

I didn't like the color, looks cheap, but the idea is great so I don't care

The length of the chain is excellent. And the bullet is very cool.

Very cool pendant, and very light. I'm fully delighted with it.

The chain is long, but you can adjust as you want :)

It looks cool and stylish, and the quality is good!

I just love it, looks very modern.
Bullet Pendant Necklace
$26.99