Buddy Blocks. Beginner Block Puzzle Set!
If you order within
Arrives by
Description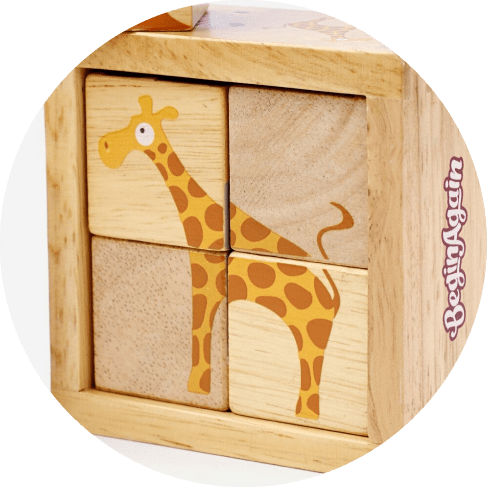 The popular parent's choice
This 4-piece block set will please animal-crazy kids and their eco-minded parents. Mix and match the blocks and solve 6 animal puzzles with this great set! Made from rubberwood and colored with child-safe stains, the playset develops the creative thinking and problem-solving skills.
A challenging puzzle play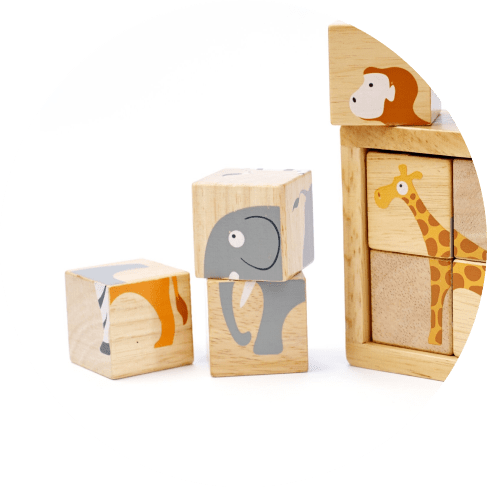 Perfect for hands-on learning
The Buddy Blocks are fun and colorful building blocks for toddlers that double as a baby animals puzzle. Stack, roll, grab or piece together this animal toy puzzle for endless hands-on learning fun.
It's 6 puzzles in 1
The Buddy Blocks features six different animal designs printed on each side of the four puzzle cubes. Accurately match all four sides to reveal the animal!
Modern design and traditional materials
Problem solving, storytelling, and curiosity are the tools kids need. Add some imagination and your child is ready for their first STEAM learn and play toy! These wooden blocks will be sure to charm your preschoolers with their adorable retro look. Made from rubberwood and finished with water-based child-safe stains!
About BeginAgain
BeginAgain is an eco-conscious toy company based out of Fort Collins, CO, who specializes in toys for children 6 months to 6 years old. We design and market toys that are fun and develop the child across all stages of toddler and preschool life, both mentally and physically. Our products are made from 100% sustainable materials, so they are child safe and most importantly mom trusted! Our brand is seeing tremendous growth as a result of: 1. Our sustainability message is resonating with consumers & retailers. 2. We use rubberwood, water based stains & natural rubber for entire product line. 3. Parents are looking for toys that reduce screen time for their children. 4. The revolt against plastic is very real & parents are looking brands not using plastic. 5. BeginAgain has grown as a very authentic voice that parents, grandparents & educators really love.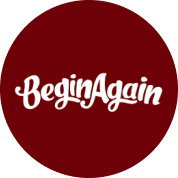 Designed In
Fort Collins, Colorado
Reviews
Reviews
Our reviews are verified for authenticity
Bought for my great-granddaughter. She loves it.

Very nice design and construction. This was our introduction to BeginAgain products and we're very happy with them.

Runs small but great quality

Bought this for my three-year old grandson and he loves it.

This is a great small toy. If purchasing several, you can even make several animals and/or just play as blocks for stacking, too! They also stand upright when made without the use of the box frame.

Nice four piece puzzle for toddlers.

This puzzle is quite small but perfect as a travel puzzle to keep my 16 month + little one busy at the table at restaurants

This is a perfect small little puzzle for a young toddler. My 3 year old played with it all week long even though we originally bought it for my 17 mo. old daughter. Love it! Very well made and comes in a cute sturdy box. We have quite a few different puzzles from Begin Again, and they are all very high quality.

This little puzzle is so sweet. The screened paint is good quality and I don't think there will be a problem over time with it chipping or flaking off. The animals are cute and easily identified. However, it is a little too complicated for my two-year-old grandson who is really into puzzles. Will take another 6 months or so, we think.