Blue Llama RetractaClip™️
If you order within
Arrives by
sold in last hours
Description
Blue Llama RetractaClip™️ (Pacifier Clip)
Your solution to ALL your pacifier problems!
Tired of your baby dropping their pacifier? Introducing the patent-pending Retractable Pacifier Clip! It extends about 10 inches, so it is long enough to be clipped on more places -- on your baby's waistband, blanket, stroller, car seat, etc. You can also clip it to the onesie/shirt collar. Regardless, it will automatically retract when the baby spits out the pacifier. Suitable for babies up to 18 months old.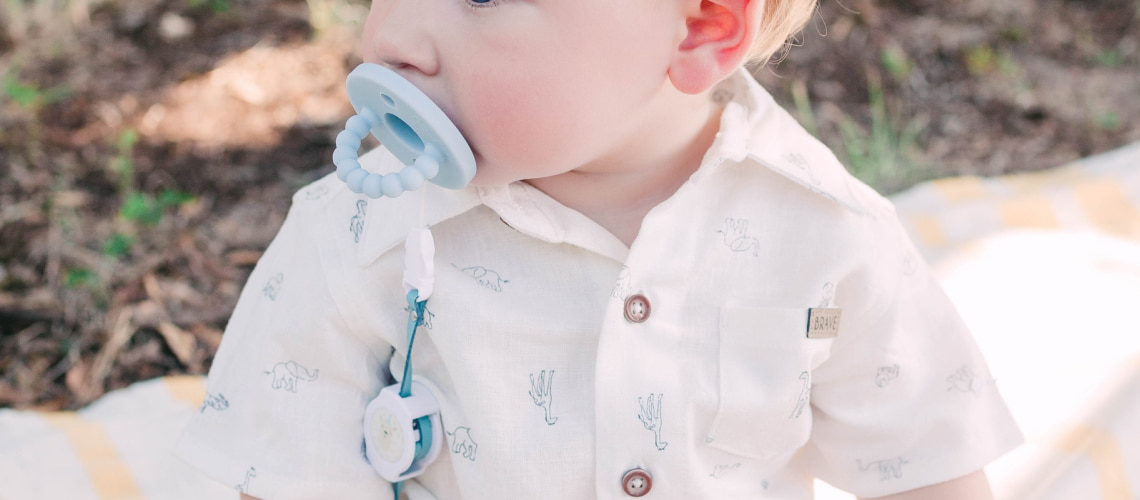 Why the RetractaClip?
A parent's must-have for their pacifier lovin' baby!
No more loose cords near your baby's neck
Our RetractaClip is the safer alternative to regular pacifier clips because it keeps the cord short near the baby's neck. Also, no more tangled cords around arms, legs, or under their bottoms. The RetractaClip keeps the pacifier in close reach.
No more dragging the pacifier when the baby crawls
Now, keeping your baby's pacifier germ-free gets more important than ever! Our RetractaClip keeps the pacifier from dragging on the ground when the baby crawls. Also, it prevents the pacifier from getting lost, dropped, or thrown.
No more unlooping to disconnect the pacifier
Thanks to our quick release clip, you can quickly and easily remove the whole RetractaClip from the baby without having to worry about taking the pacifier out of their mouth to unloop and disconnect. It also lets you switch to a different pacifier or to a teether in seconds!
More options for where to clip it on
It's the only short and long pacifier in one that can be extended and clipped to your baby's waistband or other locations. Plus, our RetractaClip only extends as long as standard pacifier clips already do.
Details and care instructions
CPSIA safety certified and patent pending. Made with non-toxic plastic. Spot clean with damp cloth and mild soap/water. Do not place the clip in the washing machine or soak in water. Doing so may compromise the overall quality of the clip and cause it to rust. Parent supervision recommended. Dimensions: 8" l x 4" w x 1" h. Weight: 0.13 lb.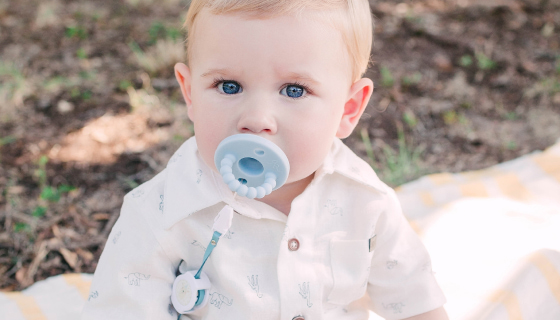 About Little BaeBae
I had just had my first baby, Ella, and was a new stay at home mom. I wanted a creative outlet and decided to teach myself how to sew and start a little online baby shop—selling handmade baby accessories. During this time I also came up with my idea for a retractable pacifier clip. Ella was obsessed with pacifiers. Once we discovered pacifier clips, we were so happy that they kept us from losing her pacifiers. They also kept her from throwing her pacifier the ground. But we quickly realized there were two major problems with regular pacifier clips—they are a long and loose enough to accidentally get wrapped around baby's neck and they allowed the pacifier to drag on the ground while baby crawled. As a tired new mom, I was afraid I'd forget to remove the pacifier clip when Ella fell asleep with it, which meant removing the pacifier from her mouth in order to remove the pacifier clip—which risked waking her (every parent's nightmare!). Sometimes during her naps, I literally sat and watched the baby video monitor because I realized as I closed the nursery door, that I had forgotten to remove the pacifier clip.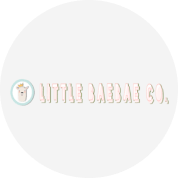 Designed In
Sacramento, California
Reviews
Reviews
Our reviews are verified for authenticity
We love the retraclip!! It is the only one we buy for my son. I like that it's close and doesn't drag but he can pull it if he needs it. This brand has the best customer service and we love supporting small businesses. Highly recommend it!!

Love this product! Best thing invented. Makes it so much easier finding the pacifier at night! Jade loves it too!

This has been a lifesaver. My newborn loves spitting his pacifier out and they would alway disappear. Now he will never lose them again!!

Love these pacifier clips. They are so adorable. Love that they retract from short to long for different lengths. Definitely recommend them.

Best product ever I have been looking for something like this for so long you have no idea I have tried so many others but all have the same problem! This is our new favorite product. We love it no more dragging!! Thank you

My little one was a micro preemie and so she is small for her age. Most clips hang far too low on her and so until now we really didn't like using them, because that got just as dirty as if she dropped them. She's also teething and drooling a ton! So the cloth clips just end up as wet as her drool bib. These clips solved all of those problems! There is a definite "must-have".

Love it🥰❤ One piece came longer but with a help of a video I was able to adjusted to the same size . Just have to pull it back and move the clip to the middle very gently. LOVE IT❤

Good quality. Great colors. Clip is a bit difficult to open. Good length doesn't allow the pacifier to drag on ground much.
Blue Llama RetractaClip™️
$24.99