Black Leather Bracelet
If you order within
Arrives by
sold in last hours
Description
A fashionable accessory
Create an ultra-modern look
Grab the spotlight with this stylish Black Leather Bracelet. Designed for both men and women wanting to create a fashionable look, this bracelet is a stylish accessory perfect for any occasion.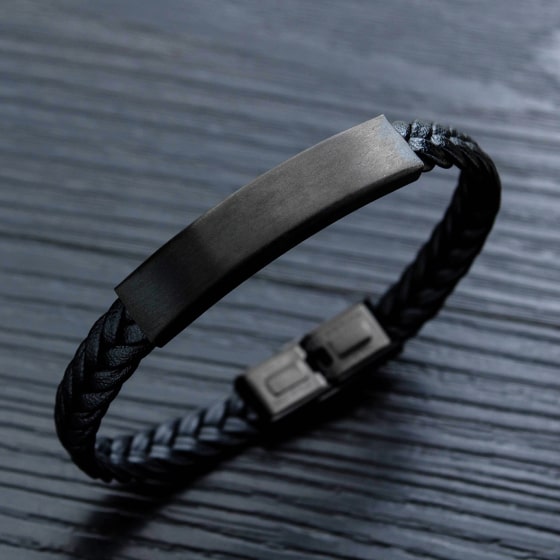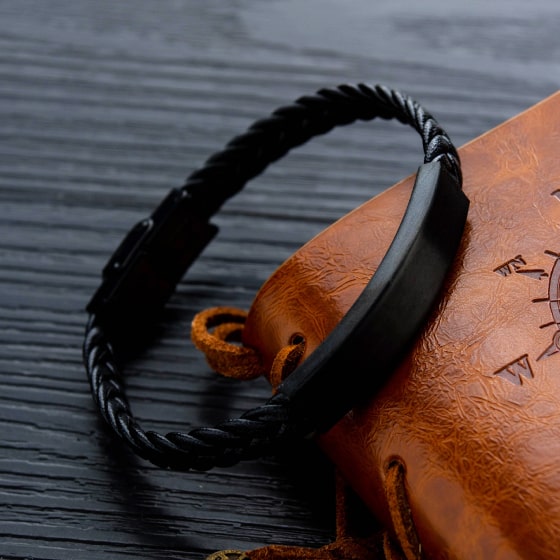 An accessory that never goes out of style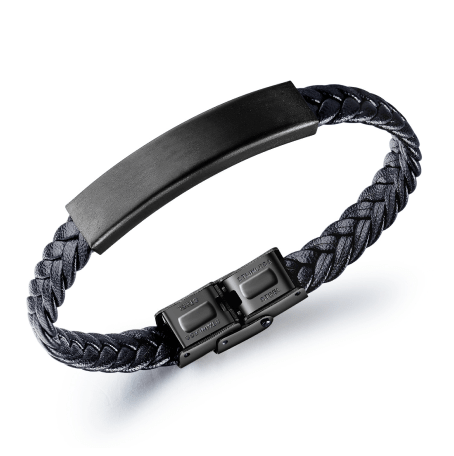 General characteristics
Color: black. Length: 8.3 in. Materials: polyurethane leather, stainless steel.
Care tips
Regularly clean the bracelet with a soft cloth. Do not soak in water. Store away from direct sunlight to avoid fading.
An accessory made to last
Made of high quality materials, this Black Leather Bracelet is strong and durable. Feel free to wear it everyday! Universally sized, the bracelet perfectly fits most wrists. The magnetic closure won't let it fall off your hand.
Reviews
Reviews
Our reviews are verified for authenticity
My husband has had this bracelet for 10 months, he's a mechanic in the navy and constantly getting his clothes ripped up at work and he has worn it every single day. It is incredible. It looks just as good as the first day I gave it to him. If it gets snagged hard enough at work, the clasp just comes undone so the leather doesn't rip but it has only happened once or twice. I can't recommend this enough!

I purchased other not very expensive bracelets for my husband and they did not last at all. This one I got for b-day 4 month ago and it is perfect. The point is, husb. put it on and NEVER took it off, including showers. The Leather is tightly wrapped, and looks just like new. And he loves the elegance of the rich black color of this bracelet. Need a present, buy it.

My husband was asking to wear a bracelet even though they are not his style and he tends to play with them all day long. This bracelet is his absolute favorite. He loves the look and how sleek it looks on his wrist. Feels comfortable and only takes it off while he showers... maybe when he sleeps from time to time but all in all is great.

Purchased as a gift for my husband. He wears it alot, which is more than I was expecting, so he really likes it. The only thing is he needs me to fasten it for him. Not sure if it's him or if it's really necessary to have help, lol.

Very very nice. I've had mine for about 3 weeks, wear it everyday and it's held up perfectly. It comes very nicely packaged.... well worth the money. Love it!!!

Very highly recommended. Looks expensive but amazing quality for it's value. He loved it. Engraving it was a challenge because of the limited spacing but doable.

Good quality and hasn't faded or scratched. First time opening it was a bit tricky but was easy afterwards. Stays on when u need it and comes off when u don't.

This bracelet is well worth the money. Beautifully crafted, nice tight weave on the leather and a nifty clasp that is very unique. I like it, thanks!!

Bought this as a gift for a friend in my wedding party, absolutely beautiful and looks really nice

It looks exactly like the pictures. Loveee it!

Been wearing it for about a month and only minimal wear and tear to the item. Only downside is that it is not adjustable and a bit large for my wrist.

Beautiful product and packaging but I wish they offer it in sizes. Bracelet is kinda big for my hands.