Big Chain Fashion Necklace
If you order within
Arrives by
sold in last hours
Description
Gold chain for women
Fashionable retro metal choker
Looking for a way to freshen up your fashion sense? The perfect addition to your stylish get-up is an exaggerated chain necklace! Enrich your attire for a night out or even a simple stroll through the city.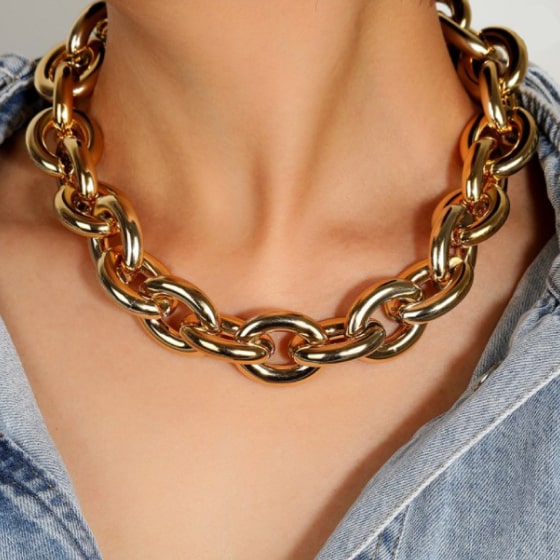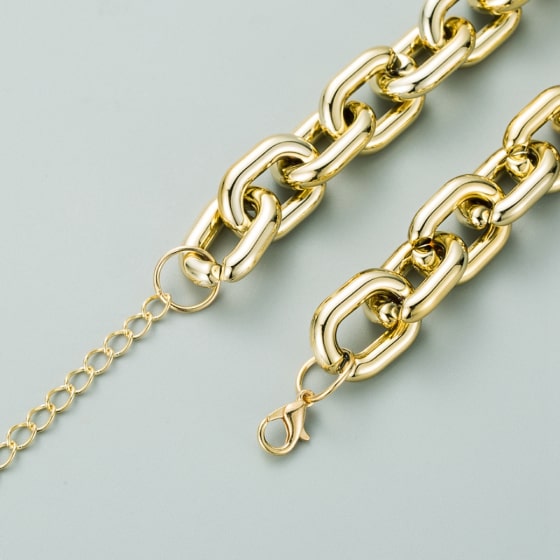 Chain necklace specifications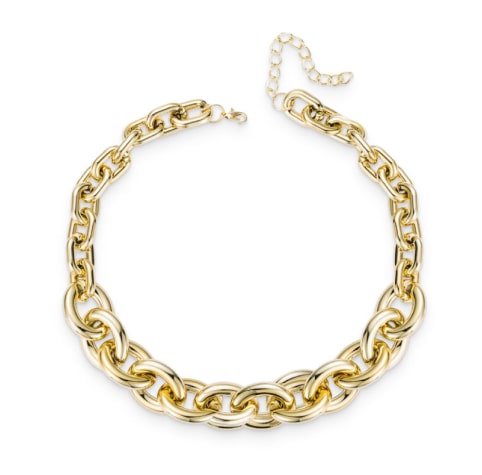 Care tips for jewelry
Keep the jewelry away from chemicals, high temperature, bath, water, sweating, cosmetics, moisture crash to avoid any damage, please treat it carefully. Store your necklace separately in a sealed box or sealed bag to avoid oxidation.
Chain details
This exaggerated retro choker is made out of zinc alloy. The weight: 1.2 oz. The length of the chain: 15+2 in.
A great accessory for any occasion
The right jewelry piece can make the biggest impression on anyone on any given occasion. This stylish exaggerated retro chain is a great accessory that you can wear on multiple different occasions, a party, an anniversary, etc. Either way, this charming piece of decoration can elevate your style and simply brighten your attire.
Reviews
Reviews
Our reviews are verified for authenticity
Liked everything about it. And for personal use.

Can't be worn all the time, but looks good in club light.

It looks like real gold. It's simple and elegant.

Loved the price and look of the necklace

This was a gift and the recipient was very pleased.

Only worn once, but looks good. Not sure if color will dull over time. I take it off and wipe down with polish cloth each time I wear it. I Do not shower in it

Great product, looks totally like pure gold. Nice weight to it.

I love it and if you buy it you will not be disappointed. TRUST ME

I love my chain, I wear it all the time, I never take it off, I even shower in it and it never turned, it still looks new, and I've had for a few months now

It is quality, it shines. Its well plated. It is however quite delicately thin. I mean, ok, thats suitable in this price range, but it still is a little thinner than id like. Apart from that, its nice enough. The gold color is a slightly lighter than i like, again, still nice enough to wear.

Great quality! Doesn't look like the gold will come off and doesn't look like cheap gold. I liked it!

It was a gift for my wife and she's really happy with it. She wears it every day all day long.

I never worn jewellery before but seen chain necklaces before & always thought about getting one & at this price thought was worth a chance, put it on the day it arrived & loved it, great quality & actually very comfortable so will be buying another one soon but probably.

Excellent chain at a decent price. The chain colour is more towards a yellow gold. It's got just the right amount of weight to it, not too light and not too heavy. The clasp is secure. The length is nice, sits on the collar bone perfectly. Quick delivery. Packaging is good too, not crazy extravagant but definitely great for the price. Chain isn't too wide either. I love it! Thank you!