Beard Shaping Comb
If you order within
Arrives by
sold in last hours
Description
An expert-trim, everytime
Like an artist's stencil, our Beard-Shaping Comb helps you line your beard or mustache for a clean, balanced shave. Engraved measurement markers and a mini brush built into the comb help you navigate and measure your scruff with ease for very personable grooming.
Measure up and use your razor, trimmer, or clipper and just glide along our mustache or goatee or beard to trim and style to your liking.
A great gift for
crafty guys
Whether you know someone who is a barber or training in cosmetology school, or someone who cuts and grooms his own hair or goatee, this Beard-Shaping Comb is a helpful accessory that will be greatly appreciated. It makes for a great congratulatory gift or business gift.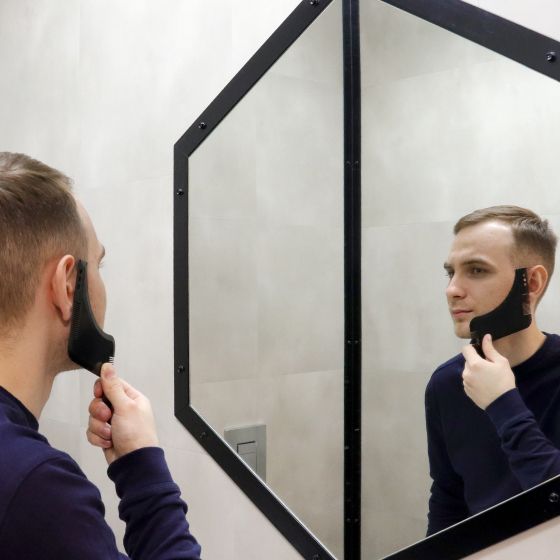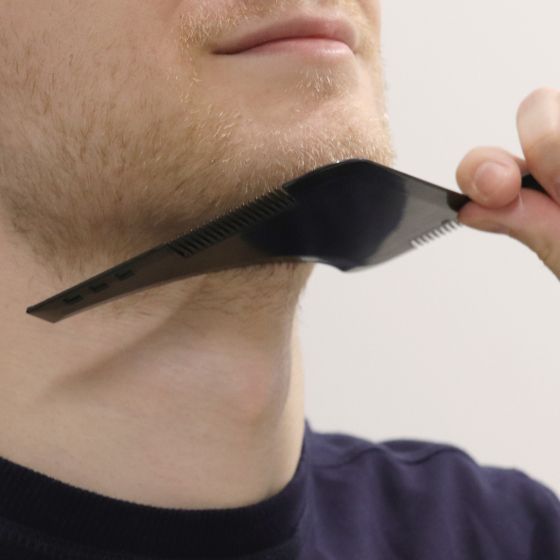 Designed for perfection
Made from plastic, this durable grooming tool features beveled edges for razor precision, measurement markings for accuracy and symmetry, a built-in comb for smoothing hair, and curved measurement templates measuring 2.7 inches and 4.7 inches.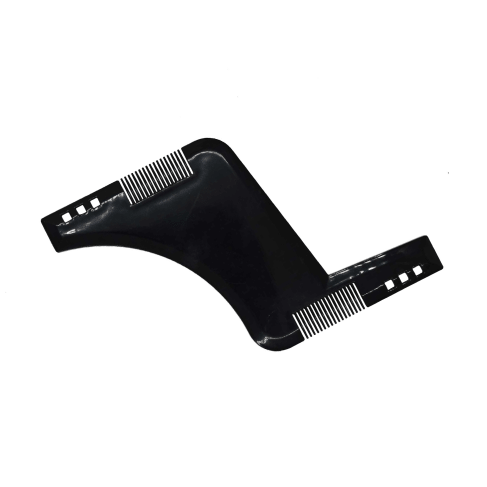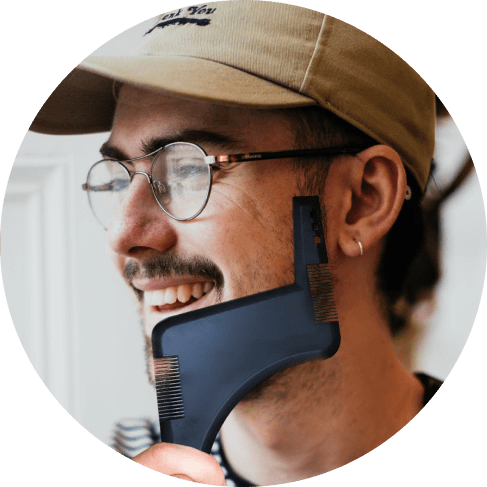 Great for self practice
Once your man gets used to using this template on his own hair, he can practice over time and get better and better with grooming himself. This can even end up in him doing his hair and shaving by himself without need to go to a barber.
Reviews
Reviews
Our reviews are verified for authenticity
I really find this gadget quite useful. I mostly use it to shape the curve on my cheeks as it leaves a nice round crisp curve. I however give it a four star rating because I find it harder to shave and shape other areas of my beard (neck and sides) with it than I do without it.

I received this promptly and used it the same evening - as I was needing a trim. I found it immediately helpful, even though it will take a few "usings" before I become proficient with stable holding and simultaneous shaving. I was pleased, however, from the get-go. It helped me do a nice job. I was especially pleased with the curve and the under-neck lines. This little thing works. I read reviews on several similar beard shaping tools and settled on this one mostly because of this particular tool received good reviews AND because it was clear/transparent. I found this feature helpful upon trial. I would recommend this tool.

Item arrived on time. Well packed, no damage, fit's the store's description. I highly recommend the item and the seller.

Bought this for my husband so he may easily maintain his beard without worrying symmetry. This is well made and the design is simple but ingenious. The reason why I only give it a 4 star is because I find it overpriced.

Don't spend a ton of money for a similar item. This one right here does everything that you will need it to.

Well protected during shipping. Strong plastic! Looks and feels amazing! Great product and great value for money! The store is very kind!

I recently started my beard over. My biggest trimming problem was the cheek line. I want a full beard but I tended to go too low on the cheek line on one side or the other. Once you go too low on one side you have to balance out the other. This time around I bought the Beard Shaping Comb. I find it easy to use and I am getting the line I want. I think it is especially useful because my beard is now gray and white and that cheek line can be hard to see. I'd recommend this. It is an inexpensive solution to what was for me, a major problem. The customer is service is also fantastic. it.

I love this beard shaping Gadget! It makes it so much easier to get that crisp, straight, line of perfection that you want on your beard. It is so inexpensive unlike other similar beard gadgets. This one is perfect.

I was talking with my wife while she was outlining her eyebrows and she was telling me how they actually have tools for doing that to speed up the time. I told her they need something like that for me to shape my beard not realizing that there is really something out there. The beard shaper comb is exactly what I was looking for and it delivered. For a reasonable price I have many flexible options from curve to a straight cheek lime or goatee line helps on my neck line and sideburns and back of the beard. I wish I would've came up with this idea and went on Shark Tank. I even got a little bonus with my beard shaper cone. Thank you beard shaper very smart and unique and classy way to shape my beard

This is a great tool and works exactly as expected, if you are like me, you would get lined up at the Barber and then try and follow the Barber Lines for the next two weeks....invariably, I would not be able to follow the Barber's tape and would end up having to go to the Barber more often or go to the Barber and look good for two to three days and then it would start to grow out and I was getting razor bump attacks due to the shaving inconsistency. Now, my barber has said he will actually use the tool to tape my beard, so I can follow the lines with a straight razor. it is light, portable and extremely well designed.

This is an effective beard styling tool. It has the correct contours for trimming the neck, checks and jaw line. It is also a sexy black color.

Owned 3 months. Used 15 times. This is a handy little tool too keep your facial hair lines neat and crisp. It works well and has a multitude of functions.

I purchased the beard shaper as a birthday gift for my boyfriend. He used it for the first time last night. It made shaping his beard easier and quicker than hand shaping.

I love it works perfectly for me. helps me save 5 bucks at the barber shop :) you just need to get used to it.

This is amazing product for all this with untamable beards. It allows you to shape it up with a nice line like a pro, stay out of the barbers chair so frequently. Definitely will recommend this to my friends & family.

There were times where I was struggling to get my beard to be symmetrical on both sides....granted it only bothered me as no one ever really looks that hard, but with this tool, you simply line up where you want it and go to town, whether it's with electrical clippers, shaving or waxing...this tool does not differentiate and makes you look good, I have never been prouder of looking in the mirror and seeing that both sides are even......

Well protected during shipping. Strong plastic! Looks and feels amazing! Great product and great value for money! The seller is very kind!

Takes some time to master. Makes crisp lines so make sure you measure correctly or you'll be able to tell if they are uneven. Also, I'm not too big on the super defined lines (sharp), I usually fade it for a more natural look. I use it less frequently for that reason. Good product.

This is a great little tool. The packaging was nice and it's made from a durable plastic.

Want your beard to look sharp? Tired of being mismatched? This beard trimming tool is perfect to help keep everything looking sharp and lined up. Easy to use and does a great job of keeping your beard neat and tidy.

Used it one time so far. Does include an instruction sheet that was helpful.

I bought this for my boyfriend as a last minute stocking stuffer for Christmas and he loved it.

This works exactly the way I had hoped.

I actually like this product a lot... it really helps with the effort of shaping your beard or making straight lines!

I didn't expect much. So I'm not disappointed. A template for shaving edges and curves is nice.

I have a thick beard so trying to get an even trim on both sides is always a challenge. This little tool is great for that!

Very basic. If you just want a simple mechanism to help with getting a straight line around your neck, it'll do

I don't find it very difficult to position on my face and I like how precise the line ups are that you get with it.

This was a gift for my husband. We just received it yesterday. He likes the idea of the beard shaper but, has not used it yet. It seems to be a well made product; I hope it deems useful for future trimmings. I believe the website contains more information on how to use this shaper as well.

I really enjoy the product

Since receiving this product, I have been able to shape my beard more efficiently and quickly!

Customer care is awesome as well! Took the time to make sure I received my product and that I enjoyed it as well. Made sure I was happy with my investment!

pretty handy for shaping, I see this a something more good for teens/young adults who are new to shaving and don't want an ugly bread line. For people who can shave well, you can probably save the money.

looks like it will hold up to normal use for a long time.

Great just for beginners or to make sure your lines are straight.

Nice idea on paper. A bit tricky to use but you can get used to it quickly. Outlining is easy but it's kind of hard to shape your beard/goatee

Can be a little complicated to get accustomed to. I lived in the Middle East for a number of years and learned to love the very trimmed and precise beard lines. This certainly does this trick. Maybe it would function better if I had a longer beard, but it has served its purpose and helps make sure I am trimming the lines correctly on both sides of my face. I recommend the product, but definitely read the info on how to use it best.