Barbed Wire Bracelet
If you order within
Arrives by
sold in last hours
Description
Get away from the boring jewelry
Forget about tacky pieces of jewelry that don't bring any fun to your looks
There are so many different bracelets and other types of jewelry on the market. But sometimes those offerings can be SO dull and tedious. Don't mistake boringness with minimalism. The latter is a nice thing, but the style shouldn't be sacrificed. If there's no taste or style, then why do we need jewelry in the first place?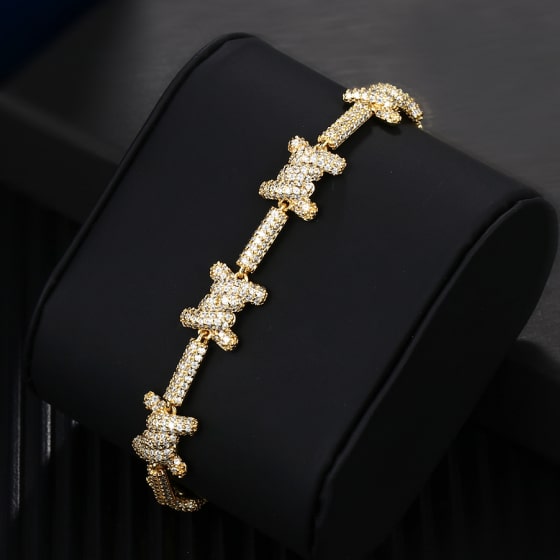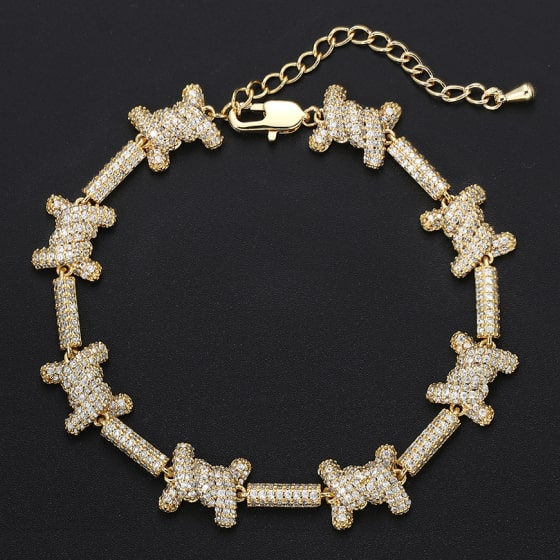 A versatile, intriguing, and ironic bracelet for any occasion
No more lack of choice
It will fit your arm like nothing else
Measuring 0.42x7.5 inches with a 2-inch extension, the bracelet is so versatile! Anyone can wear it with comfort and ease.
Very simple. When it gets dirty, rub it with a bit of alcohol, but please, avoid contact with water as much as possible. Easy as that!
It's made with the great materials
Golden-toned brass is extremely durable. Its corrosion and wear resistance is legendary, that's for sure! Take good care of it, and it'll last you for years!
An ironic touch to your looks
Barbed wire symbolizes restrictions, limits, boundaries, and absence of freedom. But make it look golden, and add some shiny stones to it? Quite a statement! But all the messages aside, it looks good with any outfit and shines mesmerizingly under the light.
The joy of choice
Dilute the seriousness of everyday life with this cool barbed wire bracelet! Delightful versatility, extravagant design, easy usage, extraordinary durability. What else do we need?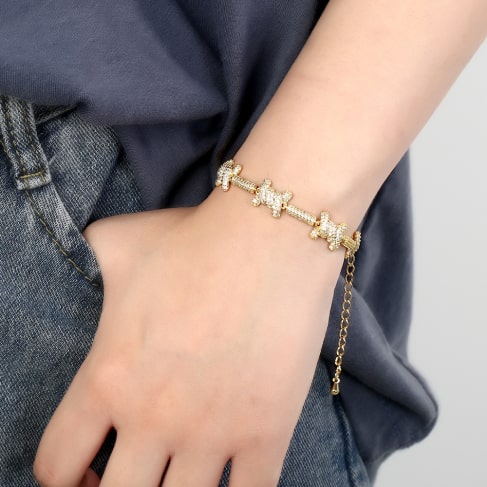 Reviews
Reviews
Our reviews are verified for authenticity
I ordered this bracelet for myself and I absolutely LOVE it! I was worried initially that when I got it, it might seem gaudy but it is not in the least bit! Obviously, it's for occasions where you'd get dressed up, not for everyday wear. It's very lovely and appropriate for any adult. I'm giving this a solid 5 star rating! It's gorgeous, beautifully crafted, very well made, the clasp is gorgeous too! And I notice these things because I hand craft jewelry myself. This bracelet is suitable for any adult who has occasion to go out to more dressed up events. I'm hoping to wear this to a wedding. I've already received several compliments and look forward to wearing it out again!

This bracelet is heavy. I was surprised how heavy it is. It is very shiny and this is definitely not something I would wear everyday at all. This is bling that I would wear with certain outfits. But I did need some help getting it on and off though. This is a drawback for me, I like a bracelet to be easy to get on and off and this was not.

Very happy with the purchase. It was exactly as expected. Can't comment on the durability since I just got it but it seems sturdy. It has some surprising weight to it which surprised me. Can't wait to wear it on stage. For the price, can't beat it!

I'm so in love with this it's one of my favorite pieces of jewelry! A bracelet like that was on my wish list for months and I finally purchased it now. I haven't taken it off since it arrived. It doesn't snag on things and it's not bulky.

Very well made and good looking as well! I'm very happy with my purchase and would recommend it to anyone who wants a cool looking bracelet that's also comfortable.

I mean it looks okay, but I bought this to supplement a real gold chain and the color looks a little bit off. It's a bit darker. I guess if it's by itself it's fine, just not for me.

Shines nicely when the light hits it. Will set off any outfit that it is paired with. The gold color is very vibrant and without issues.

For the low price these are pretty cool! The clasp is decent and the length is just about right.

Fits very comfortably on the wrist and I like the fact it does not poke you in the wrist.

Great value for money. Looks nice. Feels heavy. Highly recommended!

It did not have an option to latch it tight enough to fit on me.

Very good! I've gotten so many compliments on it :)

This bracelet is the bomb. I love it!

Really happy with this item.

I really like this. It is solid.