Ball Pendant Necklace
If you order within
Arrives by
sold in last hours
Description
Designed for classy looks
An elegant and stylish necklace
The Ball Pendant Necklace beautifully captures the spirit of modern girls. This rose-gold-colored necklace is a subtle way to make a sparkling statement.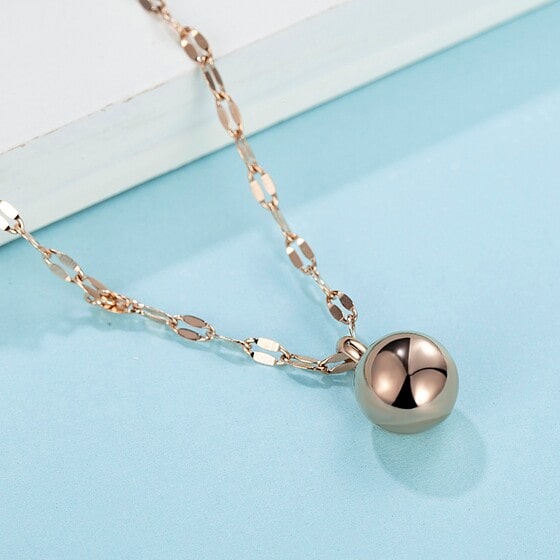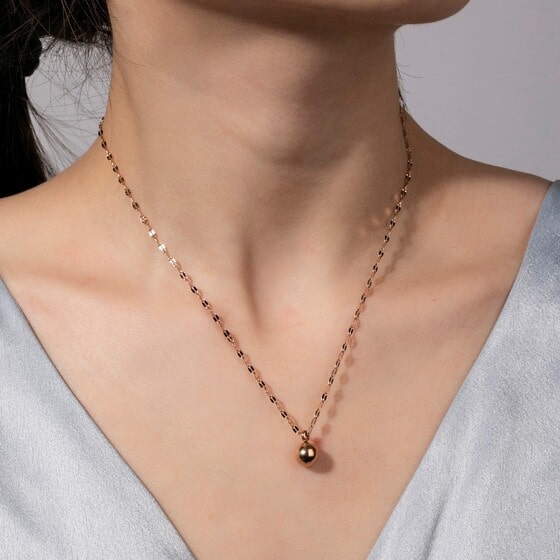 It's all in the details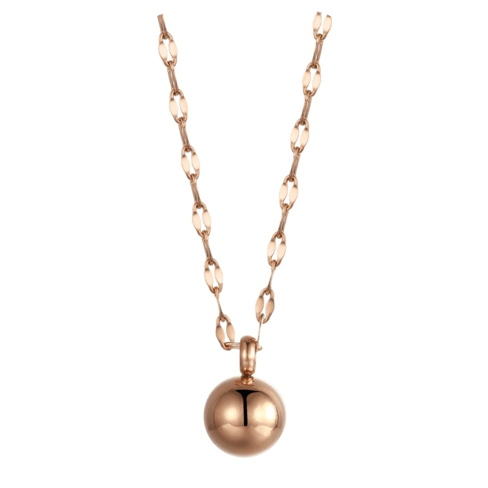 Necklace characteristics
The Ball Pendant Necklace is made of stainless steel. The length of a cable chain is 18 in + 2 in.
Care tips
Stainless steel accessories don't get corroded or rusted. That's why you can wear this necklace on a daily basis! Keep it in a cool, dry place. If stained, wash in soapy water, then clean with a soft cloth.
Make your outfit cooler
The rose gold ball pendant necklace is a piece that really pops. This classic accessory will be easy to match with any of your regular outfits. You will feel confident and receive lots of compliments while wearing it.
Reviews
Reviews
Our reviews are verified for authenticity
It's cute but very small.

Beautiful necklace, made very well. So feminine and dainty. I really love this piece

I love how dainty this necklace is. Goes great with everything and received lots of compliments on it.

They have captured the exotic beauty in this new minimalist styled bauble. Glowing chain as well, and NO PRoBLEM with the price, of course I will be buying MORE for gifts

It was a gift from my youngest daughter she absolutely loves it. Gift double affordable and worth it

A pretty little dainty necklace. Just what i was looking for. Good quality for the price. The necklace is adjustable for length. I would definitely purchase again.

I love this little necklace. The chain is sturdy and it's the perfect length to just rest on your collarbone or just below. It is high quality for a great price and the packaging was so cute.

I love it! It's so beautiful. I hope it lasts long and doesn't get ruined quickly. My only complaint is the pendant was a bit smaller than I expected, but it's fine.

I love this necklace!! It's the perfect everyday/throw on and go piece. It's beautiful on its own and will also look awesome layered with some other pieces! Can't recommend this piece enough!!!

I dont take necklace off ever, i wear it to showers as well. Color is staying the same for last 3 months I've been wearing. It's appropriate for work, short and small. Got lots of compliments from patients!

I bought this for my elopement and it was perfect. I ended up losing it somewhere. I'm buying another so I can't speak to it turning green, but I did wear it for two weeks none stops before losing it with no green happening. It perfectly dainty but noticeable. I loved it.

I love this necklace. It's so cute, comfortable to wear, looks just like the product picture shown, and has zero defects. I was looking for an everyday necklace and this necklace is exactly that. I've worn it almost everyday since the day I got it (which has been several months) and it still looks new. I highly recommend this for sure!
Ball Pendant Necklace
$15.99